---
Why is Your Inspection Contract Important?
By Joseph Denneler, Esquire
I am a lawyer who specializes in the defense of home inspectors in litigation. I've been representing home inspectors for many years and my law practice is almost entirely dedicated to this work. Being in this position has given me a wealth of knowledge about inspector claims. Once I became established in this field and my practice began to grow, I also started teaching risk management to home inspectors all over the United States.
An inspection contract is an important and necessary risk management tool that provides the first level of defense to an inspector. Many states that are regulated require that a contract be used to establish the scope of the services to be provided to the client. Even in states that have no such regulations, an inspection contract may be required by your insurance carrier. Why? Well, more often than not, your inspection contract can prevent significant legal expenses defending a claim in court. It is also the best way to let your client know exactly what is included and what is not. Many homebuyers only go through the process of buying a home once or twice in their lifetime. They are not familiar with the ins and outs of a home inspection. A well-written contract gives the client all of the information needed to make an informed purchase of the services of an inspector.
(story continues below)
(story continues)
State Specific
Based on numerous conversations with inspectors about claims over the years, as well as the many cases I've handled personally, I have learned some universal truths. One is that many claims arise from ambiguity, particularly ambiguity about what a home inspector does and, more importantly, what a home inspector does not do. I realized that in many cases claims could be avoided with a clear, concise and accurate inspection contract. The contracts I saw in my cases were often haphazardly put together documents combining several other contracts, without regard to the standard of care being employed by the inspector or the scope of the inspection. Many lacked the required statutorily language. They were often several years old, with no revisions for changing laws, changing conditions or changing times.
I know from my years of defending inspectors in litigation and assisting insurance carriers with claims all over the country that the requirements for what must be in an inspection contract vary widely among the states that have regulations in place. Some, like Kentucky, require that the contract contain a "right to cure" provision allowing an inspector the opportunity to cure a defect before the client can file a legal action. New Jersey has many requirements, including specific language identifying the correct standards of practice. Virginia has different requirements for contracts used by "certified" inspectors and those who are not certified. In addition to the standards of practice, an inspection contract must reflect that state's position on things like arbitration, limit of liability and other defensive clauses found in most inspection contracts.
These nuances are critical from a legal standpoint. In many states, if the inspection contract does not follow the requirements of that state, the entire contract can be voided. This means no chance for arbitration, no limit of liability and no opportunity to see the alleged damages before they are prepared. Moreover, I need to be able to show a judge or a jury that my client followed the applicable standards in every aspect of the inspection. The advantage to having an inspection contract that speaks the language of a particular state is invaluable. When I can show a judge or jury that my client agreed to do exactly what was required under a particular state's inspector regulations, it creates the inference in the judge or jury's mind that my client is focused on the appropriate standards and nothing else. It eliminates ambiguity as to what was part of the inspection and what was not.
(story continues)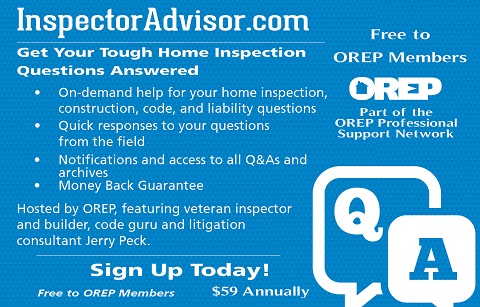 Your inspection contract is the most important part of the home inspection transaction. It sets the stage for what you will do, the limits on your ability to inspect and addresses specific state standards. It is the primary communication given to your client before you perform your work. It should be written in tandem with your applicable standards of practice. It should be written based on your state's specific laws and regulations. It should work.
You should be using contracts that are specific to your state and specific to their regulations. Your contract needs to be right the first time. It needs to reflect your standards of practice and your duty to your clients. It is the most important first step in preventing ambiguity. It is the first step toward preventing claims before they happen. You should always have an up-to-date, correct contract.

About the Author
Attorney Joe Denneler provides inspection contracts written to the home inspection standards applicable and specific to your state. OREP Insureds enjoy 25% off these services. You can contact Joe directly at JDenneler@srstlaw.com or if you're an OREP Insured and would like your discount code, email subscription@workingre.com.
> Free Webinar: Claims and Complaints: How to Stay Out of Trouble
Available Now
Presenter: David Brauner, Senior Insurance Broker OREP
David Brauner, Senior Broker at OREP, shares insights and advice gained over 20+ years of providing E&O insurance for inspectors, showing you how to protect yourself and your business. Watch Now!
(Get a quick E&O/GL quote from OREP in 30 seconds. Premiums begin around $1,000.)