>> See Past News Editions
>> Click to Print
>

NEW:

State Appraisal Board "Insurance"-Bulletproof Your Workfile
The new 2015 Expert's Guide to a Defensible Workfile shows you how to "bulletproof" your workfile and protect your appraisal license and livelihood. Produce better reports: Click here to learn more.
>Want to be a better FHA Appraiser? The FHA Checklist and eBook keeps you up-to-date on FHA requirements, helps you be more efficient on FHA Inspections and keeps you off their "do not use" list. Click here to learn more.
Editor's Note: Despite the many challenges appraisers face, there is always help available. See the free webinar offer below.
Complaints: What You Don't Know Can Hurt You
By Bob Keith, MNAA, IFA
If you're like me, you've probably never chosen to sky dive out of an airplane or bungee jump off a bridge. But if you had to jump out of an airplane or off a bridge, you'd probably choose to be with an expert right? Sometimes we don't get a choice.
Sometimes we are forced into unfamiliar and dangerous territory. In these instances, what you don't know can hurt you and that's when it's good to have an expert along.
Imagine you are forced to participate in defending yourself against a complaint that is being investigated by your state appraiser licensing board. You didn't choose to participate in the process; you don't really know anything about it and refusing to participate is not an option! In this event, what you don't know can and probably will hurt you!
Aside from defending yourself against USPAP violations, there is a lot that appraisers and their attorneys often don't understand about the regulatory/enforcement process and how to achieve the most favorable result.
I was a practicing appraiser for over two decades before becoming an AQB-Certified USPAP Instructor and subsequently the Executive Director of the Oregon Certification and Licensure Board. I served in that position for more than a dozen years, and in that capacity I had Board-delegated authority to investigate complaints, determine USPAP violations, negotiate settlement terms with appraisers or their attorneys, and if necessary, pursue disciplinary actions through administrative hearings. I have been involved with hundreds of cases that were brought against appraisers.
Since my departure from the Oregon board's staff, I have counseled many appraisers across the country who were responding to complaints from their state appraiser licensing boards. My advice to them often involves not only USPAP compliance, but many times I am able to give advice of a different nature.
(story continues below)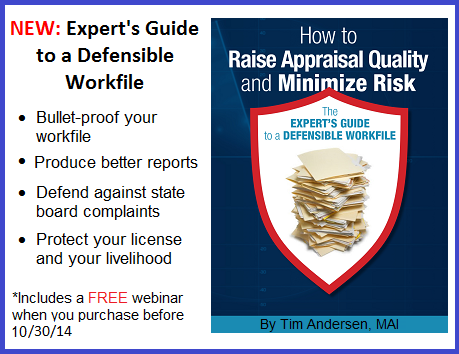 (story continues)
In a recent west coast case, an appraiser licensed in state A moved and obtained a reciprocal license in state B. Meanwhile, she had a complaint filed for an appraisal performed while in state A. After an investigation, the licensing board for state A made certain allegations and offered settlement terms of license surrender in exchange for "dismissal."
This is when I was initially contacted by the appraiser and subsequently by her attorney; they were considering agreeing to those terms. What they didn't know could have seriously hurt the appraiser because agreeing to the proposed settlement would be a "reportable action" by the state board to the Appraisal Subcommittee. While they thought the case would be "dismissed" and go away quietly, in actuality, this decision would have been reported as a "Voluntary Surrender" which has a much more detrimental impact because it would be easily discoverable by the appraiser's clients, potential clients and E&O insurance carrier.
In a recent New Jersey case, an appraiser contacted me for help seven days before the (extended) deadline for response to the state appraiser licensing board; giving me very little time to assist. Also, by this time the appraiser had already submitted a written response to the complaint which, I believe, contributed to a less favorable result. Appraisers – the time to seek help is immediately after being notified of a complaint!
(story continues below)


(story continues)
To compound matters in the New Jersey case, the appraiser failed to notify his E&O insurance company of the complaint within the "policy year" during which the complaint was filed. As a result, the insurance company refused to defend him. Nobody wants or expects to have a complaint filed against them (the equivalent of jumping out of an airplane without knowing how to operate a parachute). But if it happens, taking the appropriate steps is critical if you want to have a fair chance at a favorable resolution. The most important points to remember are:
1. Don't panic
2. Don't procrastinate
3. Immediately begin seeking resources to assist you.
OREP/Working RE November Live Webinar – FREE*
Fighting Appraisal Board Complaints: An Expert's Advice

Date: November 4, 10-11 a.m. PST
Bob Keith, MAA, IFA, Former Executive Director and Compliance Coordinator for the Oregon Appraisal Board, gives you a rare expert's insight into the complaint process, showing you how to avoid the most common pitfalls and mistakes appraisers make when dealing with their state board. Learn what steps to take to protect yourself and what is and isn't in your own best interests. Keith takes you through a step-by-step process on how to interact with your state board to achieve the best results possible. Read More.
*FREE to OREP Members/ Affiliates / WRE Subscribers
Email isaac@orep.org for your invitation.
All Others Enjoy Special Reduced Fee: ONLY $29 – Register Now
>Seating is limited, Reserve your seat today!
About the Author
Bob Keith, MAA, IFA, is an ASQB Certifed USPAP Instructor, Certified General Appraiser, former Executive Director of the Oregon Appraiser Board, past President of the Association of Appraiser Regulatory Officials, past Chair of The Appraisal Foundation Advisory Council, and has served as a subject matter expert for two nationa appraiser exam providers. Mr. Keith currently serves on the Board of the National Association of Appraisers. Keith offers consulting to appraisers nationwide facing state board complaints. OREP Members receive a FREE 1/2 hour consultation with Bob Keith and 25% off his consulting services.
Other Resources: Board Complaints: You Can't Fight City Hall…Or Can You?, Beware Consent Decrees