Editor's Note: This story is republished from the latest print edition of Working RE Magazine, mailing to over 60,000 appraisers nationally. WRE is published by OREP (policies now available with free premises coverage). (Am I a Working RE Subscriber?)
Training the Next Generation
By Isaac Peck, Editor
If you're an active real estate appraiser, chances are good that you started your appraisal career as a trainee.
The supervisor-trainee model was codified into law over 25 years ago at the direction of FIRREA, but enthusiasts of appraisal history indicate that our current model dates back even further to when the practice of appraisal first began to be recognized as a profession in the 1930s and the early professional appraisal organizations were formed.
This model has no doubt served the industry well for many years. Indeed, the utility of an appraiser mentor is evidenced by that fact that many appraisers were introduced to the appraisal industry and trained by their parents or close family friends who taught them the tools of the trade.
However, the current training model is now facing a number of challenges that some say are preventing new recruits from entering the field. Currently practicing appraisers have been widely resistant to take on a trainee for a number of reasons, including the unwillingness of lenders/AMCs to accept appraisals that have trainees listed on the report, the fact that supervisors must inspect every property with the trainee (in most states), and low appraisal fees which don't leave the supervisor enough profit to "split" with a trainee. These conditions have made bringing on a trainee much more difficult, if not impossible, for many appraisers.
This disruption to the supervisor-trainee model is causing many industry stakeholders to ask: what can be done to ensure that the next generation of appraisers has access to the tools and training they need to enter the appraisal profession?
AQB's Proposed Changes
In May, the Appraiser Qualifications Board (AQB) issued an Exposure Draft that, in addition to proposing the rollback of the bachelor's degree requirement for the Certified Residential designation, also included a proposal for an alternative to the supervisor-trainee model that the industry has long relied on to train appraisers.
Under the AQB's proposal, practicum coursework would be developed that could account for up to 100% of the experience requirements needed to earn a Certified Residential or Certified General credential. This would allow a would-be appraiser to achieve the Certified Residential credential without ever having worked as a trainee or an appraiser.
While this coursework could not be used to waive the experience hours needed to achieve a Licensed Residential credential, the proposal would allow a would-be appraiser to jump straight to the Certified Residential credential using the practicum coursework as a substitute for 100 percent of the 2,500 experience hours required for the Certified Residential credential.
In other words, a would-be appraiser would be able to enter the appraisal profession as a Certified Residential appraiser without ever having worked in the field.
Removing Experience Requirements
In a letter to the AQB regarding its Exposure Draft, the Appraisal Institute (AI), the largest professional association of real estate appraisers in the country, indicated its support for much of the AQB's proposal, including the rollback of the bachelor's degree requirement for a Certified Residential credential.
However, the AI argues strongly that the AQB does not go far enough in its changes to appraiser experience requirements. "Experience should not be a requirement for a minimum state credential, as most professions require education rather than experience for entry into such professions. Experience comes later. This is how other professions, such as accounting, deal with minimum qualification requirements," the AI writes.
(story continues below)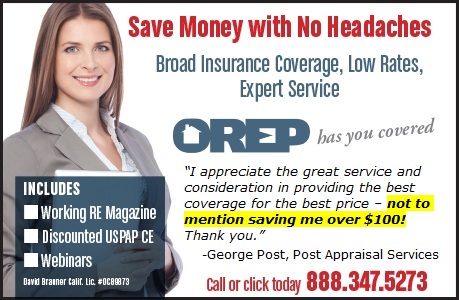 (story continues)
While the AI criticizes the AQB for introducing the practicum coursework concept in what it calls a "premature" move that lacks sufficient details, the AI's position on appraiser experience requirements is crystal clear: get rid of them. "The Appraisal Institute strongly believes that the AQB needs to move away from requiring experience to attain credentials in order to better ensure the future viability of the profession. The first step is to make tested education the primary means to attain state license and certification credentials, with experience positioned as a finitely available alternative. The required education will need to be robust and delivered through a curriculum that presents both theory and practical application," writes the AI.
The AI offers a number of recommendations to the AQB regarding the best way to develop this new coursework and warns The Appraisal Foundation (TAF) against tackling this challenge alone. "We strongly caution TAF against developing their own practicum courses in order to avoid the appearance of self-dealing. Instead, TAF should leave it to the private sector to create coursework tailored to the outline and matrix developed by the AQB and its partners. We suggest the AQB slow down this initiative in order to give it more thoughtful consideration, and engage all education providers for input—which is critically important to this endeavor," the AI writes.
In an interview with Working RE, Scott Robinson, MAI, SRA, AI-GRS, and the 2016 President of the Appraisal Institute, helped clarify AI's vision of how the next generation of appraisers will be trained. Robinson says that AI is in favor of a model that would allow new entrants to have a more active role in the appraisal process after completing the necessary education and testing. "If we compare appraisers to other professions, it is very rare to find an experience requirement to enter the profession. Accountants, insurance agents, and even doctors all must work under a more senior professional when they are just starting out, but they are able to actively contribute in their profession from the start, after they complete their education. Insurance is a good comparison because someone can get an insurance license by taking the required coursework and passing the state's exam. While they can begin working as an insurance agent as soon as they have their license, they still need to work under a broker initially as they lack the real-world experience needed to excel in the industry," says Robinson.
In terms of what AI sees as the solution, Robinson believes the role of the AQB should be to establish minimum requirements for certification. Robinson also proposes that the AQB should model its requirements after those of professional appraisal organizations. In its comment letter to the AQB, AI suggests that experience requirements can be replaced altogether by education completed in a tested environment, or practicum courses. Professional designation programs like those from the Appraisal Institute would evaluate appraiser experience along with other competencies.
(story continues below)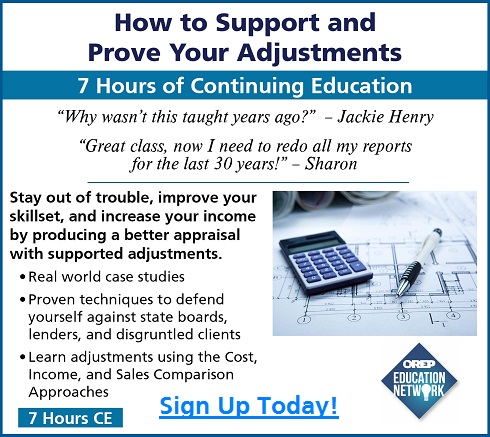 (story continues)
Much like the internship programs seen in a variety of professions, Robinson argues the appraiser profession would be well-served by removing the "trainee" label and creating a new entry-level license where someone who meets the education and testing requirements would be able to practice as an appraiser under the supervision of a more experienced professional. "New entrants who take the appropriate education and pass rigorous exams showing their competency should have the freedom to be called an appraiser, but will still need to work under someone who can help them develop their experience to earn professional designations," says Robinson. "Professional appraiser organizations like the AI are already set up to monitor a new appraiser's experience and get a good handle on their knowledge and expertise. We believe AI is set up to qualify people for entry to the profession."
Lastly, AI is in favor of changing the current appraiser regulatory structure to make the appraisal profession a more attractive endeavor and believes professional appraiser organizations, such as AI, should be empowered to qualify people for entry to the profession. "The current regulatory model is far too rules-based and is working against practitioners at nearly every turn, with layers of requirements for things like background checks, appraisal methodology and frequently changing standards and qualifications criteria. We believe that the system can be simplified and made better for practitioners, consumers and regulators," says Robinson.
Alternative Training/Education
While many appraisers have decried the AQB's proposal as a watering down of the profession and an act that would lead to inexperienced, unqualified individuals practicing as appraisers, the AQB has stressed that the goal of its proposal is not to allow individuals to become appraisers without experience, but rather to explore other ways that potential appraisers might be able to gain experience and training outside of the traditional trainee model.
Joseph Traynor, Chair of the AQB, explains that the idea behind all AQB Exposure Drafts is simply to expose concepts for comments and feedback. "This exposure draft in particular, more so than other ones, has a lot of out the box thinking in it. I don't know where it will end up. We are just trying to raise the idea that there are other ways appraisers can gain the experience necessary to participate in the profession in a competent and compliant fashion," reports Traynor.
According to the Exposure Draft, the practicum coursework, or what the AQB is now referring to as "Practical Applications" coursework, would consist of a series of four three-hour classes and "each segment could involve two classes utilizing case studies as a means of providing practical experience." The AQB envisions coursework that provides real-world, hands-on experience that includes basic practical applications of the appraisal process as well as case studies that require completion of appraisals for more complex properties. To accomplish this, the coursework would need to include hypothetical properties with all necessary subject property and market data, according to the draft.
John Brenan, Director of Appraisal Issues at TAF, says that based on the feedback received by the AQB, the final model might also include internships with colleges and universities. "The Practical Applications coursework that is being proposed here would involve extensive case studies and require trainees to produce USPAP compliant appraisal reports. The final exams would also include preparing USPAP compliant appraisal reports. So this is not a way for potential appraisers to avoid experience, it is a way for would-be appraisers to get that appraisal experience in a different way. Students would need to demonstrate that they can competently complete an appraisal before becoming an appraiser," says Brenan.
Looking Ahead
The solutions proposed by the AQB and the AI have the potential to change the industry in profound ways and will certainly be a hot topic of debate among appraisers and other industry stakeholders.
There is no doubt that much has changed since appraiser licensing was first mandated by FIRREA back in 1989. Could it be that with all of the technological advances, access to data in real time, new software and handy appraisal tools that there is now a viable alternative to the traditional supervisor-trainee model?
Just what the new education, experience, and credential model will look like remains to be seen, but the AQB is expected to issue a series of Exposure Drafts that will further explore these issues. Appraisers are encouraged to provide their valuable feedback and perspectives to the AQB as it works to find solutions to these important questions. Whatever happens, there's little doubt that big changes are in store for the appraiser profession.
CE Online – 7 Hours (approved in over 30 states)
How To Support and Prove Your Adjustments
Presented by: Richard Hagar, SRA
Now you can improve your skills and earn CE credit conveniently online. Richard Hagar's, SRA highly acclaimed adjustments seminar is now available online for CE credit in most states. Do you have the proper support for your adjustments? Stop taking the same old CE courses and learn proven adjustment methods with instructor Richard Hagar, SRA. Fannie Mae states that the number one reason appraisals are flagged is the "use of adjustments that do not reflect market reaction." Stay out of trouble with Fannie Mae, your state board and your AMC/lender clients with solid, supportable adjustments. Learning how to make defensible adjustments is the first step in becoming a "Tier One" appraiser, who earns more and enjoys the best assignments. Up your game, avoid time-consuming callbacks and earn approved CE today!
"Why wasn't this taught years ago?" – Jackie Henry
How to Support and Prove Your Adjustments
Sign Up Now!  $119  – 7 Hrs. Approved CE
(OREP Insureds Price: $99)

About the Author
Isaac Peck is the Editor of Working RE magazine and the Director of Marketing at OREP.org, a leading provider of E&O insurance for appraisers, inspectors and other real estate professionals in 49 states. He received his Master's Degree in Accounting at San Diego State University. He can be contacted at Isaac@orep.org or (888) 347-5273.
Send your story submission/idea to the Editor: isaac@orep.org