Editor's Note: Did you hear the one about "What's the different between an appraiser and a real estate agent?" Well, Richard Hagar, SRA provides a punch line that is no joke and explains why appraisers are so valued and valuable.
How Do you Tell an Appraiser from an Agent?
By Richard Hagar, SRA
It was a divorce case with both sides yelling at each other and hiring expensive attorneys. And their story illustrates the difference between real estate appraisers and agents.
The husband, wanting to save money, hired a real estate agent who provided "an opinion of value" regarding an expensive property. The wife, wanting to fight to the death, hired a competent appraisal firm which provided an appraisal. The agent and I were not that far apart in our value conclusions ($100,000) but their argument escalated to trial.
The agent provided a nice looking Competitive Market Analysis (CMA) with several sales and an opinion of value. On the witness stand the agent stated: "My opinion of value was based upon my years in the business. I know the value of a property." The opposing attorney asked what facts she had used in reaching her value conclusion. She went on to explain how she had "Worked in this area for 30 years and knew all of the sales." The attorney asked her, "What methods did she use to determine the market differences between the sales and the subject?" Answer: "Well when you work in an area as long as I do, you just know."
Allow me to take a short detour before I finish the story.
One of the major differences between real estate agents and real estate appraisers is the use of facts and opinions. Real estate agents are allowed to use their experience, be emotional, subjective and be down- right opinionated in reaching their opinion of value; it's expected of them. Many experienced agents are good at pinpointing value conclusions, however even more have value conclusions that are waaaaay off in left field. Many agents will tell a seller whatever it takes to get the listing. When obtaining my real estate broker's license, it was not a requirement to take classes on how to research data, compare properties, work through the cost and income approaches or determine adjustments. Agents don't have to work for a mentor for two years prior to taking the licensing test. To succeed in business they have to understand marketing and selling…emotions and opinions.
Federal and state laws, along with the Uniform Standards of Professional Appraisal Practice (USPAP), do not allow appraisers to take the same easy path. The conclusions we reach must be supported by an analysis of facts and the use of known methods that allow us to measure market reactions.
Appraisers, by law, are not allowed to simply state their opinion of value based upon "their 30 years in the business." That archaic, old-school belief is dead. Appraisers are required to have the facts, support, information and reasons for their conclusions….and that information must be in the work file, not your head. Another appraiser, looking at the information in your work file must be able to reach the same conclusion you did. If not – your work file is a failure and a violation of USPAP.
(story continues below)


(story continues)
If clients simply desire "an opinion of value" they can ask any agent for their opinion and skip paying a $600 appraisal fee. But they don't – they hire appraisers and pay the fee. Why? Because appraisers supply something more than a simple opinion of value. We provide an opinion of value based upon objective facts and a measurement of market reactions. We must be good at analyzing data and leading a reader of our reports to a logical, supported value conclusion.
Now back to the story. The attorney questioning the agent turned and asked the judge to bar the agent's CMA and opinion from being entered into evidence since the agent did not use facts, disclose the reasoning for market differences between the various properties or correctly apply a known methodology in determining the value of the subject. "Since the agent has not pointed to any specific facts as they relate to market differences or adjustments, she has supplied nothing more than her opinion of value, which anyone in this courtroom or off the street could supply. We hereby request that her opinion, testimony, and CMA be barred." The judge agreed, the opinion was not allowed to be used in court and the agent was asked to step down.
When I was brought to the stand for my testimony the attorney asked me to describe the process I used for gathering facts, which sales were analyzed for use in the report. What methods were used in determining adjustments and reaching a value conclusion? My answers included terms such as "sales comparison approach," "matched-pair analysis," "depreciated costs based upon an analysis of market data," "regression analysis" and "cost approach," among many others. And most importantly: "An unbiased value conclusion based upon the facts that are contained in my appraisal and work file." My appraisal was allowed to be entered as evidence of the property's value.
(story continues below)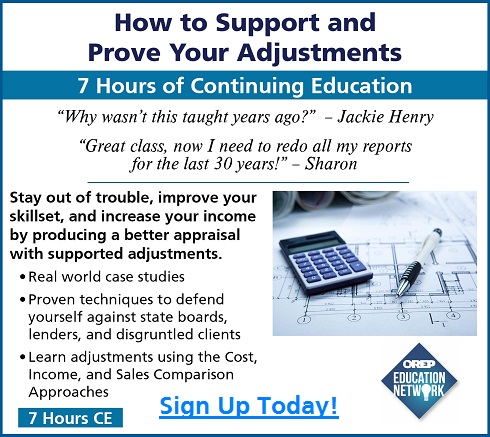 (story continues)
At this point the husband who hired the agent for her "opinion" had nothing that contradicted my appraisal and its supported value conclusion. Because the husband wanted an "opinion of value," that's what he got, a worthless opinion. That "opinion" cost him at least $100,000.
Appraisers are not hired, nor are we paid, to simply provide "an opinion of value." If that's what you believe, time to reconsider your beliefs and question the person who trained you.
If all you want to do is supply your opinion of value, then stop being an appraiser and become a real estate agent. There are no file retention requirements or the need to supply proof of how you determined your adjustments…just your opinion which goes along with that old saying: "Your opinion and a nickel will get you a cup of coffee." There are more than two million real estate agents who supply worthless opinions. However, there are fewer than 80,000 people who have earned a special appraisal license/certification and we are held to a higher standard. We are not allowed to give simple opinions, we are required to provide more; our conclusions must be supported by facts or we will face serious consequences.
Over the past few years in the State of Washington an appraiser exits the appraisal business every three days – many forced out because they simply supplied opinions.
Appraisers- slow down, gather relevant facts, analyze the data, and measure differences between properties with the application of a proper adjustments methodology. If you need help in understanding these methodologies, take a class or two from a top tier school and instructor. Many provide continuing education credit.
Appraisers are paid to be better than opinionated agents and we have the license and facts to back that up.
Valuable CE Offered Online – 7 Hours
How To Support and Prove Your Adjustments
Presented by: Richard Hagar, SRA
Do you have the proper support for your adjustments? Stop taking the same old CE courses and learn proven adjustment methods with instructor Richard Hagar, SRA. Fannie Mae states that the number one reason appraisals are flagged is the "use of adjustments that do not reflect market reaction." Stay out of trouble with Fannie Mae, your state board and your AMC/lender clients with solid, supportable adjustments. Learning how to make defensible adjustments is the first step in becoming a "Tier One" appraiser, who earns more and enjoys the best assignments. Up your game, avoid time-consuming callbacks and earn approved CE today!
"Why wasn't this taught years ago?" – Jackie Henry
How to Support and Prove Your Adjustments
Sign Up Now!  $119  – 7 Hrs. Approved CE
(OREP Insureds Price: $99)

About the Author
Richard Hagar, SRA is an educator, author and owner of a busy appraisal office in the state of Washington. Hagar now offers his legendary adjustments course for CE credit in over 30 states through OREPEducation.org. The new 7-hour online CE course How to Support and Prove Your Adjustments shows appraisers proven methods for supporting adjustments. Learn how to improve the quality of your reports and defend your adjustments! OREP members save on this approved coursework. Sign up today at www.OREPEducation.org.
Send your story submission/idea to the Editor: isaac@orep.org