---
Switch Up Your Business and Turn on the Income
Simple changes can maximize your profits as a home inspector
By Dan Huber, CEO, Inspection Support Network
The home inspection industry has undergone tremendous change over the past several decades. We've gone from a largely unlicensed industry, with few clear standards of practice or blueprints for success, to one that is impacted by licensing boards, insurance carriers and our all-important relationships with real estate agents and home-buying clients.
Today's inspector must offer a competitive array of services and maintain proactive communication with everyone involved with the inspection process. Our business processes have to provide solid results for us and our customers from the moment we start prospecting for work, until long after the inspection is completed. Luckily, it's possible to leverage one of the biggest changes to hit the home inspection industry in a generation and use it to our advantage—computer software and web technology.
Using the industry-specific tools, services and technology available today, a home inspector who owns his or her own business can thrive if they are willing to make a few simple upgrades to the way business is done. As the CEO of the Inspection Support Network (ISN), I have the privilege of working with inspection companies from across the United States, Canada and Australia. I've discovered a set of "income switches" that have the potential to flip on a flow of additional income, regardless of whether you are a one-person sole proprietorship or a multi-inspector operation. These "switches" work consistently across locations and markets and can bring profit and greater ease and satisfaction to your business.
Income Switch #1: Realize it's all about service.
Retooling your business operation to focus on customer service can sound touchy-feely but it really isn't. Your clients' perception of how they're being treated translates into dollars and cents. According to the RightNow Customer Experience Impact Report, 89 percent of consumers say that they have stopped doing business with a company after experiencing poor customer service. If that wasn't shocking enough, a Bain & Co. report on business loyalty noted that a customer is four times more likely to switch providers because of a service-related problem than switching because of price or quality! If you're providing good customer service, the ripple effect can move outward and result in better referrals, better relationships with real estate agents and more income.
(story continues below)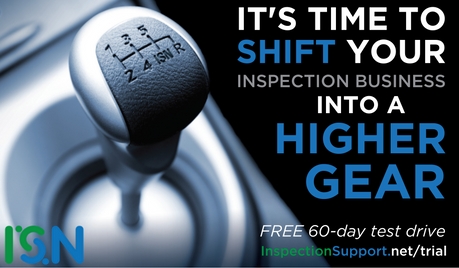 (story continues)
Income Switch #2: Choose your report writing program carefully.
The finished report you present is crucial to the success of your business. It needs not only to look and feel professional, it needs to convey inspection findings concisely and be understandable to the home-buying client, as well as his or her real estate agent. It's especially important that the report be easy for your client's agent to understand and use, because he or she will be the person referencing the report in conversations with the client long after you've moved on to the next inspection. If it is too long or too hard to understand for the agent, he or she is less likely to recommend you as a home inspection provider next time. This income switch is one that does, quite honestly, require some up-front investment of time and money to discover which report writing software will work for you and provide quality results for your clients. When test-driving programs, you'll want to look for time-saving features such as the ability to create and modify templates, add photos to the report easily and customize reports.
Income Switch #3: Select a business software platform that offers end-to-end connectivity.
One of the reasons that your choice of business software is so crucial is because a well-designed system saves you time as you deliver your business services, which in turn saves you money. One of the productivity-boosting aspects of certain software packages (such as ISN) is that users are able to insert order information quickly, using mapping services, databases and more. Information you enter once shows up in other areas of the platform—without retyping or reformatting data, which can save you hours a day and thousands of dollars per year. Your platform software should have the capability to push that entered data and information to any report writer you choose as well as any part of your customer-facing or internal operations, now and in the future.
Income Switch #4: Hire an answering service.
Stop answering your phones from the attics or rooftops of your clients! It's understandable to want to retain a personal touch when helping long-standing clients and referral partners but utilizing a professionally managed call center provides a continually accessible resource to your customers, where call representatives can schedule inspections, take orders, sell ancillary services and answer basic client questions, as well as act as a dispatcher when necessary. Contracting with a answering service allows your company's employees to focus on what they do best—inspecting homes. They don't have to lose valuable time becoming derailed by special requests or scheduling snafus.
Income Switch #5: Enable your company website to accept inspection orders.
This is a huge income switch. This action, just like hiring a professional answering service, allows more income to flow to you because it makes it easy for a client and/or his or her real estate agent to order an inspection any time, day or night. During a typical home sale, the contingency period is short and everyone has hectic schedules to work around. Clients and agents need to confirm a time quickly. Anything you can do to shorten the amount of time your clients and their representatives have to wait to hear back from you will increase the likelihood they'll be satisfied and recommend you to others.
(story continues below)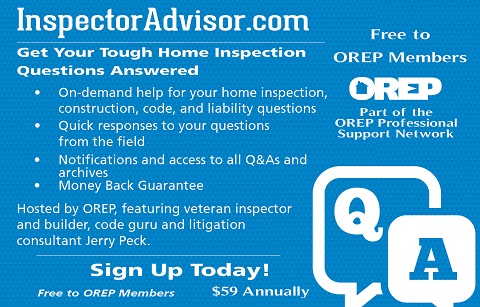 (story continues)
Income Switch #6: Make your business operations mobile friendly.
Your customers are making purchasing decisions via mobile devices—including their smartphones, tablets, and laptops. According to statistics compiled by eMarketer, the percentage that American adults spent on mobile devices each day increased fourfold from 2008 to 2015, from 12 percent a day to 51 percent. Can you keep up with them? Home inspection, by its very nature, is a business conducted "in the field." Your business platform software should allow you to see your calendar, have clients sign an agreement, send an invoice, accept credit cards, pull up your business stats, and view and send past reports via your mobile device. The future of business is mobile and you need to be a part of it in order to maximize profits and client satisfaction.
Income Switch #7: Create a real estate dashboard for your agents.
If you have a truly robust business software platform, then you possess the must-have feature: an integrated real estate dashboard developed for the individual agents that your company works with. The most robust (like ISN's) allow agents to quickly see your inspection availability, order an inspection, contact you by phone or email or view past inspections they have been part of (with client approval), all with a few clicks. This income switch has already proven to be very popular among agents and inspectors. Agents love that they have so much information at their fingertips and can schedule inspections with their favorite inspectors at the touch of a few buttons. Inspectors report that they're able to obtain more in-office presentations at real estate offices, as they have something new and interesting to demonstrate that will make the real estate agents' lives a little easier.
Income Switch #8: Hire a marketing professional.
If you're spending all your time attending to current clients, you can't prospect for new ones. If you're a small operation, or just starting out, you don't have to hire a full-time marketer. A parttime marketing specialist who puts in 15–20 hours a week can help a great deal. You could also hire a marketer at a low hourly rate and provide them with a small bonus for every inspection referred by a real estate agent who have not referred you previously, or when your marketer exceeds a benchmark of a certain number of inspections each month or quarter. If you already have all the business you can handle, it's time to train another inspector…and then you'll need to hire that marketer so you can fill their schedule too (and your bottom line). (Certain insurance companies, such as OREP, cover all inspectors for one low rate.)
Income Switch #9: Know your numbers!
The home buying market changes rapidly and you can't make sound business decisions if you're relying on faulty data. Can you compare this month's business income with last month's or with the same month last year? Can you determine the average price of an inspection in your market quickly? How many inspections did each of your inspectors do this month and how does that compare to last year? How many inspections per week or per month are you getting from your most (and least) productive real estate agents and offices? Your business platform software should enable you to pull up all this information quickly, regardless of whether you need it on a mobile device or desktop. Do some research and make sure your software package can provide you with key data points on demand.
Income Switch #10: Become or stay involved in local, state and national associations.
This is another income switch that requires investment but pays off over the long haul. Attending technical classes keeps your skills sharp. Business classes offered through professional associations can provide you with valuable networking opportunities and improve your professional knowledge and standing, as well as open up referral sources you might not have access to otherwise. The home inspection industry offers a lot of fulfillment and profit to a person who is willing to invest in his or her enterprise. These income switches will allow you to capitalize on existing and emerging opportunities and reap the benefits. You may have noticed that a lot of these income-improvement tips revolve around upgrading your computer software platform and that's not an accident. Home buying is increasingly transacted electronically. To meet the expectations of your clients and real estate agents, home inspectors must follow suit. The world of business now requires vendors to be mobile, accessible and service-focused. By following these 10 income switches, you'll be ready to face that world and stand out as a highly sought-after inspection provider.
About the Author
Dan is co-founder and Chief Executive Officer at Inspection Support Network (ISN) www.inspectionsupport.net. With more than 25 years of experience in the real estate and inspection industries, Dan has a proven track record of success in executive leadership – achieving business-driven strategic goals and bottom-line results. His knowledge of the inspection industry coupled with his inherent business acumen and rare talent for providing no-nonsense solutions aimed at growing an inspector's business, are unparalleled. An accomplished speaker and distinguished figure within the inspection industry, Dan is renowned for helping inspectors – at any stage of their businesses development – achieve tactical growth, profitability, and long-term success.
> Free Webinar: Claims and Complaints: How to Stay Out of Trouble
Available Now
Presenter: David Brauner, Senior Insurance Broker OREP
David Brauner, Senior Broker at OREP, shares insights and advice gained over 20+ years of providing E&O insurance for inspectors, showing you how to protect yourself and your business. Watch Now!