---
When to Report a Claim or Incident

By David Brauner, OREP Senior Broker
For many home inspectors, the anxiety ratchets up a few notches when facing an unhappy and complaining client, but not always for the reasons you might expect.
Many home inspectors are confident in their reports, so that typically is not the worry. For these inspectors, the heartburn is not that they made a mistake in the report but whether to report the complaint to their insurance agent, just "take care of it" themselves, or simply to ignore it. Most inspectors have walked in these moccasins at least once.
If you do report it, the worry is that the insurance company will simply "roll over" and pay off a complaining client to save itself money and then raise your rates next year- whether the complaint had any merit or not. To a careful and competent inspector, that prospect is enough to make your blood boil. And to add insult to injury, the "settlement" is usually just under the deductible cost and comes out of your pocket!
If you're with me so far, here a few things you ought to know.
1. Most insurance policies contain language requiring the insured to report the claim or incident when it happens. A claim can usually be defined as a demand for money or simply a "demand." Admittedly, this can be murky territory. It doesn't hurt to take a look at your policy language. With the OREP home inspector policy, a Claim means a written demand or suit you receive. And suit means a civil proceeding for monetary, non-monetary or injunctive relief, which is commenced by service of a complaint or similar pleading.
While a verbal demand or complaint technically does not meet the definition of a "claim," it can still trigger the reporting provision in your policy for reporting any incident that reasonably could give rise to a claim in the future. Most inspectors ignore verbal complaints but take written ones seriously, especially if they are delivered on a law firm's letterhead and arrive via Certified Mail. However, many insurance policies do not make any distinction, in the policy language itself, between a verbal and a written complaint. You usually have a duty to report both. The good news is that, contrary to what you might think, reporting is in your own best interests.
2. Home inspectors do make mistakes, sometimes serious ones that wind up costing tens of thousands or even hundreds of thousands of dollars to defend and settle. If you have insurance and you find yourself embroiled in a complaint, pat yourself on the back for avoiding the potential catastrophe of having to come out of pocket to defend yourself. No one likes insurance until they need it. If you don't have insurance, get sound legal advice as soon as possible.
(story continues below)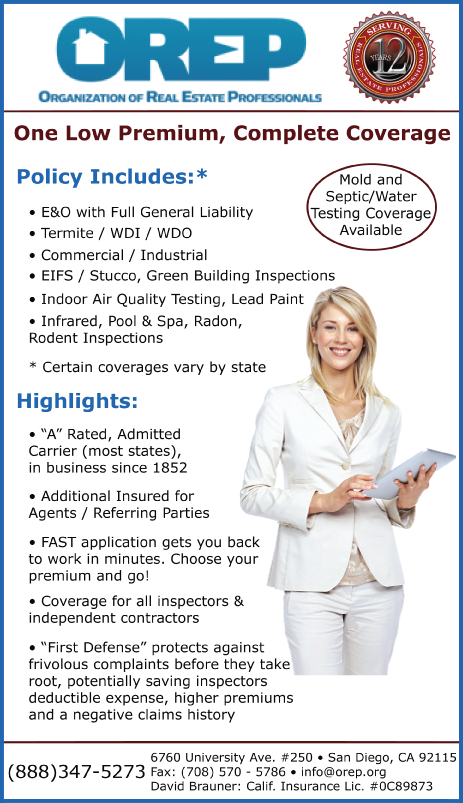 (story continues)
Why Report
First, as stated above, most policies have language requiring you to report a claim or incident. Why is it so important for the insurance company to know about the claim or potential claim when it happens? Because experience shows that when an insured (you) attempts to handle a claim on their own, they are more likely to hurt their own defense rather than help it. The best advice is to let the experts handle the response- even the initial one. Too many times a polite apology or impulsive admission of responsibility is hard to undo.
Secondly, if you do not report an incident when it happens, and some time goes by and the incident resurfaces as a full-blown claim, the insurance company has the right to refuse coverage if they feel the delay in reporting has complicated the defense. That's what most policy language says. It's rare but it can happen.
Additionally, if you have completed a renewal application in the meantime and checked the box "no claims or incidences," they are going to want to know why. If they believe you willfully concealed facts, they can refuse coverage. They may defend the claim, but decline to renew your policy. When you go to find a new carrier, one of the questions might be whether you've ever been denied coverage and why. You get the picture. It can get ugly.
Claims Made
Most every inspector has a "Claims Made" policy. This means the claim has to be reported during the policy period. If you let your policy lapse (don't renew), the policy period ends. If you did not report the incident when the policy was in force (or during any applicable extended reporting period), there is no coverage for that incident. Moving your policy to another company at renewal is perfectly fine, as long as the new company offers prior acts coverage and there is no lapse in coverage. But imagine this scenario: a homeowner complains about an item or two in your report a few months after moving in. You rebut it verbally and then hear nothing more. You did nothing wrong so you assume it's resolved. In the meantime, you've let your policy expire because business is slow, or you hate insurance or you went on vacation and forgot to renew it in time. Today, six months later, you receive a certified letter from the homeowner's cousin Joey who has just opened up his own legal practice and now wants to practice on you. If you reported the incident when it happened, even if you did let your Claims Made policy lapse, it should be covered because it was reported when the policy was in force. If you didn't report the claim/incident when the policy was in force and it has expired, there will be no coverage. So by reporting you are protecting yourself.
Myth Busters
Finally, most of the large established insurance programs for inspectors, especially those backed by long-standing insurance carriers that have been in business for many years, like OREP's, have a staff of adjusters whose job it is it to evaluate the merit of these claims.  If the claim is frivolous, the adjusters will respond accordingly. Typically, if the issue goes away at this "first defense" point, there is no cost to the insured's deductible and no premium increase next year. A happy ending.
So, to summarize, at most insurance programs like the one at OREP, there is no downside to reporting incidents or complaints when they happen, and in fact, reporting can offer you the kind of protection you purchase insurance for in the first place. Food for thought..
About the Author
David Brauner is Publisher of Working RE magazine and Senior Broker at OREP.org, a leading provider of E&O Insurance for appraisers, inspectors and other real estate professionals in 49 states. He has covered the appraisal profession for over 20 years. He can be contacted at dbrauner@orep.org or (888) 347-5273. Calif. Insurance Lic. #0C89873.