---
Pre-Listing Inspections: Additional Income or Additional Liability?

By Joseph W. Denneler, Esquire
Many inspectors and real estate agents are starting to provide pre-listing home inspections for sellers of homes. Motivated sellers often want to make sure a sale is not cancelled due to an issue arising from the buyer's home inspection. It's always a good thing to increase revenue, but are pre-listing inspections also a potential pitfall for the unwary inspector?
Neither state requirements nor an association's Standards of Practice (SoP) differentiate between buyers and sellers of buildings with respect to the home inspector's responsibilities. The scope of the inspector's duty is always to the client, whoever that may be. A client, under most definitions, is a person who has an interest in the condition of a building, whether it be for the purpose of buying, selling or even detecting defects that could later become costly repairs. An inspector can and should apply the SoP for their state or, where applicable, their association when doing home inspections. Those standards were crafted to assist you and your client, and to eliminate some common human errors. But some of the general limitations and exclusions from the standard buyer's home inspection do not apply to an inspection for a seller.
We all know that there are many exclusions and limitations on an inspection that arise because the client, usually a buyer, does not own the building and does not have permission to move personal items, dismantle systems and components or take any action that might cause damage. Some areas of buildings are not accessible due to locked doors, access points that require more than the mere moving aside of a panel, and so on. These impediments fall away when you are doing an inspection for the owner of a building. If you need access, your client can provide it. If you want to move a chair or table away from a wall, you only have to ask. While no accepted SoP allows an inspector to take these actions when inspecting for a buyer, none limit an inspector from exceeding the applicable standards where appropriate.
I use the fact that an inspector does not have the authority to move or dismantle components when defending home inspectors in litigated matters. I often argue that a buyer cannot have a reasonable expectation that the home inspector will take any action to move or potentially damage things that do not belong to his or her client. Pre-listing inspections do not provide that cover.
The other issue that arises is access to the inspector's opinions by persons who are not the inspector's client. I have heard many horror stories, and have investigated a few claims where someone "relies" on a pre-listing inspection report that was left for viewing at open houses, or otherwise made available to potential buyers who did not retain the inspector. They have no contractual relationship with the inspector and, in most cases, no legal duty to that buyer. Unfortunately, as many inspectors have heard me say at my seminars, the truth is just another argument to some folks and their lawyers. The goal, always, is to prevent claims, not defend them. Once a lawsuit is filed or a demand for arbitration is made, costs pile up. If you're insured, you may be required to pay your deductible. If you're not insured, you may spend thousands out of pocket proving what you already know, that you had no duty to a non-client. Many states have toothless frivolous litigation statutes that require proof of bad intent rather than misuse of the law. Chances are you are not going to get your money back, and you certainly will not get your valuable time back.
(story continues below)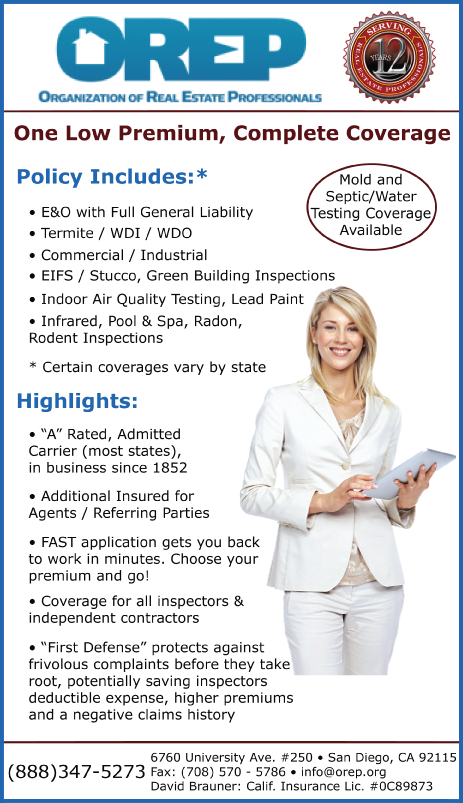 (story continues)
Thankfully, there are always ways to minimize risks. Regarding the access issues, take extra time to make sure your client understands the scope of your inspection. If you elect to perform pre-listing inspections using the same rules you apply to a buyer's inspection, then use a contract that specifies that scope and make sure your client understands it before you start your work. If you and your client are not averse to using more invasive techniques, then provide an advanced inspection where you do move your client's personal property, look above suspended ceiling tiles and take advantage of the fact that your client can provide you with unfettered access to the systems and components of the building. Many inspectors use different levels of inspections, and charge for providing a more involved service. You can protect yourself and generate more revenue at the same time.
The unauthorized use of an inspector's report by a non-client happens. Many state-based standards restrict an inspector's ability to distribute the report without express permission of the client. In non-regulated states, many inspectors include a clause in the contract or report advising that the report is only for the use of the client and that any other use is prohibited. Although that alone cannot prevent an unscrupulous litigant from filing a lawsuit, it will help to mitigate the damage by making it relatively simple to get the suit dismissed. If you are going to use that type of clause, make it conspicuous, and make sure you review that issue with your client prior to your inspection. It will serve you well to have your client initial that clause in your inspection contract and put the onus on them to not distribute it. This will further emphasize the point that you are only working for them, and your opinions are not for the general public.
There is risk inherent in most every inspection. Whether you are inspecting for a buyer or a seller, be clear and precise regarding the scope of your work and for whom it is being done. If you follow that practice, there is virtually no limit to your potential as you work to enter new markets and expand your business.
About the Author
Attorney Joe Denneler provides inspection contracts written to the home inspection standards applicable and specific to your state. OREP members enjoy 25 percent off these services. To contact Joe or if you're an OREP member and would like the discount code, email isaac@orep.org.