Editor's Note: This story is from the latest print edition of Working RE. Don't miss the next issue!
(Am I a Working RE Subscriber?)
One Easy Trick to Get More Work
by Isaac Peck, Editor
While most states do not require appraisers to carry errors and omissions (E&O) insurance, lenders, appraisal management companies (AMCs) and even private clients very often do. The limits of coverage vary, but the most common requirement for appraisers is a $1,000,000 aggregate limit.
Appraisers familiar with lender and AMC work know all too well the familiar process of submitting their Declarations Page to their clients upon renewing their E&O insurance. What is less well known is that many lenders and AMCs stop sending work 30 or even 60 days prior to the policy expiration date if updated credentials are not on file. This means that if appraisers want to keep the business flowing, they have to renew early.
And it gets worse: many times the appraiser is not even notified when the work spigot has been turned off or why. Edward Cline, owner of Ed Cline Appraisals, a busy appraisal office with 10 appraisers and three trainees in Beaver Falls, Penn., says his firm has encountered this scenario several times and now makes sure to renew early to avoid losing work. "We've had clients stop sending us work 30 or even 60 days before our insurance policy expired because their compliance departments are operating with an abundance of caution. In each case, we were never told we had been placed on an 'inactive' list while they waited for our new documents," Cline said.
Cline said he found out by accident. "Last year, I was having lunch at the same table as one of my clients at an appraisal conference. We got to talking and my client told me that we were being placed on 'inactive' status well before our policy expired that's how I found out. It could be happening to many other appraisers. Since then, we've been much more careful to renew early to avoid a slowdown in work," reports Cline. Cline says now he renews his insurance as early as his insurance company will allow to avoid being suspended. Because lenders and AMCs do not always make their rules clear or notify appraisers about their actions, many appraisers need to be proactive, Cline says. "The fact that some clients would just stop sending us work without ever notifying us or even making their guidelines clear up front is certainly frustrating but now we know and we make it a point to renew well ahead of time to avoid the problem," notes Cline. The problem Cline found is that some insurance companies will not renew an appraiser far enough in advance. "One insurance company we used to work with refused to even offer us a quote until our policy was only 30 days from expiring, which obviously didn't make sense for business reasons. We now work with a company that can renew our firm's coverage 60 days before expiration," reports Cline.
Cline says he understands why AMCs and lenders have these rules. "Because of delays that might occur in the mortgage process, the loan may not close for 30 to 60 days, and the appraiser's E&O policy may be expired by then. If that happens, the lender may have issues when they go to sell the loan, so the requirement is reasonable," argues Cline.
(story continues below)
David Brauner, Senior Broker at OREP says OREP insureds are reminded to renew early for this very reason. "We advise our insureds well ahead of time to avoid a lapse in coverage and possible loss of prior acts, and also to help our insureds avoid the stress of a last minute renewal and possible loss of work from clients who need new credentials far in advance of expiration," said Brauner.
Brauner says that renewing at least 45 to 60 days in advance is typically the best way to avoid any slowdown in work if you have clients who require new credentials in advance. Plus, he says it can give you time to shop. "If you've been with the same program for years it's time to shake off the cobwebs," Brauner says, because rates and coverages change. He says OREP can renew insureds as early as 60 to 90 days before your current policy expires. "OREP has new lower rates, expanded coverages, such as free bodily injury and property damage, approved continuing education, free webinars, peer review and much more," Brauner says. "It pays to shop."
Bodily Injury and Property Damage (BIPD) covers bodily injury and property damage losses while providing your professional services at the property. Bodily injury might be caused by opening a door into a homeowner's nose; property damage might be knocking over a valuable vase and breaking it. This type of coverage is not included with E&O policies but is recommended for those performing FHA appraisals because of the agency's new expanded testing and reporting requirements such as inspecting the attic, crawl spaces and appliances. The coverage is free with certain OREP policies and available for all appraisers as a standalone product from OREP for as little as $150. The standalone product is a General Liability policy which includes many other coverages in addition to the BIPD, such as loss of business income, theft of equipment, cyber coverage and more. Call OREP for more at 888-347-5273.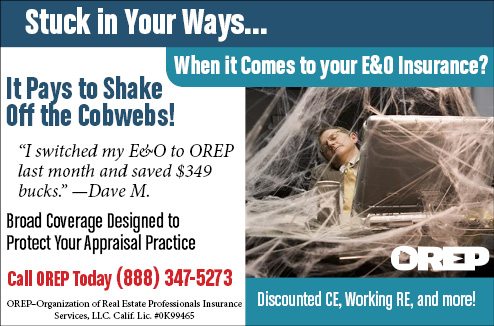 > Just Published: OREP/WRE's 2017 Fee Survey Results! To view the results in your state, click here. If you have not already taken the survey, please weigh in here.
> CE Online – 7 Hours (approved in 40 states)
How To Support and Prove Your Adjustments
Presented by: Richard Hagar, SRA
Must-know business practices for all appraisers working today. Ensure proper support for your adjustments. Making defensible adjustments is the first step in becoming a "Tier One" appraiser, who earns more, enjoys the best assignments and suffers fewer snags and callbacks. Up your game, avoid time-consuming callbacks and earn approved CE today!
Sign Up Now!  $119 (7 Hrs)
OREP Insured's Price: $99
About the Author: Isaac Peck is the Editor of Working RE magazine and the Director of Marketing at OREP.org, a leading provider of E&O insurance for real estate appraisers, inspectors and other real estate professionals in 50 states. He received his Master's Degree in Accounting at San Diego State University. He can be contacted at Isaac@orep.org or (888) 347-5273.
Send your story submission/idea to the Editor: isaac@orep.org