It's Just a Machine….
by Richard Hagar, SRA
The Collateral Underwriter (CU) is an appraisal review tool from Fannie Mae designed to point out possible problems with an appraisal. It wasn't designed to appraise real estate and it isn't an AVM. The CU is a computer, running number-crunching algorithms written by programmers, not real estate professionals. It can't figure out the highest and best use for a property. It can't classify a home as C4 or C5. It's impossible for it to measure the living area of a house and it can't inspect the comparables. It's just a machine. What it can and does do, however, along with similar programs, is spot sub-par appraisals. So why is it needed?
Well, our nation went through a "Great Recession" due to greed, weak appraisals and lax lending practices. Many lenders were more than willing to accept "liar loans" and number-hitting appraisals, even if they were filled with lies about the borrower and unsupported adjustments and worse from the appraiser. Once the secondary market (Fannie Mae, Freddie Mac, etc.) figured out that banks were not reviewing every appraisal like they claimed to be, nor using only USPAP-compliant appraisals to fund loans, it became obvious that a different review system was needed.
Why CU? As most appraisers know, it can take almost as long to fully review an appraisal as it does to create one. Considering that more than 20,000 residential appraisals are submitted to CU every day, a system that deployed human reviewers would require a massive number of appraisers. The only system capable of analyzing a large number of appraisals each day has to be computer based. Furthermore, for this new system to function, the data in appraisals has to made uniform- definition-based descriptions – welcome to AdjPwr, Wo, Wu, C5, and Q6, etc.
This review system is not designed to get rid of appraisers; it's designed to red-flag poor, non-compliant appraisals. When it finds a potential issue it calls out: "Hey human! Come here and look at this issue. I am a machine and can't fully understand but it's worth reviewing. Is this a failure?" A human is supposed to review the warning codes CU produces and take a closer look at the issue(s) called out. CU can't tell you the value of a property or what the adjustment is supposed to be in your unique market, for your unique property. It can point out a potential adjustment and compare what this appraiser did and what other appraisers did in the past. But it doesn't know if the adjustment is correct or applicable in your unique instance; it's just saying: hey human, is this OK? Lenders are then supposed to decide if there's a problem- not the machine.
Why it Matters…to You
The first reason for appraising up to the new standards is risk management. Lenders, Fannie Mae, HUD, and AMCs could, if they wanted to, turn subpar appraisals caught by this system into the various state boards, where the appraiser is guilty until proven innocent. Again, the purpose isn't to sanction or eliminate appraisers but to obtain higher quality appraisals. CU helps move toward this goal. CU helps set the minimum level of acceptability for an appraisal, a floor if you will, and that floor is raised every six months or so as CU looks at more fields and becomes more discerning. They could crank up the level of analysis and set a higher minimum level but doing so would result in a higher number of failures, more hard-stopped appraisals and a further bogging down of the lending system- which is not what anyone wants. So one reason to build supportable appraisals is to remain risk free.
(story continues below)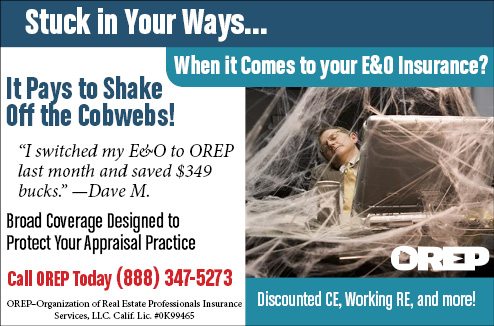 (story continues)
Another reason to up your game is self-preservation. When business is brisk, like now, even less-skilled appraisers enjoy plenty of work. But every appraiser needs to consider what will happen when the business slows down. Why should a client hire even a low-skilled (low paid) appraiser when an AVM can do the same job…. faster and cheaper? An AVM doesn't measure the subject or drive-by and photograph the comparables but then neither does a sloppy form-filling appraiser.
They will pay you if you can show you're worth it. If appraisers want to keep their livelihoods they must provide something more than what an AVM provides including:
• Accurate descriptions
• Actual highest and best use analysis with a summary of the information reviewed
• Factual adjustments (not opinions)
• A viewing of the neighborhood and comparables, and
• ORIGINAL CURRENT photographs of the comparables, not something from the MLS or the assessor (they already have those).
Appraisers who go no further than the minimum of filling out the form, run the risk of being replaced by some hybrid that combines an inspection with an AVM. At this point… a computer can't replace a skilled professional appraiser doing the job correctly but it can replace an appraisal where the minimum or less was done.
If something is working, rarely is it replaced. But to some bankers things are not working. They want to allow AVMs and/or opinions from real estate agents to replace appraisers. The only ammunition are well-crafted appraisals with supportable adjustments, properly measured subjects, accurate descriptions of physical issues, proper adjustments for concessions, properly inspected comparables where fresh pictures are taken; among the many checks that only a licensed and experienced appraiser can bring to the table.
(story continues below)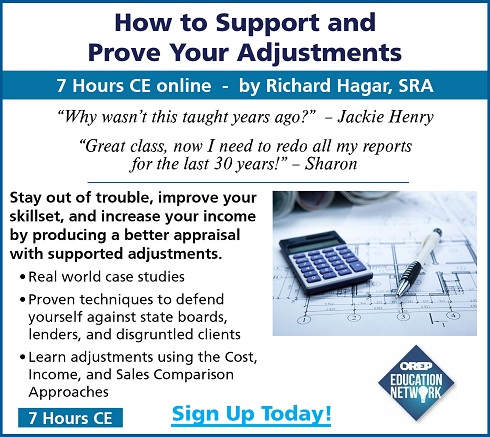 (story continues)
Here's my prognostication: good appraisers are not going away nor will they be replaced. Our appraisal system will evolve. The appraisals provided by low-skilled (Tier 3) appraisers will be replaced by someone inspecting the subject with the value based on the output of an AVM. Many mid-skilled (Tier 2) appraisers will be kept around in case there's a problem or so that they can sign off on the output of the AVM (Hybrid appraisals). Complex properties, waterfront, major acreage, unusual homes, new construction, etc., the ones the AVM can't handle, will continue to be appraised by the very best (Tier 1) appraisers and these appraisers will be paid a much higher fee than that of today. There's a bright future for appraisers who produce a quality product that does what the machine can not and exceeds the demands of a picky, highly regulated client.
To meet that goal I would suggest taking well beyond the minimum education required by your state. Find a way to mingle and learn from your fellow appraisers, become current on issues that are happening in the industry and hone your computer skills. Strive to become a more competent, better educated appraiser (Tier 1) who can then command higher fees. Those who learn more will receive more than just the education hours. They will receive the keys to longevity as a professional appraiser.
New Course: The OREP Education Network is now offering a new online continuing education course, How to Raise Appraisal Quality and Minimize Risk (7 Hrs), designed to help appraisers stay out of trouble with their state boards and avoid lawsuits. Learn to build a stronger workfile and a bulletproof appraisal report. Visit OREPEducation.org today!
"I have recently completed the best appraisal class of my 30 year career (How to Support and Prove Your Adjustments through OREP.) " -Susan D.

Continuing Education: How To Support and Prove Your Adjustments
Presented by: Richard Hagar, SRA (7 Hrs. Online CE)
"One of the best courses that I have had in 17 years!" -Amy H.
Must-know business practices for all appraisers working today. Ensure proper support for your adjustments. Making defensible adjustments is the first step in becoming a "Tier One" appraiser, who earns more, enjoys the best assignments and suffers fewer snags and callbacks. Up your game, avoid time-consuming callbacks and earn approved CE today!
Sign Up Now!  $119 (7 Hrs)
OREP Insured's Price: $99
About the Author
Richard Hagar, SRA, is an educator, author and owner of a busy appraisal office in the state of Washington. Hagar now offers his legendary adjustments course for CE credit in over 30 states through OREPEducation.org. The new 7-hour online CE course How to Support and Prove Your Adjustments shows appraisers proven methods for supporting adjustments. Learn how to improve the quality of your reports and defend your adjustments! OREP insureds save on this approved coursework. Sign up today at www.OREPEducation.org.
Send your story submission/idea to the Editor: isaac@orep.org