---
The following is reprinted from Working RE Inspector, a nationwide print magazine exclusively for home inspectors. If you are not a subscriber, you can read the entire magazine here.
Introduction to Infrared Technology
By Christopher Casey, President of Monroe Infrared
Thermal Imagers, better known as Infrared or IR cameras, have been used by forward-thinking home inspectors for many years. The applications and benefits of applying infrared technology have been well documented. So why is there so much hesitation from inspectors to bring infrared service into their business model? Let's take a look at the top issues inspectors face when considering adding this service. See sample infrared images at the end of the story below.
Expense
A good IR camera for home inspection applications can be purchased from $2,500 to $10,000, with many models falling between and around these price points. Inspectors should consider IR cameras that offer at least 19,000 pixels worth of image resolution and a thermal sensitivity of 0.09°C or better. You can buy one that satisfies these requirements for $2,500–$3,500, depending upon the manufacturer. While there are lower cost and lower resolution cameras available, we have found that the potential issues "missed" by less sensitive cameras make them less than ideal for home inspector applications, which are highly focused on moisture identification.
For a better camera and training, your investment will likely be between $4,000 and $8,000, depending upon your budget and commitment. Infrared, like many technologies, has come down in price with the expansion of markets utilizing the technology but as of today the use by home inspectors is still in the minority, probably due to the cost.
(story continues below)


(story continues)
Demand
Infrared provides customers a greater level of certainty about issues which might not be otherwise found by the naked eye during the inspection or for some time thereafter. Problems may be proactively identified and addressed now, which can save everyone time, money and headaches. Customers are getting smarter and are starting to expect their inspector to provide IR. I suspect that nearly every person reading this article would agree that customers ask about IR more often today than in years past.
Is the business going to a competitor who offers this technology? We regularly hear from home inspectors, who have purchased an infrared camera and attended professionally taught, hands-on thermography certification and marketing training, that they are enjoying a 100–200 percent return on investment in the first year, depending upon which IR camera is purchased. In other words, on a $4,000–$5,000 investment for an IR camera and certification training, they increase their revenue by $10,000 to $15,000 during the first full year. Many inspectors find that customers will pay for what they perceive to be added value, presented to them by someone who is professional, experienced and who can demonstrate their qualifications and knowledge in the subject matter.
(story continues below)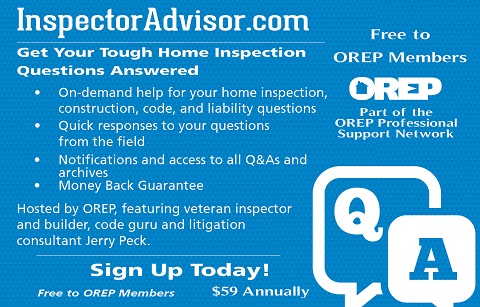 (story continues)
Increased Liability
Nearly all home inspectors utilize clear, well-written and well-vetted statements of work (or they should!). Talk with whoever prepared your current inspection contracts about adding the short verbiage required to define that your use of infrared is no different (better or worse) than what is defined by a visual inspection. It is a snapshot in time and does not determine whether an issue was or was not present, only that it may not have shown itself adequately at the time of the inspection. In short, using an infrared camera to either augment your current home inspection or to provide a separate thermal inspection service should not increase your likelihood of being sued if you properly account for it in your contract's statement of work. Talk to a peer you trust who has added infrared service to his offerings to see how it is working for him/her. Also, many E&O insurance programs now include Infrared Thermography coverage at no extra charge, such as OREP.org.
Keep in mind that while the cameras are very easy to use, there can be complex circumstances surrounding certain applications and situations. On the other hand, having a powerful analysis tool like an IR camera may help you identify problems that can be easily located with this proactive, non-contact and non-destructive technology. Thermal images communicate quickly and effectively to both you, the inspector, and to your customers. And they provide a useful record of the presence or absence of problems!
Sample Infrared Images

Above is an example of missing blown in insulation looking at an outside wall of a church building.

Above is an example of a larger home that is exfiltrating conditioned air, which is pouring out of the soffit at the top of the home.

Above is an example of a circuit break. Hot wires can indicate overloaded circuits.

Missing insulation from wall bays and the poor seam closure at the ceiling line are letting very cold air into the home above.
Free Webinar
>Claims and Complaints: How to Stay Out of Trouble
Available Now
Presenter: David Brauner, Senior Insurance Broker OREP
David Brauner, Senior Broker at OREP, shares insights and advice gained over 20+ years of providing E&O insurance for inspectors, showing you how to protect yourself and your business. Watch Now!
About the Author
Christopher Casey is the President and CEO of Monroe Infrared Technology. He is a is a West Point graduate with a bachelor's degree in Mechanical Engineering and an MBA from St. Martin's University. Monroe Infrared is a leading provider of infrared tools and training, and has a reputable history of offering quality Thermal Imagers, Infrared Inspection Services and Professional IR Training to all industries and business sectors.
Note: The following story is from Working RE Inspector, a new print magazine exclusively for home inspectors. If you missed the print issue, you can read it here.