Insurance IQ
By David Brauner, Senior Insurance Broker, OREP
Here are some quick appraiser insurance fun facts; some things you may know and some you may think you know.
Prior Acts: As we've preached for years: please don't let your policy lapse if you plan on continuing to appraise. As we have advised many times over the years, you must renew without a lapse in your policy or risk losing coverage for prior appraisals. If you let your policy expire and fail to renew, either with your current carrier or with a new provider, you will lose coverage for your past appraisals. The same is true if your policy is cancelled due to nonpayment—you will lose coverage for your past work. This is the way all appraiser E&O works no matter who your policy is with. You can switch insurance companies as long as it is before your policy expires, and provided that the company you're switching to provides prior acts—most do but not all.
If you plan on retiring/leaving appraising, check with your agent about tail coverage. Several programs, including the ones OREP offers, provide free tail coverage for appraisers of retirement age. This can save you thousands of dollars. Tail coverage covers previous work into the future. If you're approaching retirement age you may want to consider switching to a company that provides free tail coverage. Some special rules apply for the free tail coverage, so ask your agent(s) before switching. If you don't qualify for free tail coverage, the coverage is typically available (for premium)- it is on the policies OREP handles. If you have assets, it is smart to buy the coverage. Who needs the worry in retirement?
E&O and General Liability: By now most of you understand that appraiser E&O or errors and omissions covers mistakes made in your professional appraisal services- like malpractice insurance. General Liability (GL) can cover many things, including your office and any bodily injury or property damage (BIPD) that you may cause while performing your professional services at the subject property. BIPD is typically a part of a GL policy but not always. BIPD covers you, for instance, if you knock over and break an expensive vase in a walkthrough or say, drop something heavy from the roof on a homeowner's foot (bodily injury). Many see increased exposure and liability in the new requirements involved in FHA appraising and a good reason to consider GL/BIPD- such as testing appliances and inspecting attics and crawl spaces. We agree and now you don't have to pay for the extra coverage. One policy offered by OREP includes the BIPD premises liability (bodily injury/property damage) at no cost (free). This offers great protection and great savings. Not every policy OREP offers includes this coverage so please call OREP for details.
(story continues below)


(story continues)
Two's Company (Company Coverage): Most applications are explicit about whether they cover one appraiser only or more than one. OREP handles both types of policies. If you have individual appraiser coverage and intend on adding appraiser staff within the next year, a good strategy at renewal is to purchase the "company" or "group" policy which will allow you to add staff fairly seamlessly during the year- at a lower cost than two individual policies. You don't pay more until you add the staff. If you have a single appraiser policy you can still elect to keep the new appraiser on a separate individual policy, which has the added advantage of not entangling you in someone else's claims or complaints. In any case, there should never be any confusion about this issue, and truth be told, there never is. An individual policy will only cover a single appraiser and that is always spelled out on the application in bold type.
If you have a question, ask your agent- that's what we are here for. If you can't get someone on the phone to help you, call a new agent. In addition to low-cost group appraiser policies, OREP offers combination policies for appraising and real estate sales/brokering for the price of one policy.
Reporting Claims and Incidences: I know no one reading would ever intentionally misrepresent anything on an insurance application but sometimes it happens by accident. Try to avoid this mistake. We have seen appraisers not report to their insurance company/agent an inquiry from their state board and then also fail to mention it when renewing on their application, thinking it was frivolous and would just go away. Sometimes it is "dismissed" as being without merit and in some states, an initial inquiry that does not rise to the level of a "complaint" is expunged. It's a good idea to know how your state board works. However, if the inquiry does turn into a complaint or a claim, you run the risk of the insurance company refusing to respond because it was not reported. Sometimes it can be cause for a non-renewal. With our help, underwriters are getting pretty good about distinguishing between frivolous and serious complaints/claims and you likely won't get dinged or dinged much until a claim or complaint actually amounts to something. It's in your interest to reporting everything.
(story continues below)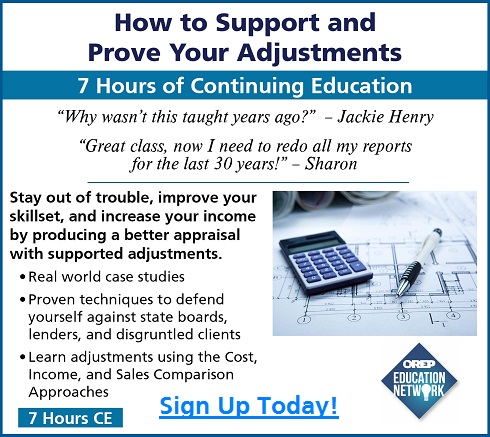 (story continues)
Claims Help: Most large appraiser insurance programs, and every one that OREP handles, provides free pre-claim and claim assistance furnished by legal and claims experts. If you ever encounter trouble, these trained and experienced professionals should be your first call. It pays to seek professional help first. Regarding state board complaints, the programs OREP handles provide reimbursement for defense costs. The amounts vary. One program OREP handles provides up to $10,000 in reimbursement for defense costs with no deductible! (There is no reimbursement for any fine that may be imposed.) Ask your agent about what's in your policy.
In addition to help from the carrier, OREP provides insureds with free help dealing with state board complaints from Bob Keith, MNAA, IFA, and Former Executive Director of the Oregon Appraisal Board. Bob will help you chart an effective course of action from the outset and help you avoid shooting yourself in the foot while defending yourself. Bob is on your side and there is no conflict of interest: he serves no other interests than yours (he is not affiliated with the insurance carrier).
Simplified Applications: I recently had a client call me to say they were advised to not use short, online insurance applications so as to avoid making a mistake. What? OREP has used streamlined applications for over 14 years with tens of thousands of clients successfully insured without a hitch. The ease and convenience of these streamlined applications are the point! If you can complete an appraisal, you can read, understand and complete an insurance application! If not, call the agent (and if you can't get the agent on the phone, call OREP). Streamlined applications can be completed in one step, so you can get back to work fast!
Now here's the pitch: if you want an insurance agency that puts your interests first and has many decades of combined experience serving the appraisal industry, give OREP a call when your appraiser insurance is coming due, we answer the phone!
Valuable CE Offered Online – 7 Hours
How To Support and Prove Your Adjustments
Presented by: Richard Hagar, SRA
Do you have the proper support for your adjustments? Stop taking the same old CE courses and learn proven adjustment methods with instructor Richard Hagar, SRA. Fannie Mae states that the number one reason appraisals are flagged is the "use of adjustments that do not reflect market reaction." Stay out of trouble with Fannie Mae, your state board and your AMC/lender clients with solid, supportable adjustments. Learning how to make defensible adjustments is the first step in becoming a "Tier One" appraiser, who earns more and enjoys the best assignments. Up your game, avoid time-consuming callbacks and earn approved CE today!
"Why wasn't this taught years ago?" – Jackie Henry
How to Support and Prove Your Adjustments
Sign Up Now!  $119  – 7 Hrs. Approved CE
(OREP Insureds Price: $99)

About the Author
David Brauner is Senior Broker of OREP and Publisher of Working RE Magazine. David has been helping appraisers with insurance for over 20 years. David Brauner Insurance Services, Calif. Insurance Lic: 0C89873. OREP- Organization of Real Estate Professionals Insurance Services, LLC. Calif. Lic. #0K99465; dbrauner@orep.org (888) 347-5273 toll free. Visit OREP today for a same day quote on appraiser insurance.
Send your story submission/idea to the Editor: isaac@orep.org