Editor's Note: Please take time to participate in the Future of Appraisers Survey below.

Future of Appraising Survey Results- 3,500+ Weigh In So Far
By David Brauner, Publisher
WRE is a place for you to be heard…and to listen to your colleagues all across the country. Given our nationwide circulation, we are one of the few places where this can happen. What follows is just such a report: the OREP/WRE Future of Appraisers Survey.
Below please find the results of the survey so far. It will remain open for your input and comments until after the spring print edition of Working RE mails in May 2016.
Over 3,500 appraisers have participated to date and we hope you find it important enough to weigh in, if you haven't yet. At the bottom of this story you will find a link to the several hundred comments posted to the survey so far. They are diverse, as you might expect, but when taken together they paint a rather complete picture of the state of the industry. I've included a few comments here to illustrate each question's survey results.
If you haven't participated in this short, six-question survey, we encourage you to do so. As always, thanks for reading.
1. Do you agree that veteran appraisers "in good standing" should be given some path for Certification without a 4 year College Degree? (Y/N)
"Regulated to death. Experience doesn't matter in this profession – only license level now."
These results are not much of a surprise: 82% said "Yes" and 18% "No" – that veteran appraisers without a degree should have a path to Certification. In a recent WRE interview, The Appraisal Foundation (TAF) says they are working on solutions now. That is good news.
2. Do you agree with the Appraisal Foundation's requirement that new appraisers entering the profession must hold a 4-year College Degree to become Certified? (Y/N)
"Appraising is an apprentice-able occupation; a skilled trade which is customarily learned in a practical way through a structured systematic program of on-the-job supervised work experience… A college degree probably has nothing to do with a career as an appraiser unless the degree is specifically in Real Estate Appraising."
Surprisingly, 61% disagree with the college degree requirement (39% agree). Those who believe the majority of appraisers are behind this idea should take note.

(story continues below)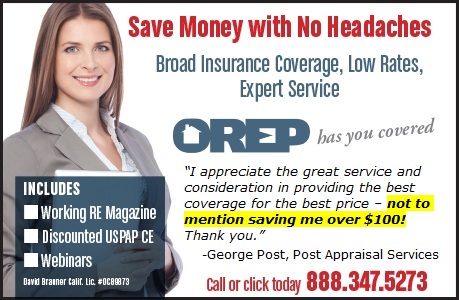 (story continues)
3. Please check all boxes that apply: what are your reasons for not mentoring an appraiser trainee?
"The trainee program is very intimidating for both parties, in time, expense and because of the limited income. My trainee has been very discouraged at times and keeps asking why she is doing this, when she could use her degree and immediately get a good salaried job."
These results back up what most appraisers will tell you: that mentoring does not make financial sense given today's low fees and the inability to fully utilize trainees. Why? Because of lender/AMC rules and state laws prohibiting trainees from working unsupervised. 58% answered "not financially possible" as the biggest reason for not taking on trainees, but not far behind is "Liability" (47%) and surprisingly, "not enough work"
(36%).
4. In your experience, with proper training, is a trainee capable of properly inspecting and measuring a property without their supervisory appraiser present at the property? (Y/N/not sure)
"Question #4 is the most STUPID question ever! Anybody is capable of properly inspecting and measuring a property with proper training. DUH!"
Yes, I laughed at the above comment too.  But I also clearly remember appraisers warning of an impending real estate collapse years ahead of anyone else and no one listening.  If the answer is so obvious- that of course trainees are capable of inspecting properties given proper training and testing, then, DUH, maybe it's time for lenders, AMCs, the FHA and certain states to listen.  Appraisers are the experts, after all. On this issue 76% say "Yes," trainees can do the job given proper training.
5. Is there a shortage of appraisers in your area? (Y/N/Not sure)

"The myth of an appraiser shortage is being promulgated by the appraisal management companies. The shortage is of appraisers who will accept the AMCs 'low-fee-fast-turn-time' assignments."
The quote above is the conventional wisdom of the day: that there is no shortage of appraisers- only a shortage of appraisers willing to work for low fees. However, 22% say "Yes" there is a shortage where they live and this may indicate that this is more than an isolated issue.
6. You plan to leave/retire from the appraisal profession in the next: (5, 10, 15, 20+ years)
"I plan on appraising for the next 20 to 30 years but I fear the profession might go away with the small numbers of new trainees in my state. These requirements, while having good intentions, will be the nail in the coffin of appraising as we know it. I always thought it would be the banks getting rid of us, instead, it will be those who are supposed to have the best interest of this profession in mind who will have done what banks could not do; kill this industry."
The appraiser quoted above is in the minority, at least with respect to how long he intends to remain in the profession, and here lies the most startling results of this survey:  60% of appraisers say they are retiring in the next ten years; 34% in the next five years.

Take Survey Now
Let your voice be heard! Share your opinion on the college degree requirement, trainee experience requirements, and more with Working RE's short, six-question Future of Appraisers Survey.
Webinar Next Week!
Bulletproof Your Appraisal Report and Workfile
Date: Tuesday, April 19th, 10:00 a.m. – 11:30 a.m. PST
Presenter:<span"> Tim Andersen, MAI and AQB-Certified USPAP Instructor
Learn how to protect your license and impress your clients! Not only will you learn how to strengthen your workfile, but Anderson shows you specific ways to improve your appraisal reports. Save time and avoid unnecessary reviewer callbacks by getting it right the first time!
Sign Up Now  ($59)
> Don Martin Leukemia Support Fund: Help a fellow appraiser struggling with leukemia. Don Martin has been an appraiser for over 30 years and now faces financial difficulties after being diagnosed with acute myeloid leukemia. Donate here.

About the Author
David Brauner is the Senior Insurance Broker for OREP.org and Publisher of Working RE magazine. He has been involved in providing E&O coverage for appraisers for over 20 years. OREP is a leading provider of appraiser E&O insurance. All OREP Insureds enjoy unrivaled professional support, including free state board complaint consulting, free webinars, guaranteed delivery of Working RE Magazine, Continuing Education coursework at cost, and discounts on background checks, office supplies, cell phone bills, rental cars, and more. Shop OREP Today!
Send your story submission/idea to the Editor: isaac@orep.org