> Just Published: OREP/WRE's 2017 Fee Survey Results! To view the results in your state, click here. If you have not already taken the survey, please weigh in here.
Fungible
By David Brauner, Publisher
Many of us have a "pet word" that we tend to slip into conversation because we like the way it sounds or how perfectly well it fits an idea. Mine is "demarcation," which connotes a distinction or differentiation between two things—I guess I like to put things into distinct boxes to help me understand them better.
As someone who covers appraising, another word comes to mind that a friend of mine is smitten with: fungible. Something that is fungible can be easily replaced by another item—mutually interchangeable. I don't think the adjective is intended as a modifier for human beings, but that's the way my friend uses it because he feels that way sometimes. But boy does the concept ring true for appraisers today, as once again there is a rising fear level over being replaced by automated appraisals and big data (See AVMs to Finally Replace Appraisers?).
Fannie Mae and Freddie Mac aim to replace an increasing number of appraisals through the greater use of advanced automation and stores of big data, and by extension, make appraisers more fungible as well. To be fair, I wrote about this issue in 1994 and to many back then, it felt like the beginning of the end of the profession. We've seen a lot of water under the bridge since then.
Putting aside how little these quasi-governmental agencies have learned from their journey into "conservatorship," following the most recent real estate collapse, the truth is, no one really knows how many appraisals they aim to replace this time given their data collection efforts over the last few years.
(story continues below)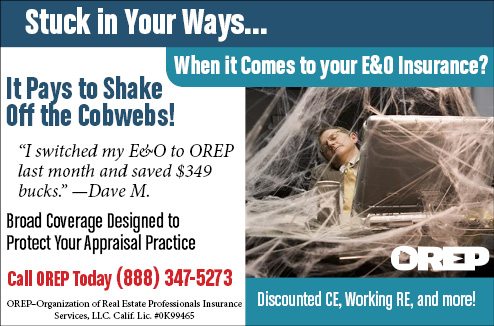 (story continues)
I won't predict the future. But I do know from experience that with every challenge comes an opportunity, and a well-trained, professional appraiser who is an expert in their market is not fungible and, in fact, will be in greater demand as time goes on—just like print magazines. So the experts advise the following: up your game through education and training, deploy the tools at your disposal to cut costs, and strive to produce a product that no machine can replace. Being professional doesn't hurt either—we are all in the customer service business. And, the time may have finally arrived where most appraisers can choose whom they want to do business with, rather than the other way around: cultivate a balance of clients to include those who need an expert as well as those who just need a number.
Working RE is celebrating its fifteenth year publishing valuable news and information to real estate appraisers, and is published by OREP.org, a leading provider of appraiser E&O insurance. Thank you for reading.
> Just Published: OREP/WRE's 2017 Fee Survey Results! To view the results in your state, click here. If you have not already taken the survey, please weigh in here.
> CE Online – 7 Hours (approved in 40 states)
How To Support and Prove Your Adjustments
Presented by: Richard Hagar, SRA
Must-know business practices for all appraisers working today. Ensure proper support for your adjustments. Making defensible adjustments is the first step in becoming a "Tier One" appraiser, who earns more, enjoys the best assignments and suffers fewer snags and callbacks. Up your game, avoid time-consuming callbacks and earn approved CE today! Sign Up Now!  $119 (7 Hrs)
OREP Insured's Price: $99
About the Author
David Brauner is the Publisher of Working RE magazine and  Senior Insurance Broker for OREP.org, a leading provider of E&O insurance for appraisers, home inspectors, and other real estate professionals. He has been involved in providing E&O coverage for appraisers for over 20 years.
Send your story submission/idea to the Editor: isaac@orep.org