Editor's Note: This story is republished from the latest print edition of Working RE Magazine, mailing to over 60,000 appraisers nationally. (Am I a WRE subscriber?)
Five Steps to Growing an Appraisal Firm
By Dustin Harris, The Appraiser Coach
There is a difference between an appraisal office and an appraisal firm. While the former usually applies to one person shops working alone to keep it all together, the latter is typically a larger-scale operation with division of labor and streamlined processes. Either structure works—just differently. Each is a business decision that comes with its own set of pros and cons. For some business owners' personalities, the single-person appraisal business is the way to run things. For others, growth is the desired destination. For those who are wanting to grow, but may need a little guidance, there are five steps, which I have identified in working with my appraiser clients. These will put you on a trajectory to growth in a way that will push you but not crush you.
Vision
You do not dig a hole to build a house before you have a blueprint—a very detailed plan for what the final product will look like. Those plans may be altered slightly along the way, but you will at least have a general direction as to where you are headed. Similarly, do not start your growth process without a detailed plan as to how you will get from point A to point B. What are you trying to accomplish? Why are you making major changes to your business model? Take some time (schedule it on the calendar) to be alone for some real contemplation about where you want to take your business. This is called "Working on It, Not in It" (OINII), and it should be deliberate. There must be both rhyme and reason to your madness. Before you begin, decide what the end looks like.
Prepare
Once your plan is developed and written, it is time to start putting in the foundation that will allow growth without strangulation. If you have been a single-person appraisal shop for many years, it is very likely you do not have the current technology that will allow you to add personnel without dealing with some major bottlenecks. Perhaps you need to set up some hardware that will form the backbone for your expansion. Do you need more computer stations? Have you thought about switching to a server so your new staff can work while mobile? Will your new human resource force be in the field? Do you need to purchase tablets or laser measuring devices for them to use?
(story continues below)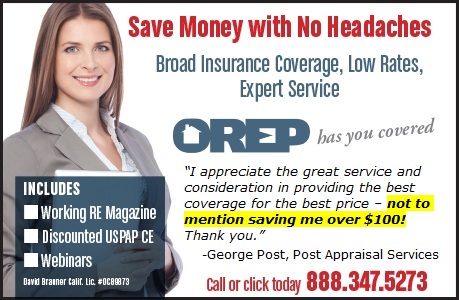 (story continues)
What about software? Do you have the current license capacity for your appraisal software? What about file transfer services such as Onedrive, Google Drive, or Dropbox? You may also need to make arrangements for your staff to gain lawful access to the MLS. Think outside the box. If you have been used to doing this on your own, there are likely many things that will need to be arranged long before you put out your first help wanted ad.
Hire for Basics
I sometimes see fellow appraisers make the mistake of putting the cart before the horse in the way they grow. They get busy, are turning down too much work, and decide they must hire another appraiser to assist them right now (if not last week). Though this may seem like a logical leap to take, it is likely too much too soon. A more logical sequence might include hiring a basic level employee first. Getting someone to help with your data-entry and receptionist duties may do more to free up your time than you might think. With this extra time, you may be able to complete more volume in a day or be better able to focus on your business growth plan (rather than just allowing it to grow undirected).
Once you get those basics covered, you might next consider more skilled employees who can help you to be more careful and efficient as an appraiser. These are the tasks that an entry-level employee can't/shouldn't do, but someone with a little more skill and experience might bring to the table. Market analysis, regression, sketching and in-depth research are all tasks that should probably be covered before you jump to the level of advanced help.
(story continues below)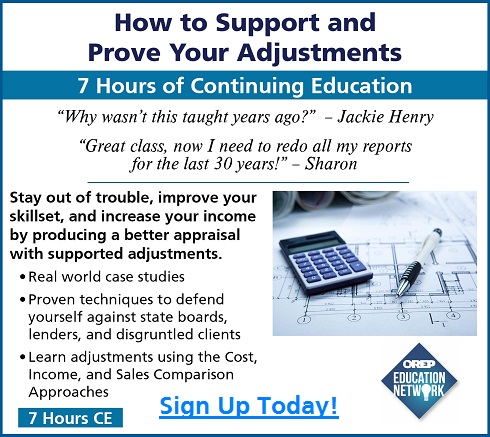 (story continues)
Hire for Advanced Tasks
Once your basics and intermediate levels in human resources are covered, it is time to look at advanced growth. Many appraisal firms never get to this level (and that is okay), but some do. Perhaps you are poised and ready for real growth within your office including additional appraisers. If this is you, proceed cautiously. There are many business models that include additional appraisers working under the same company umbrella, and each come with their own set of advantages and challenges.
If you are a slow and steady individual, perhaps training from scratch is the way to go. If you are more of an "I need someone helping me appraise yesterday" kind of person, you might want to consider hiring another Certified Appraiser and providing them with advantages they cannot have on their own. In other words, ask yourself why someone would want to work with you rather than on their own. If you can answer that question, you can likely attract good talent to help you grow your empire.
Manage and Review
Hiring is only the first step. Management is ongoing. This is where many appraisal business owners decide that a 'firm' is not for them. Management is a skill which is unique to some personalities (meaning it is not so easy for others). When you sign on to hiring and growing, you must follow that decision to the end of the row. In other words, hiring also means you sign on to the process of training and closely managing those individuals. Nothing sinks a business faster than loose management of employees. Remember, this is your brand and your name on the line.
Conclusion
Growth of an appraisal company into a true appraisal firm is not for everyone. Many are very happy with being a single-entity appraisal shop. Many make more money as an individual appraisal company than they might trying to manage and oversee other employees. Others are big dreamers who see themselves at the helm of an appraisal empire. Again, this is a business decision. If you decide to grow by hiring help, take your time. Plan things out. Do it right so you do not regret trying to jump too far too fast. Personally, I have seen a big advantage to utilizing the law of delegation. It has freed up time for me to work on my business (rather than just in my business) and has allowed me success that I could not have had otherwise.
CE Online – 7 Hours (approved in over 30 states)
How To Support and Prove Your Adjustments
Presented by: Richard Hagar, SRA
Now you can improve your skills and earn CE credit conveniently online. Richard Hagar's, SRA highly acclaimed adjustments seminar is now available online for CE credit in most states. Do you have the proper support for your adjustments? Stop taking the same old CE courses and learn proven adjustment methods with instructor Richard Hagar, SRA. Fannie Mae states that the number one reason appraisals are flagged is the "use of adjustments that do not reflect market reaction." Stay out of trouble with Fannie Mae, your state board and your AMC/lender clients with solid, supportable adjustments. Learning how to make defensible adjustments is the first step in becoming a "Tier One" appraiser, who earns more and enjoys the best assignments. Up your game, avoid time-consuming callbacks and earn approved CE today!
"Why wasn't this taught years ago?" – Jackie Henry
How to Support and Prove Your Adjustments
Sign Up Now!  $119  – 7 Hrs. Approved CE
(OREP Insureds Price: $99)

About the Author
Dustin Harris is a successful, self-employed, residential real estate appraiser. He has been appraising for nearly two decades. He is the owner and president of Appraisal Precision and Consulting Group, Inc., and is a popular author, speaker and consultant. He also owns and operates The Appraiser Coach where he personally advises and mentors other appraisers helping them to also run successful appraisal companies and increase their net worth. His free podcast can be listened to on iTunes and Stitcher. He and his wife reside in Idaho with their four children. He loves playing in the outdoors and watching movies indoors.
Send your story submission/idea to the Editor: isaac@orep.org