Editor's Note: This story is from the latest print edition of Working RE. Don't miss the next issue!
(Am I a Working RE Subscriber?)
Facebook AND Face to Face Marketing
By Ryan Lundquist
People think I'm only about social media, but that's far from the truth. It's not just about Facebook but actually about getting in front of people to meet them in person. This is exactly why I'm giving presentations almost every week in a different real estate office.
Giving presentations has been a very powerful way for me to connect with people, build trust and ultimately get referrals. Here's the thing: many agents do not know any appraisers or very much about what we do, so if you can enter their office and provide good information they can use, you likely can become their "go to" appraiser that they know and trust and eventually become their target for referrals.
I realize appraisers are fairly busy right now, so it's daunting to think about getting out there to speak in offices. Honestly, this week I have two presentations and I'm already struggling to meet my deadlines. But I can't fall prey to only marketing my business when it's slow. That's easy to do and it's also dangerous because eventually interest rates will rise and the hot market will cool down. Thus I have to constantly connect with others, meet people and build my network because that's what feeds me and attracts the type of business I want. I find that agents tend to refer pre-listing appraisals, estate work, and divorce. This is why it's important to keep getting out there and one of the reasons I do it regardless of how busy I am.
Getting Presentations
Okay, so how do you get invited to speak? First, an invite usually happens because someone knows you or has heard about you. Better yet, when you do a good job in one office, they often have you back again next year, so your presentation schedule can simply work itself out over time. At first though, think about where you want to speak and then start targeting those offices. Try to get to know people in the office and ask an agent who works there if you can come do a presentation. Or better yet, send something in the mail to the broker letting him/her know you are available.
Here are some things to keep in mind about presentations.
Target Audience: The most important thing is to know your target audience. What type of business do agents in the office conduct? What neighborhoods do they tend to work? You can probably find out by looking up agent profiles in MLS or asking the person who invited you. This is important so you prepare information that's relevant for them. For instance, if agents are working the high end of the market, a presentation on FHA standards probably isn't relevant because they might not do any FHA transactions.
(story continues below)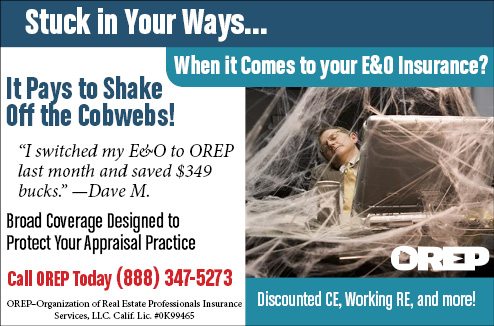 (story continues)
Clothing: I often wear a suit when I present but other times I'll just wear slacks and a dress shirt. I just don't want to be that guy who shows up and doesn't look as professional as everyone else. Remember, if agents like what you say they might end up posting a picture of you on Facebook so you'll probably want to look sharp.
Practical Information: Through the years I've found the best office visits end up being the ones where very practical information is shared. Agents are not interested in USPAP, nitty gritty laws, complaining, or the fine print of appraisal details. They want their burning questions answered: how to understand the market, how to do a better job nailing value and how to have more effective relationships with appraisers. If you can help them understand these things, you are golden. Thus, whatever you share, make sure it's useful information that can be easily applied to business. Is it going to help agents do their jobs better? If so, then it's good.
Control the Topic: One of the easiest ways to do a presentation is to ask the office for a group of questions in advance. Your point of contact with the office can have agents respond and you might get five questions back that will serve as a starting point before fielding other questions. Doing Q&A like this can be very powerful because you already know your target audience is interested and struggling with these issues. Otherwise I recommend pitching ideas you are comfortable talking about rather than handing a blank check to the broker about your topic, who then asks you to do a presentation on easements, solar voltaic or something else you definitely don't want to talk about. This is why during an initial conversation I say something like, "I can definitely do a market update. Or maybe I can talk about how to choose comps like an appraiser. I can also talk through some various examples of things I've seen lately. Q&A also works extremely well." By now I have presentations that are ready to go on a number of things I like to talk about, so if I can simply plug in one of the presentations at a different office, it saves me time by not having to create a new presentation every time.
(story continues below)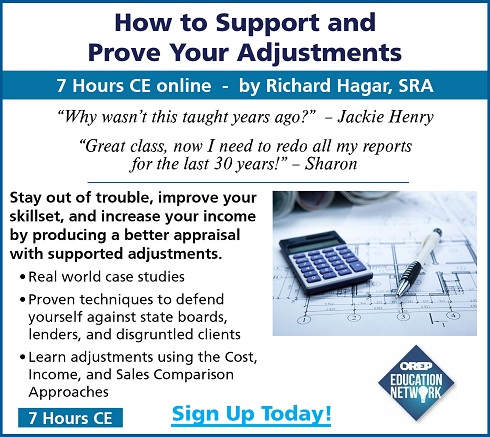 (story continues)
Be Visual: I recommend using PowerPoint if you can but you really don't have to if it's not your thing. I used to bring a handout for everyone and that's also fine but I find people tend to be able to focus and remember what you say if there is something visual being shared. I always ask an office if they have a screen, projector and some capability for me to plug in a presentation. If you are looking for a great presentation, choose 5–10 different slides to share. When a slide comes up, ask agents if they see the issue and how they might handle it. Then tell them what you would do as an appraiser. For instance, imagine showing a view of a busy street and then asking how that might impact value. You can have some great discussion there and then talk about how you would choose comps for a property on a busy street. Or imagine a slide of a crack in a wall, generating some discussion on cracks and ultimately helping agents know how appraisers and lenders might deal with cracks.
Be Yourself: People want to get to know you, so just relax and be yourself. On that note, don't cut and paste other people's content without attribution.
Business Card Action Step: It's easy to gloss over this step but it's one of the most important things I'm going to say. Just before my presentation is finished I pass around a cup and ask agents to put in their business cards. I tell them I'll send them something extra. I usually send a few links to articles I've written, a document on how to communicate well with appraisers or even the presentation itself. If you don't have anything like this to give, you might consider getting something. But even if you are coming up blank, you can always say, "Put in your card and I'll send you an email. That way you can email me any time you have appraisal questions. I'm here for you." Keep in mind if you have a monthly appraisal newsletter, blog or something similar, you can always invite agents to subscribe to that too.
The truth is more than 90 percent of my business is non-lender work, so I rely heavily on referrals from the real estate community. Outside of AMC work, the appraisal business really is about building relationships with people, which is why mingling with others and giving presentations is so key. I often get phone calls after presentations asking me further questions. This is great because when people start asking you questions, you know they are beginning to trust you. On that note, if nobody is asking you questions, it's a sign you may need to start connecting with others. If you can provide some value to a group and over time become the person they know, the business really does start to come. I also have one weekly blog post where I invite agents to subscribe if they wish.
Thus if a number of people choose to subscribe after each presentation, it's a real win for me because now my network has grown. Or maybe I get tagged on Facebook by one agent in the office and then I become Facebook friends with a couple other agents. In short, the presentation is something helpful for an office, but it's also something that can be a springboard for further relationships.
I know it may sound scary to get out there and talk in front of people but you can do it. Remember, if an office wants you to come in, they're hoping to learn something from you. They're not there to grill you, but to absorb information from you. Let that take the pressure off and consider putting yourself out there. You are an expert at what you do. If you haven't spoken in an office in a long time, I challenge you to make it your goal to speak in one office over the next few months.
> Just Published: OREP/WRE's 2017 Fee Survey Results! To view the results in your state, click here. If you have not already taken the survey, please weigh in here.
> CE Online – 7 Hours (approved in 40 states)
How To Support and Prove Your Adjustments
Presented by: Richard Hagar, SRA
Must-know business practices for all appraisers working today. Ensure proper support for your adjustments. Making defensible adjustments is the first step in becoming a "Tier One" appraiser, who earns more, enjoys the best assignments and suffers fewer snags and callbacks. Up your game, avoid time-consuming callbacks and earn approved CE today! Sign Up Now!  $119 (7 Hrs)
OREP Insured's Price: $99
About the Author
Ryan Lundquist is a Certified appraiser and focuses on residential appraisals in the Sacramento area. His clients include home owners, real estate agents, governmental agencies, attorneys, and lenders. Lundquist runs the SacramentoAppraisalBlog.com, a top-ranking appraisal blog in the United States. He won the Affiliate of the Year award in 2014 from the Sacramento Association of Realtors. He is also the Chair of the Housing Opportunity Committee with the Sacramento Association of Realtors and a board member of the Real Estate Appraisers Association of Sacramento.
Send your story submission/idea to the Editor: isaac@orep.org