Drones for Appraisal Use
by Lamar H. Ellis, III, MAI, SRA
In August 2016, when the rules for the commercialization of drone use were enacted by the Federal Aviation Administration, the world changed for appraisers and other real estate professionals. Known as an unmanned vehicle, a drone can be anything from a submarine to a car or multi-rotor copter. For appraisal practice, unmanned aerial vehicles are typically being used.
Drones are flown by either remote control or by an on-board computer. In technical terms, aerial drones are referred to as UAVs or unmanned aerial vehicles, or as part of an unmanned aerial system- UAS. Drones are already making an impact on the valuation of properties and are considered by some as an essential tool to be used in appraisal reports. Appraisers typically examine and review large volumes of data to discover, analyze and report on the fair market value of properties. Drones are a tool which can assist in the ability to make educated and informed decisions from a unique perspective.
There are many advantages to using a drone for appraisal practice. The main one is the ability to access hard-to-reach places. Areas considered previously unobservable such as rooflines, air conditioning units, gutters, and more, can now be seen using the correct equipment. Not only can these items be observed, but areas of interest can be identified for additional inspection. This can be specifically useful for large acreage tracts where easements and prior improvements can be shown via photographs or video. This allows appraisers to observe and document a property in real-time on the date of inspection and will undoubtedly change the way many properties are viewed going forward.
Dollars and Sense
Drones are relatively inexpensive to use. Most drones are powered by lithium batteries which can be recharged for each assignment. Using a helicopter or an airplane for an aerial inspection is very costly. Pilot availability and weather conditions are just two considerations which affect traditional ways of obtaining aerial inspections. Also, a helicopter and airplane have height restrictions that impede close-up views. A drone can be deployed within a matter of minutes for each assignment and can take close-up pictures of specific aspects of a property. Even though a drone's parts will eventually wear out and a crash can set you back a few dollars, a drone is still relatively economical. The overall cost is dramatically less than the traditional ways of obtaining aerial photographs.
Appraisal Use
There are many applications where drones can be used in appraisal work. From aerial photographs of a property, to thermal imaging to determine heat loss, drones have practical applications that are being tested every day. Equipping a drone with the correct sensors can give an appraiser a niche in the market and create an expertise that may be in demand.
(story continues below)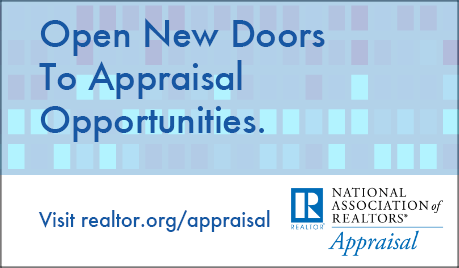 (story continues)
Drones also mitigate risk and contribute to a safe working environment. This is probably the number one selling point to a client when contemplating whether a drone should be used. Various properties can have terrains that are considered to be hazardous. Whether it is a creek, overgrown foliage or rocky terrain, a drone can traverse a property with relative ease.
Appraisers can use drones to access and value the progress of a construction project for instance. Properties can be valued in all stages of construction from site proposals, under construction to completed projects. The information obtained can be used to estimate the timelines of completion, the correct allocation and use of resources and whether the scope of work is being completed correctly. Sometimes the cameras can even acquire unintended information which could be useful in the completion of a project, mainly traffic flow.
In one appraisal assignment, there was a struggling retail center located directly across the street from a profitable Walmart. During the inspection, the drone captured the unintended information on traffic flow, the appraiser was able to easily identify one major reason that the property had a high vacancy rate. The retail center had only right in/right out ingress and egress. It was virtually impossible to leave the property and traverse the four lanes and use the light in front of the Walmart to return in the opposite direction. The client was able to change their marketing strategy and identify the correct occupants to market the property to. The property is now fully occupied.
Legal Applications
Appraisers are finding that drones can also be used in litigation work. Not only does it help to create the image of a more thorough report but it also helps the judge and jury to easily understand a property. The pictures or videos have a time signature that shows the date of inspection. Tax Assessor, Google and Bing Maps are all based upon satellite imagery but the date of the imagery can be from one-month to five-years old. It can be difficult to make a compelling argument when data is old and the characteristics of the property or area have changed.
(story continues below)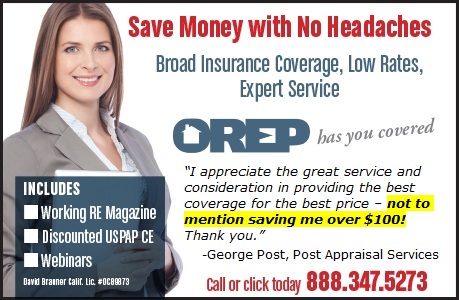 (story continues)
Drones can be programmed to fly a grid pattern over the property, taking a number of sequential shots with a high-degree of overlap both laterally and horizontally. These shots can then be used to produce stereo imagery which corrects for undulations and contours in the ground. The implications of having a property accurately surveyed within a short timeframe are impressive. Appraisers can use the data to create a three-dimensional model of a property or develop a two-dimensional orthomosaic. These models can be rotated and viewed from various angles. The size and dimensions for the windows, doors, skylights, etc. can be accurately determined. The data can be used to accurately determine the gross building area of a property. Excess and surplus land can also be easily calculated. Drones make such modeling much easier and more cost-effective, allowing an appraiser working as an expert witness to present a very defensible representation of the property in court.
Creative Problem Solving
Thinking outside the box is essential for the valuation of some properties. Chad Hornbuckle, of Sugarbush Appraisal in Colorado, recently used a drone to support an adjustment for a third story unit's view on a proposed multi-family building. He hovered the drone at the estimated height of the floor and was able to show the mountain view on one side and the city view on the other side.
In my own practice, I have been able to prove the usefulness of drones many times but there are two specific examples where it changed the outcome of a report. The first example was a drive-by inspection on multiple residential properties on a street. From the street, all the homes appeared to be in fair condition. The Tax Assessor, Google and Bing Maps all showed the properties to be structurally sound. However, the drone spotted that one of the houses rear roof had collapsed. This had a major impact on the valuation of this home and warranted additional inspection.
(story continues)
The second example was for an industrial warehouse where I was able to notice a tree limb laying on the roof. I tried multiple angles from the ground and was unable to get a clear view of the limb. Using a drone, I was able to inspect the roof and get a clear view of the tree limb. Ironically, the tree limb was not a problem but the roof had numerous areas of pooling water which could potentially be harmful to the structure. This was a great example of how the drone was able to identify a problem before it developed into something much worse.
Conclusion
Drones are another useful tool for appraisers. They are not appropriate for every project but for some properties the ability to raise the camera off the ground gives a different and valuable perspective. As the technology continues to improve, the use of drones in reports is also expected to grow.
CE Online – 7 Hours (approved in over 30 states)
How To Support and Prove Your Adjustments
Presented by: Richard Hagar, SRA
Now you can improve your skills and earn CE credit conveniently online. Richard Hagar's, SRA highly acclaimed adjustments seminar is now available online for CE credit in most states. Do you have the proper support for your adjustments? Stop taking the same old CE courses and learn proven adjustment methods with instructor Richard Hagar, SRA. Fannie Mae states that the number one reason appraisals are flagged is the "use of adjustments that do not reflect market reaction." Stay out of trouble with Fannie Mae, your state board and your AMC/lender clients with solid, supportable adjustments. Learning how to make defensible adjustments is the first step in becoming a "Tier One" appraiser, who earns more and enjoys the best assignments. Up your game, avoid time-consuming callbacks and earn approved CE today!
"Why wasn't this taught years ago?" – Jackie Henry
How to Support and Prove Your Adjustments
Sign Up Now!  $119  – 7 Hrs. Approved CE
(OREP Insureds Price: $99)

About the Author
Lamar H. Ellis, III, MAI, SRA is from Atlanta, Georgia and is currently presenting drone seminars across the United States. The seminars have been well received and well attended. If you would like additional information please check out Facebook.com/Drone-NOIR or Dronenoir.com.
Send your story submission/idea to the Editor: isaac@orep.org