Customary and Reasonable: Measuring the New Normal
by David Brauner, Senior Broker OREP
Is there a new normal when it comes to appraiser fees? Are the higher fees (in some cases much higher fees) being enjoyed by many appraisers today "Customary & Reasonable" or "price gouging" as some AMC folks contend? Are the new higher fees simply "what the market can bear," which is how many of those same AMC folks used to characterize the much lower fees of the recent past? I'm not sure. But let's find out.
You may remember our 2010 OREP/WRE Customary and Reasonable Fee Survey. It was in response to the Home Valuation Code of Conduct agreement (HVCC), the subsequent rise of AMCs and corresponding drop in appraisal fees. Over 17,000 appraisers participated in that survey in 2010.
(story continues below)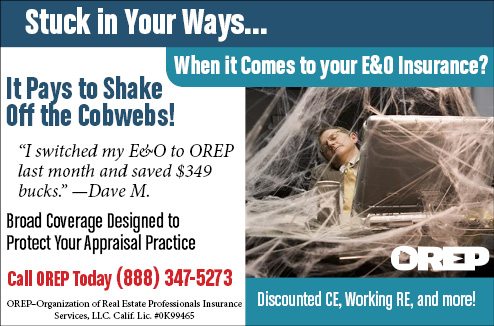 (story continues)
But times have changed. Today there are about 20 percent fewer active appraisers. Fees are rising, turn times are growing longer and there is a new normal. We examine many of these issues in the upcoming print edition of Working RE, mailing in mid-January (subscribe here). To support our reporting, OREP/Working RE is conducting a Fee Survey to update and measure the current state of fees and turn times. The results will show you and all interested parties what is customary and reasonable across the country and where you live and work in today's marketplace. The survey is anonymous.
Like the previous survey, this one is broken out by 365 Metropolitan Statistical Areas (MSA) as defined by the U.S. Census Bureau and takes about five minutes to complete. It surveys eight different appraisal products including reviews and FHA appraisals and addresses appraisal turnaround time, which many insist is the biggest obstacle to quality today. (Take the survey here.)
(story continues below)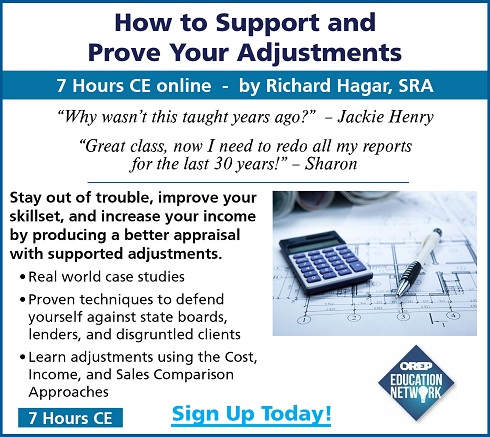 (story continues)
The survey results will provide you with a snapshot of today's appraisal fees nationwide and close to home. Its value will depend on your participation. We encourage you to participate.
First results will be available no later than May 1, 2017 for free and will be updated regularly as the various market areas become more populated.
This survey is designed to help you expand your view of the marketplace beyond your own business and if it's like the previous survey, will also be referenced by lenders, AMCs and the Feds to help them better understand the current state of fees and turn-times. To weigh in (and please do), click here to take the survey. You will also find the 2010 survey results as a further means of comparison.
Wishing you all peace, love and prosperity this holiday season and in the new year.
CE Online – 7 Hours (approved in over 30 states)
How To Support and Prove Your Adjustments
Presented by: Richard Hagar, SRA
Now you can improve your skills and earn CE credit conveniently online. Richard Hagar's, SRA highly acclaimed adjustments seminar is now available online for CE credit in most states. Do you have the proper support for your adjustments? Stop taking the same old CE courses and learn proven adjustment methods with instructor Richard Hagar, SRA. Fannie Mae states that the number one reason appraisals are flagged is the "use of adjustments that do not reflect market reaction." Stay out of trouble with Fannie Mae, your state board and your AMC/lender clients with solid, supportable adjustments. Learning how to make defensible adjustments is the first step in becoming a "Tier One" appraiser, who earns more and enjoys the best assignments. Up your game, avoid time-consuming callbacks and earn approved CE today!
This course never expires!
Take the tax deduction this year and use the hours when you need them- this year, next year, or years from now.
"Why wasn't this taught years ago?" – Jackie Henry
How to Support and Prove Your Adjustments
Sign Up Now!  $119  – 7 Hrs. Approved CE
(OREP Insureds Price: $99)

About the Author
David Brauner is Publisher of Working RE magazine and Senior Broker at OREP, a leading provider of E&O Insurance for appraisers, inspectors and other real estate professionals in 49 states (OREP.org). He has provided E&O insurance to appraisers for over 20 years. He can be contacted at dbrauner@orep.org or (888) 347-5273. Calif. Insurance Lic. #0C89873. OREP–Organization of Real Estate Professionals Insurance Services, LLC. Calif. Lic. #0K99465.
Send your story submission/idea to the Editor: isaac@orep.org