Editor's Note: The current edition of Working RE is in the mail. OREP E&O insureds enjoy it free!
Being the Connected Appraiser— Building Business with Connected Tools
By Greg Fandrick, Anow
Yes, you are connected. We all have a mobile phone; everyone uses online banking, social media is ubiquitous and more than likely you count on the Internet as a tool for every appraisal you complete. No doubt we are a connected society. But if you think the basics of connectivity described above are all you need, you may find this article worth reading.
If you are an appraiser who wants to build your business, find and maintain profitable, non-lender appraisal orders, control your rates, manage your calendar and delight your customers—there are online or digital resources to consider. Let's review four key areas that you, the connected appraiser, can adapt, tweak or improve to build your appraisal business.
Connecting Online—Website
Every appraiser should have some kind of professional web presence. Potential buyers do everything on the web these days, and you want them to be able to find you there. That said, a website that no one can find is a problem; consider two areas that are critical to the appraiser who wants to be found.
Mobile
Do you know that searches on Google now happen from mobile devices more than on desktops? Over 58 percent of searches are performed that way. Google suggests that that is an extra 28 billion searches performed on mobile phones vs. desktops. This means your online presence, your website, regardless of who created it and how often you update it, better be mobile friendly if you want to be found. So regardless of how you obtain or maintain your website there are three important MOBILE tips to consider.
1. Responsive design. This is simple; have one website design that works seamlessly on both desktop and mobile devices. It is called a responsive design. Try your website now. Open a browser window on your desktop computer or laptop. Drag the browser window smaller and smaller, right down to a tablet or mobile phone size. Does the content adapt to the screen size? If not, put that on your "to do" list.
2. Fast loading. Test your website and how fast it loads. Having your site be super-fast after a customer searches you on Google is critical. If you land on a webpage that takes too long to load what are you going to do? You're going to click the back button. Don't let that happen to you. You can test this with many free tools. Just search "website loading time free test" and test your site.
3. Related to fast loading time is a great platform that Google provides called AMP. Accelerated Mobile Pages (AMP) meet a standard for speed and performance by Google. Just ask your "web guy" if your site is Google AMP, and if it is not, should it be?
(story continues below)
(story continues)
Be Local
Did you know that Google is constantly updating their search engine? In particular, Google has been making an effort to match buyers with businesses in their own geographic area. This is partly out of consumer preference— who doesn't like buying local? And partly as a result of mobile integration, which leads searchers to look for products and services while they are "on the go."
Specific to appraisers, location and availability are significant factors for customers. What can you do to be found locally? Here are three things you must do if you have not already.
1. Claim your business on Google and verify. Google will actually mail you a verification code to prove your location. Do it and get your appraisal business on the local services map.
2. Use local references on your website. Your city has neighborhoods, suburbs, local landmarks, so list them as your service area. Even driving directions to areas you serve are a great idea.
3. A local phone number proves to your customers you are nearby. List yours.
To summarize, if you want to grow your business, adapt your online presence. Believe that customers are searching for you on mobile devices and your location is critical.
Connected Office
Your appraisal history, your reports, the critical documentation you use to run your profession, just don't belong on your laptop anymore. Sorry, that USB backup you put in the drawer is simply not good enough. It's time to put your office in the cloud. Here are four reasons to move your appraisal office management software online:
1. Security: You might have concerns about cloud hosting but one thing is for sure—nothing in your office or home office meets the security standards offered by major data centers.
As standard practice, data centers have:
• 24/7 surveillance, an ID-controlled gate, and posted security guards
• Carefully controlled access to servers
• 99.999 availability or uptime.
2. Scaling: Your business scales with you, automatically. As your appraisal office grows, you need to be able to increase computing power in order to handle more and more users on the network. Cloud services have elastic server structures so that their clients can increase their bandwidth instantly.
3. Specialization: Appraisers are specialists. You specialize in valuations. Today it costs so little to outsource a specialist for your business. Whether it is for storage, office management, payments, or all of them integrated into your appraisal management system.
4. Availability: From the office, from home, on your desktop or tablet you need availability. Your connected business in the cloud is available practically anywhere and anytime.
In other words, the connected appraiser needs a connected office!
(story continues below)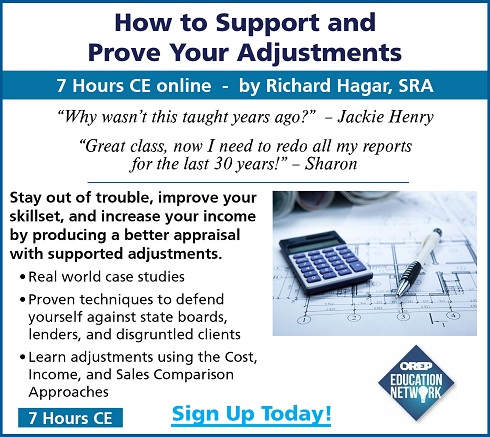 (story continues)
Connected Services for Automation
Multiple and separate systems for lenders and appraisal management companies have resulted in technology overload. Accepting and updating new appraisals with all these separate entities takes a lot of time . How many times should you have to enter the appraisal address? Why is every status update so time-consuming? Can this be resolved?
The connected appraiser can alleviate the problem and improve productivity by automating order acceptance and task management. While there is no panacea, integration between platforms is beginning to make life easier. As an example: appraisal orders accepted on the Mercury Network will automatically populate the scheduling and assignment Order Desk in Anow. This simple integration saves data entry time for every order received.
Inside the office, work calendars that sync to mobile calendars significantly improve productivity. Threaded discussions, notes and shared files as part of the appraisal file prevent missed communications between the office and the appraiser. The connected appraiser has robust automation solutions available to them and the future promises enhancements as platforms begin to communicate over API's (Application Programming Interface). The Connected Appraiser will enjoy a distinct competitive advantage.
Connected Customers
Growing your appraisal business and winning the business of preferred customers can be accelerated by making it easier for your customers to order and communicate with you and your team. Do you prefer to book your car for repair by calling around or it is easier to look up the availability and book on the garage's calendar automatically?
It is the same with appraisal customers. New tools make it easy for your customers:
• Online appraisal portals to your company
• Online availability (request ranges of dates in your calendar)
• Online order forms which integrate directly into your appraisal management system
• Automated messages and updates
• Online file sharing and payments
These are all features of connectivity available today to every appraiser that make it easier for the customer to deal with your firm and keeps them coming back.
Summary: If you lower the barriers to dealing with your firm, customers will choose you first, the connected appraiser.
Conclusion
Like all marketing efforts, managing a website and social presence that are part and parcel of the Connected Appraiser is a time-consuming endeavor. Sole proprietor valuation professionals may find this commitment overwhelming while trying to deal with all of the other aspects of running a business. Pick and choose where you can spend time or whom you can trust to help.
Move your office to the cloud. There are many emerging options for the modern appraiser. From online spreadsheets to add-ons of the largest of appraisal management software; there is a lot of choice. Planning the migration is key to successful transition. Talk to your suppliers and determine who will help you launch your new system. Can you bring your historical data with you?
Connectivity is a valuable tool for valuation professionals, most appraisers are entirely dependent on multiple sources of information and data. Forward looking valuation professionals see the opportunity to extend connectivity into their practice.
With a little bit of planning, you can become the Connected Appraiser.
New Course: The OREP Education Network is now offering a new online continuing education course, How to Raise Appraisal Quality and Minimize Risk (7 Hrs), designed to help appraisers stay out of trouble with their state boards and avoid lawsuits. Learn to build a stronger workfile and a bulletproof appraisal report. Visit OREPEducation.org today!
"I have recently completed the best appraisal class of my 30 year career (How to Support and Prove Your Adjustments through OREP.) " -Susan D.

Continuing Education: How To Support and Prove Your Adjustments
Presented by: Richard Hagar, SRA (7 Hrs. Online CE)
"One of the best courses that I have had in 17 years!" -Amy H.
Must-know business practices for all appraisers working today. Ensure proper support for your adjustments. Making defensible adjustments is the first step in becoming a "Tier One" appraiser, who earns more, enjoys the best assignments and suffers fewer snags and callbacks. Up your game, avoid time-consuming callbacks and earn approved CE today!
Sign Up Now!  $119 (7 Hrs)
OREP Insured's Price: $99
About the Author
As Vice President of Product & Marketing at Anow (Appraiser Now Ltd), Greg leads the marketing team and is responsible for the company's go-to-market, multi-channel marketing and driving innovation in the core markets that Anow serves. An expert in Fintech and SaaS services, Greg has been a driving force in advancing SaaS in the accounting and real estate fields.
Send your story submission/idea to the Editor: isaac@orep.org