Editor's Note: This story can be found in the new print edition of Working RE (now mailing). Am I a Working RE Subscriber? OREP E&O insureds enjoy a free subscription.
AQB Considers Changes to College Degree, Experience Requirements (Again)
By Isaac Peck, Editor
On November 1, 2017, the Appraiser Qualifications Board (AQB) issued its 4th Exposure Draft on its proposed changes to the Real Property Appraiser Qualification Criteria.
The AQB writes that after examining this issue in-depth for over two years it believes that the public trust "can be served without requiring college-level education for the Licensed Residential credential, and by allowing alternatives to the bachelor's degree requirement for the Certified Residential credential." The AQB reports that it has received "an unprecedented level of feedback" on this issue and acknowledges that there is clearly a "great divergence of opinion." However, the AQB indicates that, in lieu of a bachelor's degree, there are alternatives that can "achieve a similar level of public trust in the residential appraisal marketplace." Supporting the argument that the bachelor's degree requirement will lead to a shortage of appraisers, the AQB writes that these degree alternatives are desirable because they will ensure "an adequate supply of qualified appraisers."
The AQB makes a point of noting that it "does not establish Criteria with the intent to affect the supply of appraisers," but adds that "a healthy balance of supply and demand certainly assists with protecting public trust in the appraisal profession." As for what alternatives should be allowed in lieu of a bachelor's degree, the AQB proposes (1) An associate's degree in business, finance, accounting, economics, or similar programs, or (2) Successful completion of 30 college semester credit hours in specified topics, or (3) Successful completion of College-Level Examination Program (CLEP) exams equivalent to a minimum of 30 semester credit hours in specified subject matter areas; or (4) Any combination of #2 and #3 that includes all of the topics identified. The topics to be covered in the 30 college semester credit hours and/or CLEP tests include English Composition, Micro-Economics, Macro- Economics, Finance, Algebra, Geometry, Statistics, Business or Real Estate Law, and other closely related topics.
The AQB also addresses its earlier proposal of developing coursework that could be used to substitute an appraiser's experience hours, which it refers to as the Practical Applications of Real Estate Appraisal curriculum (PAREA). PAREA coursework would "provide an alternative to gaining experience in the traditional sense of training (i.e., in an appraisal office with a supervisor mentoring the trainee)." The AQB writes that it has received widespread support for the PAREA concept, in part because of "the current lack of training opportunities in appraisal firms and the financial disincentives inherent in training programs for both the mentors and trainees." The AQB indicates that some of the responses it received regarding this topic "conveyed a lack of understanding of the AQB's goals in developing this alternative form of experience" and that "the goal of the practical applications program would be to emulate actual field experience, and the module structures would include actual field experience."
(story continues below)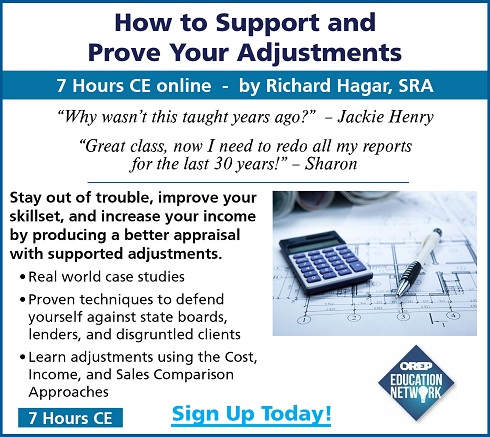 (story continues)
However, because of the varied responses it received, the AQB is withdrawing the PAREA concept from its 4th Exposure Draft and will look to provide "more information and illustration…in order for responders to credibly evaluate this concept." The AQB plans to continue developing the PAREA concept and advises that appraisers should look for additional information on PAREA in the coming months.
Lastly, in keeping with its earlier proposed changes, the AQB is proposing revising downward the experience hours required for both the Licensed Residential and Certified Residential credentials. For the Licensed Residential, only 1,000 hours of experience would be required (six month's minimum timeframe). For the Certified Residential credential, only 1,500 hours of experience would be required (12 months minimum timeframe). For the Certified General, the 3,000 hour experience requirement is left intact, but the minimum timeframe is cut down from 30 months to 18 months.
In its rationale for why it finds such changes necessary and timely, the AQB writes that while the experience requirements have not increased since 1998, there have been substantial enhancements in education and examination components of the Criteria that make it appropriate to reduce the experience requirements as well as the minimum timeframes. In response to critics who oppose reducing the experience requirements, the AQB draws a distinction between being competent and qualified, writing that the AQB Criteria "must ensure that an individual is qualified to appraise, even though that individual may not necessarily be competent yet. Competency is gained over time based on an appraiser's practice. Regardless of the amount of experience required to obtain a credential, there will always be assignments appraisers are not competent to perform at the time they initially receive a credential."
(story continues below)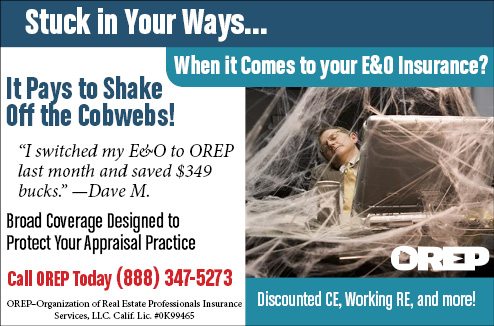 (story continues)
Appraisers are encouraged to submit their comments to the AQB before the Friday, January 12, 2017 deadline: Email: aqbcomments@appraisalfoundation.org or mail to: Appraiser Qualifications Board, The Appraisal Foundation, 1155 15th Street, NW, Suite 1111, Washington, DC 20005. The AQB will also accept verbal comments at its public meeting in Washington, DC on Thursday, February 1, 2018.
> CE Online – 7 Hours (approved in 40 states)
How To Support and Prove Your Adjustments
Presented by: Richard Hagar, SRA
Must-know business practices for all appraisers working today. Ensure proper support for your adjustments. Making defensible adjustments is the first step in becoming a "Tier One" appraiser, who earns more, enjoys the best assignments and suffers fewer snags and callbacks. Up your game, avoid time-consuming callbacks and earn approved CE today! Sign Up Now! $119 (7 Hrs)
OREP Insured's Price: $99
About the Author
Isaac Peck is the Editor of Working RE magazine and the Director of Marketing at OREP, a leading provider of E&O insurance for home inspectors, appraisers, and other real estate professionals in all 50 states and D.C. He received his master's degree in accounting at San Diego State University. He can be contacted at isaac@orep.org or (888) 347-5273.
Send your story submission/idea to the Editor: isaac@orep.org