Find OREP/WRE's 2017 Fee Survey results here (take survey here). New Working RE Magazine.
Appraiser's Life: How Busy Are You?
by Ed Cline, SRA, AI-RRS, GAA, RAA, MNAA
Was 2016 a better year for you than 2015? With all the hype about an appraiser shortage, all of us should have had a banner year in 2016 and 2017 should be following suit, right? How busy are you?
I have an appraisal firm which services western Penn. (Pittsburgh) and eastern Oh. (Youngstown). Our firm experienced a decrease in volume from 2015 to 2016; we were down roughly 13% in Penn. and 20 percent in Oh. from 2015 to 2016. This year, 2017, is starting out slowly and if it keeps at this pace it will be slower than 2016. After looking at our volume I reached out to other appraisers in my market and they ALL experienced a decrease in volume. One of our client contacts, who we have had a great relationship with for years, recently moved to a new company. Eager to continue the relationship, we were put in contact with the new AMC which this new company deals with. So, as any good appraiser does, we contacted the AMC. We were unhappy to hear that this AMC pays $275 for a full URAR but sometimes they will go "all the way up to $300"… lucky us. They also demand an extremely quick turn time for these ridiculous fees.
For a reference point, the VA pays $450 in our market. Not only does this AMC pay poorly but we consider them to be a slow pay; that is that you must pester them to give you the money you've earned. To be fair to this AMC, they are not the lowest paying one in our market; we still receive requests to do a full URAR for $250. This is the same fee we received when I started in 1986, over 30 years ago. It does not appear that they are familiar with Customary and Reasonable fees from Dodd Frank. Can you believe at least one AMC spokesperson had the audacity to claim publically recently that there are appraisers who are not treating AMCs fairly? A lot of AMCs have been treating us unfairly for decades.
To be fair this is not true of every AMC. In 2016, while reviewing our monthly volumes, we noticed that a good client just disappeared. And like we do, we contacted the client to make sure we didn't do anything wrong and to see if there was some need for improvement. This client informed us that they were happy with our work, however, we were on reserve status. They told us they simply had too many appraisers and needed to cut back on their list and we were not the only firm to be put on reserve status. Obviously, we are in a market that is over saturated with appraisers willing to work for extremely low fees and quick turn times. These low fees, ridiculous turn times, and the extreme decrease in volume over the past year are undeniable proof that there is an oversupply of appraisers.
I am sure you are thinking that there is no way you can conclude that there is a nationwide oversupply of appraisers based on two regions (cities). You are correct that two regions may not be reflective of the entire county. And then shouldn't the opposite be true? We have "experts" continually pointing to as many as 10 cities stating that they are proof that there is a nationwide appraiser shortage and therefore the minimum requirements for a residential appraiser should be greatly diminished. All their evidence proves is that there is a shortage of appraisers in those 10 cities. I am confident that my two regions are not the only areas where there is an oversupply.
Meeting with the AQB
We attended the public meeting of the Appraiser Qualifications Board (AQB) in St. Louis (November 18th, 2016). I took one of my trainees with me following my recent story in Working RE on trainees so that the Board could have an opportunity to actually talk with someone who is currently going through the process. It appeared to us that there was not a single person in the audience who was in support of the proposed changes as they were presented to lower the standards for appraisers. If I remember correctly there was only one other full time residential appraiser there. – From what Ed and Matt remember this is a true statement.
Both the AQB and the Appraisal Foundation stated that low fees are an impediment to attracting our next generation of appraisers. They also stated that it is their responsibility to do what is in the public's best interest first and not to try to influence fees. I agree that low fees are a big problem and that their duty is to the public interest but I do question their position on not influencing fees. What the Foundation and especially the AQB need to understand is that their decisions always affect fees. If they continue to move forward on the "alternative path," code name for decreasing the standards for a residential appraiser, they will greatly increase the supply of appraisers, most of whom I would consider to be underqualified. This will most likely put a halt to any modest increase in fees that appraisers in some parts of the country are experiencing, and more importantly, it will allow "questionable" AMCs, who pay fees that I received 30 years ago, to continue to ignore Dodd Frank by refusing to even consider paying customary and reasonable fees. Conventional wisdom says that we can't compete for top college prospects with companies who are paying graduates $80,000 or $100,000 or more right out of college and therefore we need to get rid of the "Barriers to entry" that are now in place. Guess what? Stagnating and possibly decreasing fees are not attractive to new appraisers either or to the top ones with decades of experience. I am sure that there are a few recent college grads who may make this type of money, but I think most are having trouble finding jobs and end up taking anything they can find.
On the other hand, if the AQB does nothing and leaves the current standards in place- that have only been in effect since January 2016, it will also affect fees. This will keep the nationwide supply of appraisers in balance. As the free market reacts, fees will reach an equilibrium that will allow us to hire the best next generation of appraisers possible. I am not talking about large fee increases from the AMCs who pay us fairly but I do anticipate a large increase in fees from the AMCs that ignore customary and reasonable fees that Dodd Frank requires. Is that such a bad thing?
No matter what camp you're in, appraiser shortage, no shortage; those who want to lower the standards or keep them as is, we all share the belief that some, if not all of the problem is low fees. I love this profession and have never woken up one day not wanting to go to work. I can tell you without a doubt that I would not have been as successful in any other profession as I am as an appraiser. This is a great profession let's spread the word.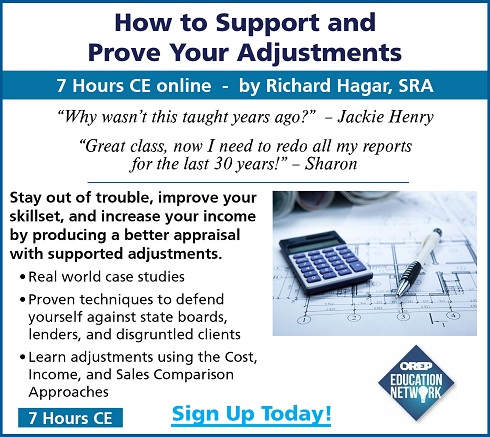 > Just Published: OREP/WRE's 2017 Fee Survey Results! To view the results in your state, click here. If you have not already taken the survey, please weigh in here.
> CE Online – 7 Hours (approved in 40 states)
How To Support and Prove Your Adjustments
Presented by: Richard Hagar, SRA
Must-know business practices for all appraisers working today. Ensure proper support for your adjustments. Making defensible adjustments is the first step in becoming a "Tier One" appraiser, who earns more, enjoys the best assignments and suffers fewer snags and callbacks. Up your game, avoid time-consuming callbacks and earn approved CE today! Sign Up Now!  $119 (7 Hrs)
OREP Insured's Price: $99
About the Author
Edward Cline, SRA, AI-RRS, GAA, RAA, MNAA is the owner of Ed Cline Appraisals, a busy appraisal office with 10 appraisers and three trainees in Beaver Falls, Pennsylvania. He is a Certified General appraiser in Pennsylvania and Ohio. He performs both residential and commercial appraisals and is a licensed Real Estate Broker and the owner of Premier Property Management Services. Cline is a licensed Pennsylvania contractor and holds a certification in lead abatement. In addition, he is a certified FHA 203k consultant and an active real estate investor.
Send your story submission/idea to the Editor: isaac@orep.org