Editor's Note: The current edition of Working RE is in the mail. OREP E&O insureds enjoy it free!
A Very Credible Napkin
by Craig M. Capilla, Franklin Law Group
"Seems to me the appraiser did little more than write a number on a napkin. Are you telling me that is appropriate?" In some cases, the answer is unequivocally yes.
At the very least, it is permissible, and that napkin might be perfectly sufficient for the client and/ or intended users of the appraisal. Real estate appraisers who understand this are best positioned to meet the needs of their clients and offer the services most suitable for them. At its core, appraising is a service profession. Individual appraisers are offering their expertise in valuation as their service product. The appraiser, therefore, must be the expert in what best meets the needs of a client. To do so, an appraiser must be aware and able to explain to a client the types of services and products he or she can provide.
A common misconception among appraisers, along with those who utilize valuation products, is the idea that the Uniform Standards of Professional Appraisal Practice (USPAP) limits the manner in which an appraiser may provide his or her opinion of value. In fact, USPAP places no such limitations on an appraiser's communication of assignment results or the ultimate opinion of value. Put simply, USPAP does not dictate a form option. Equally important to consider is that no single form or format form adequately complies with USPAP. Not the 1004, 1073, General Purpose Appraisal Report (GPAR) or the latest and greatest creation of an appraiser at the cutting edge of technology. The appraiser is solely responsible for complying with USPAP, selecting and utilizing the appropriate tools for the job, and educating the client as to what they are receiving and why. USPAP is also silent about the format and style of any services offered outside of the defined appraisal, which is another important consideration an appraiser needs to reflect on when deciding what is most appropriate for their client.
As appraisers we are aware that USPAP provides a roadmap to the two kinds of appraisal reports for real property that are approved for use today: Appraisal Report or Restricted Appraisal Report. Many will remember that, until recently, three options existed. As time passed, it would seem that the practical differences between a summary and a self-contained report were harder and harder to distinguish, so it made sense to eliminate them as separate categories. That is the subject of an article for a different time. For now, the specific requirements enumerated in USPAP Standard 2 detail the minimum standards of just two simple types of reporting for real property appraisals. A note of caution: I still routinely see reports containing language about "limited," "complete," "summary," and the like. Not only is this language outdated but it can also confuse the recipient who may not be aware of the current standards. This could result in a misleading report.
Standards Rule 2-2(a) states the requirements of an Appraisal Report. In twelve basic steps, over barely two pages of text, the minimum content of an Appraisal Report is set out for all to follow.
Likewise, in the subsequent two pages of text, in the same twelve steps, the minimum standards of a Restricted Appraisal Report are stated Standards Rule in 2-2(b). That's it! Four total pages of guidance. Certainly appraisers can admit that many engagement letters are much longer and more detailed than the cornerstone standards of reporting for the entire profession. And the brevity of USPAP is a gift, a blessing for all those valuation professionals who seek maximum flexibility to best serve their clients. Absent state specific requirements for content or style, any other restriction, limitation or requirement in reporting is one that the appraiser must self-select or affirmatively agree to perform. The possibilities are virtually limitless.
Oral Reports
But what about the third reporting option? Frequently enough, I am asked about the standards of the oral report. Please don't mistake the ability to offer assignment results orally as the creation of a new type of reporting. There is simply no difference between the requirements of an oral report and a written report. Any oral report must still be delivered as an Appraisal Report as defined in Standard Rule 2-2(a). And this too is explicitly stated by USPAP. There is, or ought to be, no confusion here. USPAP is blessedly simple and that is to the tremendous advantage of the professional appraiser.
Once an appraiser meets the minimum requirements of the appropriate subpart of Standards Rule 2-2, the appraiser has complete authority to determine the manner of best communicating the opinion of value. As always, the Scope of Work is to be set by the appraiser. This must be done in consultation with the client to determine the appropriate methodology for each assignment. Once that has been accomplished, the appraiser can and should deliver the information in the best format and style for the client. To do so best serves the client and increases the value of the appraiser's services.
(story continues below)
(story continues)
Apart from specific real estate appraisal assignments, many states allow for different types of valuation products as well. Frequently, these types of valuation products can be prepared by non-appraisers. In most jurisdictions (and by strict definition) a Broker Price Opinion (BPO) or a Comparative Market Analysis (CMA) is not an appraisal and may only be performed by licensed real estate brokers. However, many appraisers are also licensed real estate brokers and may be able to offer BPO/CMA products alongside their appraisal practice to serve their client's needs.
Similarly, various states allow or are taking steps to allow appraisers to perform evaluations. Many also have some statutorily-permitted version of a waiver valuation. Again, many of these services may be offered by appraisers and non-appraisers alike but no individuals are better trained and situated to perform such work than appraisers. Appraisers can greatly expand their professional services by being well versed in all types of valuation products and educating their clients on what best fits each situation.
In the event that an appraiser offers non-appraisal services, however, caution is warranted. USPAP Advisory Opinion 21 (AO21) has been updated in the 2018 edition to include a chart intended to simplify the explanation of when USPAP applies and to what extent. An important consideration is that an appraiser performing valuation services while "acting as" an appraiser is still subject to USPAP in limited part. The appraiser must understand how AO21 applies to their various services and they must also educate their clients as to the specific role of the appraiser in each service type. Put another way, the appraiser must be certain of client expectations. In a circumstance where the appraiser is performing a service other than an appraisal but where the client has sought out and hired the appraiser precisely because of their training and expertise as an appraiser, it may not be possible to avoid "acting as" an appraiser and bypassing USPAP requirements.
Please do not infer from the above that an appraiser must, or even should, offer all of the various reports or products mentioned, along with the many that I invariably failed to include here. Importantly, the appraiser must be wholly comfortable with the terms of the assignment because it is in uncertainty that trouble lurks. I have had the discomfort of meeting with numerous appraisers facing license complaints or lawsuits and reminding them that sometimes the best way to handle an assignment is to turn it down. Unfortunately, by that time the point is moot.
(story continues below)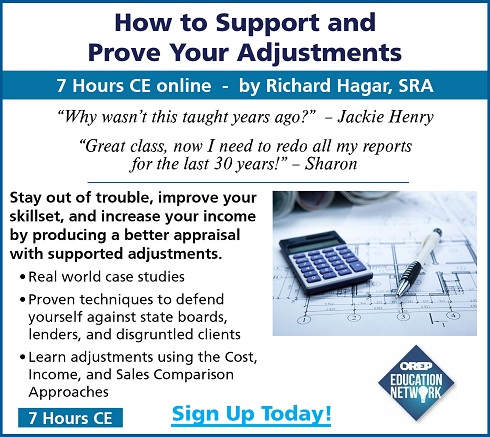 (story continues)
Another note of caution is necessary when considering liability. For many appraisers, their liability coverage is limited to errors and omissions while performing appraisal assignments. Individuals seeking to offer services apart from appraisals should consult with an attorney and/or their liability insurance broker to identify what, if any, gaps in coverage may exist. It is never a pleasant conversation to have to explain to an appraiser why their insurance is not going to cover a particular claim or dispute.
Appraisers should only accept assignments and perform tasks that they are completely comfortable with or that they are certain they can become comfortable with prior to communicating the opinion of value. Why? If the appraiser is not sure about the quality of their own work, how can one assert that the end result is credible? And that's the ultimate standard for any task or method. Only the appraiser can ensure that the product and service he or she is offering is credible. And the only way an appraiser can offer credibility is by fully understanding what the client wants and needs. When an appraiser is able to educate the client about what is possible, the public trust is enhanced. And a failure to do so only diminishes the profession, regardless of whether the opinion of value was the "right" number.
Appraisers are, by education, experience and certification, the singular experts in real estate valuation. No other set of professionals is better suited to analyze and communicate the value of the most valuable asset many will ever own. The appraiser who knows exactly what he or she can offer a client to best meet that client's needs is the professional who continues to add value to the entire community of appraisers. And that appraiser is expert in the value of real estate and in their own value. And so it is not ever only about a number written on a napkin but rather the person deploying that napkin to best meet the needs of the client.
New Course: The OREP Education Network is now offering a new online continuing education course, How to Raise Appraisal Quality and Minimize Risk (7 Hrs), designed to help appraisers stay out of trouble with their state boards and avoid lawsuits. Learn to build a stronger workfile and a bulletproof appraisal report. Visit OREPEducation.org today!
"I have recently completed the best appraisal class of my 30 year career (How to Support and Prove Your Adjustments through OREP.) " -Susan D.

Continuing Education: How To Support and Prove Your Adjustments
Presented by: Richard Hagar, SRA (7 Hrs. Online CE)
"One of the best courses that I have had in 17 years!" -Amy H.
Must-know business practices for all appraisers working today. Ensure proper support for your adjustments. Making defensible adjustments is the first step in becoming a "Tier One" appraiser, who earns more, enjoys the best assignments and suffers fewer snags and callbacks. Up your game, avoid time-consuming callbacks and earn approved CE today!
Sign Up Now!  $119 (7 Hrs)
OREP Insured's Price: $99
About the Author
Craig Capilla is a trial lawyer with the Franklin Law Group focusing on civil litigation and administrative law. As a former prosecutor for the Illinois Department of Financial and Professional Regulation, Craig frequently represents licensed professionals in state licensing matters involving real estate brokers, real estate appraisers, and home inspectors, among others. For more information, you can visit www.charlesfranklinlaw.com or directly contact Craig by email at ccapilla@charlesfranklinlaw.com.
Send your story submission/idea to the Editor: isaac@orep.org