Editor's Note: The current edition of Working RE is in the mail. OREP E&O insureds enjoy it free!
Why Appraisers Need Uniform, Federal Enforcement of USPAP
By Mike Ford, AGA, GAA, RAA Realtor®
Federal licensing for appraisers, to replace the tangle of inconsistent state regulations, best serves the public good and is much fairer for appraisers. Here's why.
In 1989, the Financial Institutions Reform, Recovery and Enforcement Act (FIRREA) resulted in monumental changes to the real estate appraisal profession. FIRREA authorized The Appraisal Foundation (TAF) as the source of appraisal standards and qualifications while requiring states to license, regulate, and supervise appraisers, under the supervision of the Appraisal Subcommittee (ASC).
In terms of enforcing the profession's new standards, the Uniform Standards of Professional Appraisal Practice (USPAP), the states were also tasked with enforcing USPAP on all appraisals for federally related transactions, with the ASC responsible for supervising each state's regulatory program.
After 30 years the question for appraisers is: has FIRREA delivered on its promise to protect the public and effectively regulate the appraisal profession? In a word: No. The result of the 50-state regulatory framework has led to twisted, opportunistic interpretations of USPAP and corresponding abuses propagated by many state boards nationwide.
Non-Uniform Standards
For appraisers and the public there is no uniform protection or uniform enforcement provided by USPAP because many state boards lack even a basic understanding of the standards. Part of the problem is that many state boards lack appraisal expertise. Oftentimes, state investigators are not appraisers and are not familiar with USPAP let alone expert in it.
Many appraisers, myself included, have witnessed widespread abuse among state regulators. There are very few states that even follow USPAP compliant review procedures but instead move almost immediately to a prosecutorial posture on receipt of a complaint against an appraiser—guilty until proven innocent. The goal is not to determine whether an appraiser has committed a legitimate or significant USPAP violation, but instead to steamroll the appraiser with a laundry list of alleged violations, offering a smaller fine if the appraiser signs a consent decree admitting to a minor violation. (See Beware Consent Decrees, visit WorkingRE.com, search "Consent.")
As Chairman of the National Peer Review Committee of the American Guild of Appraisers (AGA), I have personally seen evidence of the inability of the state boards to fairly or consistently enforce USPAP in Maryland, Minnesota, Virginia, Georgia, Texas, Illinois, Oregon and California. At the AGA, we do not provide appraiser representation but we do provide an impartial third-party analysis and advice when a complaint is filed against one of our members. In most instances we see that the state boards do not follow their own state laws concerning the applicability of USPAP. Certainly they aren't following USPAP review SR3 requirements themselves. I have also experienced this personally in California as a respondent/defendant.
These experiences have shown me that enforcement is not uniform or consistent anywhere in the country. Some states have processes that are commendable. In New York and New Jersey, for instance, the state boards will receive a complaint and send the file out to be reviewed by an individual appraiser before taking any action. If no basis for the complaint is found, the Board won't pursue the allegations.
(story continues below)
(story continues)
However, in most other states that I've dealt with when reviewing complaints in my capacity at the AGA, the first step they take is not to seek expert appraisal advice or have an actual appraiser review the file, but to instead prepare a list of alleged violations and attempt to coerce settlement stipulations from the appraiser. If an appraiser makes an honest mistake on a report, with no deceit involved, not only does the state board nail you for that particular item but they will add on anything that could be remotely considered a violation in an attempt to intimidate you and force you to accept whatever plea agreement or consent decree they are offering.
The idea that USPAP is not enforced consistently is not new. Appraisers have long noted this with even members of Congress taking note! At a Congressional hearing in November 2016, Congressman Jeb Hensarling (R) testified that the states have failed to uniformly enforce USPAP. Specifically, he cited the lack of consistency in enforcement from state to state.
That USPAP is not uniformly administered is a direct outgrowth of having federal legislation reinterpreted by TAF, a private corporation, and then overseen by a tiny but powerful federal agency (ASC) that apparently lacks authority to assure consistency of enforcement from state to state. TAF's efforts to shift its mission from real estate appraisers/appraisal to "valuators" and to increasingly incorporate the standards of other professions has even further exacerbated the problem. For example, while TAF was originally created to manage the standards of the real estate appraisal profession, it now purports to be a "multi-disciplinary organization" that offers resources for "those practicing in the area of business valuation, intangible assets, and valuation in financial reporting (VFR)." This shift away from real estate appraisal as the sole focus of TAF and USPAP only further complicates matters as USPAP departs from its original purpose of real estate appraisal.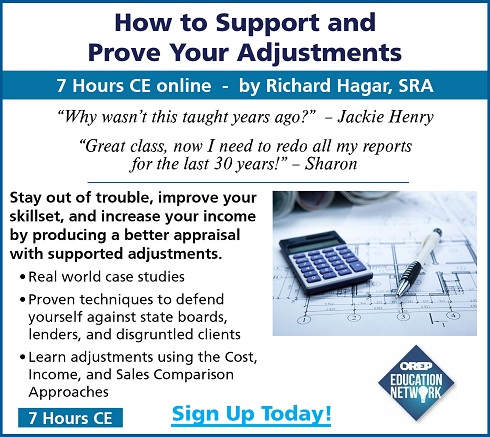 Harm to Appraisers and Public
The result of this non-uniform, inconsistent and often unjust application of USPAP by the various state programs has been harmful both to appraisers and to the public.
There is a reason that FIRREA called for uniform standards 30 years ago. The standards of our profession should be the same. When I'm training someone in California, or if another appraiser is training someone in Virginia, we need to know that there is a uniform set of guidelines and standards that will be enforced. There needs to be a minimum level of performance that is expected. Furthermore, if appraisers have to spend all of our time worrying about whether we will meet some bureaucrat's approval as to how well we dotted an "i" or crossed a "t," then we may lose focus on the core principles of our professional responsibilities.
This not only hurts us as a profession, but by subjecting us to inconsistent and often unfair levels of enforcement, it also hurts the public. Appraisers are the only party to a real estate transaction who doesn't earn a commission. We are independent third-parties who are charged with analyzing a property according to our professional uniform standards. Inconsistent enforcement of USPAP standards distorts the independent, non-biased valuation of properties and prevents appraisers from doing our jobs. If appraisers have to live in fear of being the subject of arbitrary state board enforcement actions that do not apply USPAP consistently, we are much more likely to roll over and "meet value" instead of facing a state board complaint from an unhappy real estate agent or seller. The result is that a law intended to preserve and protect the appraiser's integrity and the public's ability to rely on appraisals, has had the opposite longterm effect.
Ultimately, this haphazard and inconsistent enforcement of USPAP from state to state has failed to protect the public at nearly all levels. Fifty states with 50 different sets of rules and nuances that affect USPAP's interpretation is not the solution.
Toward Uniform, Federal Enforcement
The solution to this problem is for Congress to recognize that individual states are not capable of effectively and uniformly enforcing USPAP as mandated under FIRREA. Congress must modify FIRREA and establish federal licensing and federally administered USPAP enforcement as a function of the ASC.
Converting our existing state licenses to federal licenses is an easy matter since all were obtained under federally mandated uniform guidelines. Both the Appraisal Institute as well as other industry stakeholders have proposed a kind of Nationwide Multistate Licensing System (NMLS) for appraisers. To achieve uniformity it would not be enforced at a state level but instead on a national level.
Federal enforcement is the only way we can eliminate local politics and human subjectivity. States have proven they lack the will or ability to adopt necessary, fair, bipartisan, real estate and appraisal regulations in a timely manner.
Such a federal system would be more efficient and effective as well. Many state boards are indicating that they lack sufficient funding due to the declining number of appraiser licensees and the fees they generate. This lack of funding means that state boards are having trouble meeting staffing requirements to effectively run their own operations. However, adding staff to investigate and enforce on a federal level would likely be less costly than giving grants to states to continue as they have. This could also facilitate enforcement of appraiser independence and customary and reasonable fee requirements.
"I have recently completed the best appraisal class of my 30 year career (How to Support and Prove Your Adjustments through OREP.) " -Susan D.

Continuing Education: How To Support and Prove Your Adjustments
Presented by: Richard Hagar, SRA (7 Hrs. Online CE)
"One of the best courses that I have had in 17 years!" -Amy H.
Must-know business practices for all appraisers working today. Ensure proper support for your adjustments. Making defensible adjustments is the first step in becoming a "Tier One" appraiser, who earns more, enjoys the best assignments and suffers fewer snags and callbacks. Up your game, avoid time-consuming callbacks and earn approved CE today!
Sign Up Now!  $119 (7 Hrs)
OREP Insured's Price: $99
About the Author
Mike Ford, AGA, GAA, RAA Realtor® is Chairman of the National Appraiser Peer Review Committee of the American Guild of Appraisers. He is a former Senior Appraiser with the Treasury Department (IRS Large Business and International Division). The American Guild of Appraisers is a professional peer organization that intercedes on behalf of its individual members with regulators, AMCs and lenders alike.
Send your story submission/idea to the Editor: isaac@orep.org