Risk Management Corner
By David Brauner, Senior Broker OREP E&O Insurance
What does a highly specialized cancer surgeon have in common with you and your appraisal business? It turns out, quite a bit when it comes setting proper expectations for patients and clients.
In his TED Talk (Google it), renowned cancer surgeon Kevin Jones talks about two qualities he believes are important to every doctor: humility and curiosity. Humility, he says, to stave off overconfidence, and curiosity, which he sees as the key to continual improvement. I believe these qualities are important for our business success too. Here's why.
Jones shares the story of a colleague who after a difficult surgery to remove cancer told his patient, "I got it all and you're good to go." A few months later, Jones says, it was clear that his colleague had not gotten it all and that his patient was not good to go. Jones says that as a result, his colleague was too "ashamed" to continue on with the patient because he felt he had let them down, even though he had not made a mistake in surgery. He asked Jones to take over the patient's care, which he did. After a more radical surgery, Jones says he told the patient something slightly different that makes all the difference: "I most likely got it all and you're most likely good to go."
That simple qualification (the words most likely) seems slight but setting realistic expectations is not insignificant either to doctors or appraisers. In his talk, Jones advocates that doctors leave a little room for uncertainty when discussing outcomes with patients, to avoid overconfidence and to acknowledge room for error.
What the good doctor is really talking about is what every good businessperson already knows: setting proper expectations is key to customer satisfaction. And it turns out, is also a pretty good risk management strategy. Setting proper expectations makes you less likely to face a complaint (or loss of a client) when there is a disappointing outcome of any kind— related to your health or the appraisal of your home. A supportable report is the ultimate defense, but taking steps to avoid complaints is also a good risk management strategy. Even if you do nothing wrong, facing a complaint or claim can be agonizing and costly.
(story continues below)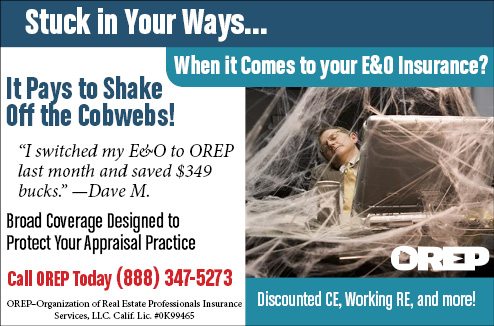 (story continues)
Walking the Line
We know that people generally respond favorably to confidence and sometimes more favorably to overconfidence. This is true when selecting a surgeon or an appraiser. But the wisest business people make it a habit to under promise and over deliver. When "selling" the client on your services, confidence and even overconfidence might be a pretty good strategy for closing the deal but it has an obvious downside. When there is an unfavorable outcome, if expectations are set unreasonably high in the mind of a client or patient, you can bet that trouble will follow. If expectations are more realistic, the chances of a frivolous claim or state board complaint are minimized—at least when dealing with honorable folks. When working with an AMC, delivering a promised turn time might fall into this category, or communicating the difficulties and added expense required for a complex property before accepting the assignment.
Another point the doctor makes that is perfectly apt for appraisers is to realize that you are not perfect and that continually monitoring yourself for errors makes you much more likely to catch a mistake before it can hurt you and your business.
In the end, the best defense for an appraiser is also the best offense for enjoying a successful business: produce quality reports that answer the client's question(s) and are supportable. According to the doctor, there are two more prescriptions that can help: humility and curiosity. Food for thought.
New Course: The OREP Education Network is now offering a new online continuing education course, How to Raise Appraisal Quality and Minimize Risk (7 Hrs), designed to help appraisers stay out of trouble with their state boards and avoid lawsuits. Learn to build a stronger workfile and a bulletproof appraisal report. Visit OREPEducation.org today!
"I have recently completed the best appraisal class of my 30 year career (How to Support and Prove Your Adjustments through OREP.) " -Susan D.

Continuing Education: How To Support and Prove Your Adjustments
Presented by: Richard Hagar, SRA (7 Hrs. Online CE)
"One of the best courses that I have had in 17 years!" -Amy H.
Must-know business practices for all appraisers working today. Ensure proper support for your adjustments. Making defensible adjustments is the first step in becoming a "Tier One" appraiser, who earns more, enjoys the best assignments and suffers fewer snags and callbacks. Up your game, avoid time-consuming callbacks and earn approved CE today!
Sign Up Now!  $119 (7 Hrs)
OREP Insured's Price: $99
About the Author
David Brauner is Senior Broker of OREP and Publisher of Working RE Magazine. David has been helping appraisers with insurance for over 20 years. David Brauner Insurance Services, Calif. Insurance Lic: 0C89873. OREP- Organization of Real Estate Professionals Insurance Services, LLC. Calif. Lic. #0K99465; dbrauner@orep.org (888) 347-5273 toll free. Visit OREP today for a same day quote on appraiser insurance.
Send your story submission/idea to the Editor: isaac@orep.org