Market Update: Interest Rates and Appraisal Volume
By Isaac Peck, Editor
It is no secret that interest rates are rising. Since March of 2017, the Federal Reserve has raised rates four times in increments of 0.25%, bringing the Fed Fund Rate to 2.00% at the time of this writing, compared to 1.00% at the start of 2017. The result has been an increase in mortgage rates, which are now hovering around 4.52% (July 2018) according to Freddie Mac's Primary Mortgage Market Survey. This is nearing the highest mortgage rate seen in the last seven years. Additionally, mortgage refinance applications have recently fallen to their lowest level in 17 and a half years, hitting lows not seen since the year 2000.
While this increase in rates has raised concern over housing affordability, it has not hurt the sales transaction volume that is taking place across the U.S. and by all conventional measures still indicates a healthy housing market.
While rising rates haven't necessarily led to a slowdown in appraisal work for sales transactions, they have led to a decline in appraisal volume in the mortgage refinancing sector.
Refinance Volumes
Len Kiefer, PhD and Deputy Chief Economist at Freddie Mac, confirms what many appraisers already know: that refinance volumes are down and have been trending down for most of 2018 due to the rising rates. "With rates where they are now, and rising, there are not a lot of owners who will find a rate reduction. A lot of borrowers are out of the money in terms of refinancing," says Kiefer.
With Freddie Mac predicting fixed rate mortgage rates to reach as high as 5.4% in 2019, this trend is likely to continue.
According to Freddie Mac's data, refinance volume has been trending downward since 2016: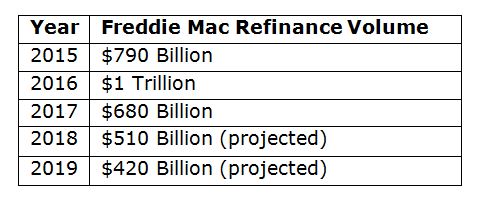 (story continues below)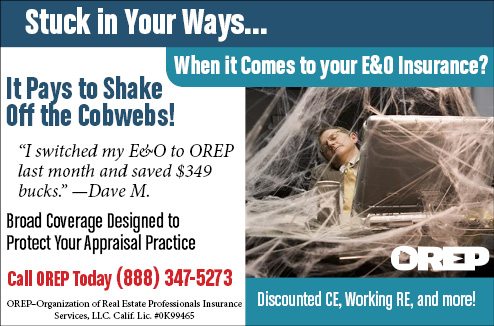 (story continues)
In other words, the refinance volume in 2018 is expected to show a 49% decline compared to the refinance peak in 2016, which saw $1 trillion in refinance mortgage origination. If you take into account that property values have risen substantially, it's safe to say that the number of refinance mortgage originations has declined by over 50%.
Cash-Out Refinances
So if fewer and fewer borrowers can get a rate reduction on their mortgage, then what is keeping the refinance mortgage market alive? You guessed it: cash-out refinances. According to Freddie Mac's latest data, an average of 67% (or two-thirds) of all refinance activity is from cash-out refinance activities.
Kiefer says that the main reason the refinance activity is not trending under $100 billion annually is due to the substantial cash-out refinance activity taking place. "We are projecting somewhere in the neighborhood of $300 billion in cash-out refinances this year (2018)," says Kiefer.
Even as property values continue to appreciate, cash-out refinance activity may still be affected if they rise too sharply. "We will see continued declines because higher rates make it more costly for homeowners to refinance. Homeowners are also seeing their homes appreciate a lot and they have needs for cash. However, if rates rise it becomes more costly to do cash-out refinances as well," says Kiefer.
Sales Volume
While refinance activity has declined substantially and is expected to decline further, sales volume is increasing and is still pointing to a healthy real estate market. The number of home sales each year has been steadily increasing.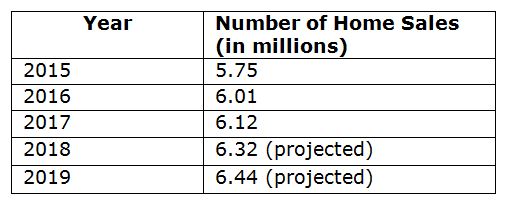 (story continues below)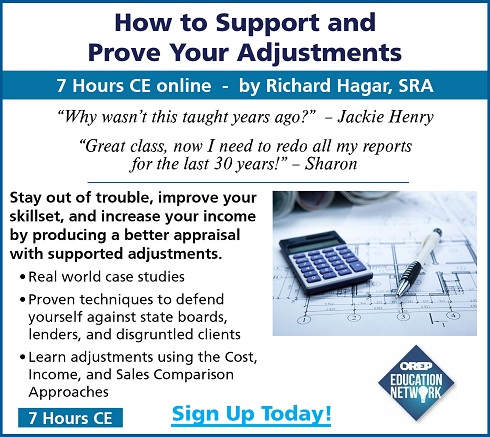 (story continues)
However, the total dollar amount of mortgage originations has declined slightly, and is expected to remain relatively flat into 2019.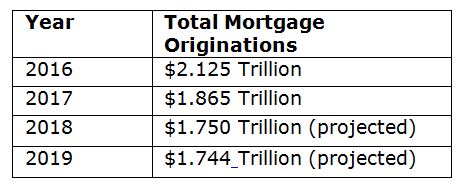 Overall, the home sales picture looks bright, according to Kiefer. "We are seeing strength in the sales arena with home sales being up modestly and we expect them to be up a little bit for the year (2018). We estimate that the overall market is trending up and we expect home sales to accelerate a little bit," reports Kiefer.
What's It Mean for Appraisers?
Appraisers are no strangers to the boom and bust cycles of the real estate market. Just like real estate, individual "appraiser" markets tend to be very local in terms of volume of work. While some appraisers report a slowdown in the last few months, others say they are as busy as they've ever been.
In terms of national trends, while refinance activity is waning, the increase in home sales appears to be making up for at least a part of that decline when looking at total mortgage originations. Even still, total mortgage originations are down almost 19% from the peak of $2.125 trillion in 2016. While this statistic speaks strictly to the dollar amount of mortgage originations and not the actual number of transactions, it provides some insight into the overall volume of appraisal work coming down the pipeline, especially since property values (and very likely transaction values) are trending upward.
Meanwhile, Fannie Mae and Freddie Mac both have their own appraisal waiver programs and the latest data from Fannie Mae indicates that Property Inspection Waivers (PIWs) are being offered on about five percent of purchases, 25% of limited cash-out refinances, and 10% of cash-out refinances.
While there is no data on the number of appraisals performed annually, the result of these shifting market factors suggest that appraisal volumes have slowed slightly nationwide when compared to 2016, especially given the roll-out of Fannie and Freddie's appraisal waiver programs. This hopefully should quiet the calls of an appraiser shortage, at at the very least discredit them. Overall, the data points to a healthy market for appraiser work nationwide over the next few years, barring any major upheavals in the real estate market or appraisal industry.
How's appraisal business in your local area? Let us know in the comments or email isaac@orep.org.
Learn new techniques, up your game, and protect yourself today with new, approved coursework at OREPEducation.org, including How to Support and Prove Your Adjustments (7 Hrs), Identifying and Correcting Persistent Appraisal Failures (7 Hrs), How to Raise Appraisal Quality and Minimize Risk (7 Hrs), and more!
"I have recently completed the best appraisal class of my 30 year career (How to Support and Prove Your Adjustments through OREP.) " -Susan D.

Continuing Education: How To Support and Prove Your Adjustments
Presented by: Richard Hagar, SRA (7 Hrs. Online CE)
"One of the best courses that I have had in 17 years!" -Amy H.
Must-know business practices for all appraisers working today. Ensure proper support for your adjustments. Making defensible adjustments is the first step in becoming a "Tier One" appraiser, who earns more, enjoys the best assignments and suffers fewer snags and callbacks. Up your game, avoid time-consuming callbacks and earn approved CE today!
Sign Up Now!  $119 (7 Hrs)
OREP Insured's Price: $99
About the Author
Isaac Peck is the Editor of Working RE magazine and the Director of Marketing at OREP, a leading provider of E&O insurance for home inspectors, appraisers, and other real estate professionals in all 50 states and D.C. He received his master's degree in accounting at San Diego State University. He can be contacted at isaac@orep.org or (888) 347-5273.
Send your story submission/idea to the Editor: isaac@orep.org