---
Editor's Note: The following is taken from the current print edition of Working RE magazine, the largest print publication for inspectors nationwide. OREP insureds enjoy a free subscription to WRE (get an E&O/GL quote from OREP in 30 seconds).
Make More Money by Providing Home Energy Scores
By Dominic Maricic, CEO of Home Inspector Pro Software
Home Energy Score assessments are starting to go primetime. They're simple to perform and a great way to increase your bottom line. The question is, are you ready? As you read this, keep in mind what offering this service might mean for pre-listing inspections, listing inspections and marketing your Unique Selling Proposition (USP).
Home Energy Scores are a rating created by the U.S. Department of Energy (DOE). The simplest way to describe the energy score program is in relation to another Department of Energy/Environmental Protection Agency program that everyone is familiar with. Home Energy Score ratings are just like the Miles Per Gallon (MPG) rating for cars. It is intended to be an easy-to-understand, national standard that will motivate homeowners and buyers to invest in energy efficiency the way the MPG rating motivates buyers to purchase more energy efficient cars. Everyone can understand a simple scale rating of 1 through 10, with 10 being the most energy efficient homes. Just like with cars, the DOE wants every house to be scored.
The DOE started testing its Home Energy Score program in 2011. Ten agencies across the United States ran the program to help test and refine it before going public in 2012. During that first year 4,000 Home Energy Scores were generated. As of early 2016, over 32,000 homes had been scored. However, with five and a quarter million homes sold in 2015, it's obvious that many homes have not been scored yet. One of the main reasons for this is that there was no incentive for homebuyers to pay for the testing. Several recent developments have caused things to change. In September 2015, the FHA announced a new policy. Under their new policy a homebuyer receiving an FHA loan can receive thousands of dollars in additional funds added to their mortgage. If a home scores a six or higher on the home energy score, their lender provides a two percent "stretch" on the debt-to-income ratios for a purchase or refinance. If the home scores below six, the buyer can receive funds to bring the house up to that level. The goal is to increase the energy efficiency of homes in the U.S. by rewarding homes that are already scoring well, and helping to finance the improvement of those that aren't. You can read more about the FHA/Home Energy Score partnership if you visit WorkingRE.com, search FHA Home Energy Score.
(story continues below)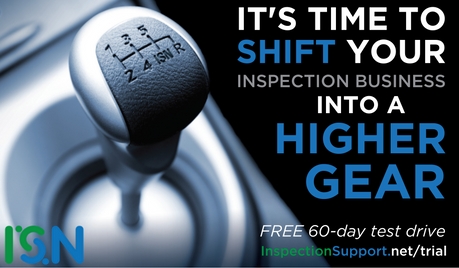 (story continues)
The second large change to occur is the acceptance of the Home Energy Score rating by the Multiple Listing Service (MLS). The DOE, Real Estate Standards Organization (RESO) and the Council of MLSs are working together to provide energy information to all buyers. This partnership means that Home Energy Scores are going to start appearing on MLS data sheets and on sites like Realtor. com, Zillow, etc. Currently five areas in the U.S. covering the Northeast, Washington D.C. (MRIS), Chicagoland (MRED), Boulder (IRES) and Portland are leading the way with the rest of the MLS areas agreeing to incorporate Home Energy Scores by 2018. Many are already programming in the scores.
The last major change that's occurring is the acceptance and expansion by states and cities of the program. Colorado, for example, will give homeowners $750 per point that they improve their Home Energy Score, up to a maximum of $3,000 (four points). States such as Connecticut. Vermont, Oregon, Missouri, Alabama and others are working with the DOE to create combined State/Federal programs and energy recommendations. The city of Berkeley, CA has become the first city to mandate that a Home Energy Score by acquired for all real estate sales.
How to Become a Home Energy Score Assessor
There are not many things you can say to a prospective client that'll set you apart from the competition than that you are certified by the Department of Energy. So how do you get certified? The Department of Energy requires all inspectors to be a member of an official organization. In the home inspection industry ASHI, CREIA, InterNACHI, NAHI and BPI (Building Performance Institute) all qualify. You also need to be affiliated with a Department of Energy partner. Currently InterNACHI, several ASHI chapters, and BPI are accepted in our industry. ASHI national is currently going through the process of becoming a partner as well.
Once you choose the partner to work under they'll have you complete their program. Simply contact your organization for details. Once you've completed the partner requirements you'll be directed to the DOE's website. Here you'll go through online training which includes using a 3D simulation tool the DOE has put together and take the practical and written test online.
(story continues below)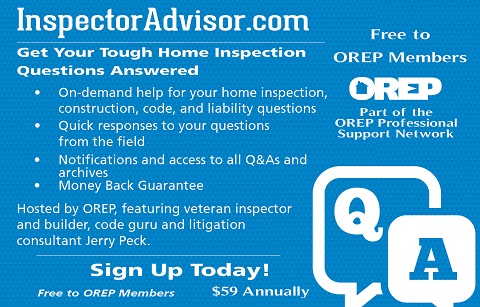 (story continues)
What Now?
While there are a few software programs outside our industry you can use to generate the report, the main methods within the home inspection industry are via the InterNACHI website and using Home InspectorPro software. Home Inspector Pro recently became the first home inspection software to partner with the DOE and spent the last year adding the creation of Home Energy Scores into their software. (Many E&O programs, such as OREP's, provide combination coverage for home inspecting and energy rating at no extra charge, in most cases.)
During the inspection you'll collect data on approximately 40 items, almost all of which you would normally collect during your home inspection process. These items include the type of HVAC and water heater units and when they were manufactured, information on roofs, foundations and walls/windows. The only equipment required that you may not already own is a measuring wheel used to measure the perimeter of the house. Total time increased by collecting the data and entering information into the program you're using will take around 20–30 minutes.
When you're finished entering the data, the information is sent to the DOE, and a PDF is returned to you in under a minute. The Home Energy Score program does not require mandatory reporting. This means that your client can then choose to send the score information on to their lender.
The Report
The Home Energy Score report is five pages long. The first page shows the home's score on a rating scale of 1–10. Pages two-four show the information you collected in an easy-to-read format. The final page shows your client items to "Repair Now" or "Replace Later." Items listed in the "Repair Now" category are repairs whose cost would be recuperated within 10 years if the upgrades were made. Items under the "Replace Later" category would take longer to recuperate the costs. These items are useful for homeowners to know if they are planning on making a change or know that an item such as their HVAC unit is already near the end of its life.
Hopefully while reading this article you can see what's likely to happen. Can you imagine going to a car dealership to buy a car that doesn't show a MPG sticker? Of course not. As Home Energy Scores start showing up on MLS listings a tipping point is going to occur where buyers are going to demand this information. Are you going to be one of ones leading the way in performing the energy score assessments? Are you going to be the first to teach a class at your local Realtor's office? Or are you going to sit on the sidelines and wait to see what happens?
About the Author
Dominic Maricic is the President of Home Inspector Pro Inspection Software and WebsiteHosting, founded in 2004. Home Inspector Pro is a leading home inspection software provider and is used by thousands of inspectors in 19 countries and in 9 different languages. Home Inspector Pro is the only inspection software to run natively on Windows, Mac, iPhone, iPad, Android & Chromebook devices. It was also the first software to integrate video into PDFs, popup glossaries and digital stationery. Home Inspector Pro's website hosting is used by thousands of inspectors to help drive their site to the top of Google and bring in more business. Download Home Inspector Pro or sign up for their website hosting at www.HomeInspectorPro.com.
> Free Webinar: Claims and Complaints: How to Stay Out of Trouble
Available Now
Presenter: David Brauner, Senior Insurance Broker OREP
David Brauner, Senior Broker at OREP, shares insights and advice gained over 20+ years of providing E&O insurance for inspectors, showing you how to protect yourself and your business. Watch Now!
(Get a quick E&O/GL quote from OREP in 30 seconds. Premiums begin around $1,000.)