Editor's Note: This story is from the latest print edition of Working RE. Don't miss the next issue!
(Am I a Working RE Subscriber?)
Lenders (and AMCs) Responsible for Appraisal Quality?
By Jim Wells, President at Validox
Many appraisers may not be fully aware that with lenders, whether using appraisal management companies or deploying inhouse procurement solutions, any method of engagement comes with a responsibility for appraisal quality and USPAP compliance. Fannie Mae Selling Guide B4-1.1- 03 and B4-1.3-12 both specify the lender's responsibility to hire appraisers with the proper competencies, qualifications, experience, and geographic knowledge when ordering an appraisal.
But more than just hiring the right appraiser with the right credentials and experience, lenders are ultimately responsible for the "quality of work" of the appraiser it selects for each assignment. Even if using an AMC or other third party service provider, the lender is "accountable for the quality of the work performed as if it was performed by an employee of the lender."
At Validox, our focus on providing compliance products for AMCs and lenders gives us a rather unique view of overall appraisal quality on a large scale and the common mistakes that degrade the quality of valuations. With the large volume of USPAP Standard 3 compliance reviews performed by our staff of certified appraisers across the country, we have been able to identify seven areas of non-compliance that represent the greatest reasons for ongoing USPAP failure and its impact on appraisal quality. The most common deficiencies noted by our team are the following:
1. Highest and Best Use
2. Contradictory Statements
3. Exposure Time
4. Prior Disclosure of Services
5. Supporting Opinions and Conclusions
6. Reconciliation
7. Three Approaches to Value
Compliance and review are an often neglected, yet nonetheless very critical responsibility for lenders (or their third party vendors), because ultimately the buck stops with them. Fannie's Selling Guide indicates that the lender must have a Quality Control (QC) plan that continually monitors and assesses the overall quality of work performed by an appraiser, and Fannie "holds the lender fully accountable for the quality of the QC appraisal reviews regardless of whether the work is performed by the lender itself or by an outsourced QC service provider" (FNMA D1-3-04).
This highlights the importance of both selecting competent appraisers, and also reviewing the work of the appraisers that a lender engages, whether directly or through an AMC. Suffice it to say that appraisers who understand USPAP well and produce high quality appraisal reports are great assets to any entity in the mortgage loan industry, both on front-end origination or on back-end quality control and monitoring.
Reporting
In addition to being responsible for the quality of its appraisals and selecting competent appraisers, lenders are also, in many cases, responsible for reporting deficiencies in appraisal reports. Depending on the severity and type of USPAP failure, these failures have the potential of creating quality issues and reporting challenges for lenders and AMCs, not to mention serious trouble for the offending appraiser. For example, some individual state appraisal board rules require that all USPAP failures must be submitted for review to the board, even those that may not be deemed as 'material deficiencies.'
(story continues below)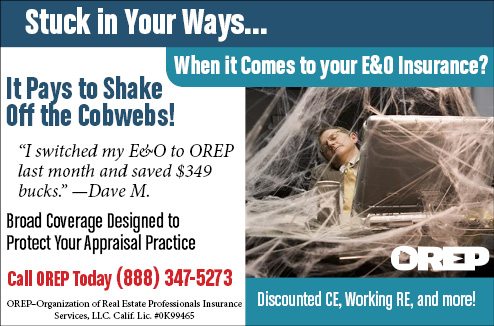 (story continues)
USPAP failures that are 'material deficiencies' require more serious reporting by lenders and AMCs and corresponding potential consequences for appraisers. HUD defines material deficiencies on appraisals as those that have a direct impact on value marketability (see HUD 4000.1). The regulations requiring action by lenders and AMCs include mandates from the CFPB, OCC, FDIC, NCUA, Fannie Mae, Freddie Mac, HUD, and the state appraisal boards. The requirement that affects the greatest number of institutions providing mortgage loan services is found on page 23 Section XVII of the Interagency Appraisal and Evaluation Guidelines.
XVIII Referrals
An institution should file a complaint with the appropriate state appraiser regulatory officials when it suspects that a state Certified or licensed appraiser failed to comply with USPAP, applicable state laws, or engaged in other unethical or unprofessional conduct.
In addition, effective April 1, 2011, an institution must file a complaint with the appropriate state certifying and licensing agency under certain circumstances. (12 CFR 226.42 g).
As of 2013, Fannie Mae also specifically requires all lenders to have a procedure to refer appraisers to the applicable state licensing and regulatory board and a procedure for suspending or terminating business with individual appraisers (FNMA D1-3-04).
If you are an AMC or lender, it is critical to have written policies and procedures for USPAP compliance that include ongoing reviews and testing as well as adherence to all federal and state requirements. It's important to note that typical desk reviews used for loan origination purposes do not test properly for USPAP compliance. Only a review with the proper scope of work and methodology will satisfy the USPAP compliance mandate. The policies and procedures must also contain the necessary steps to follow when USPAP failure occurs, including the reporting to state appraisal boards.
(story continues below)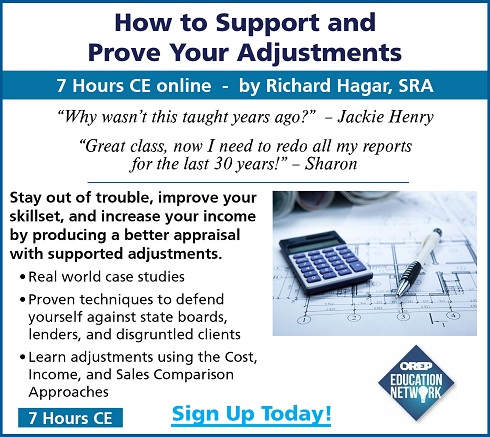 (story continues)
Statistically speaking, since most USPAP failures are not material deficiencies, when a USPAP failure occurs, this becomes an opportunity for training and education for the appraiser, and a pathway to creating higher quality appraisals for lenders and AMCs. A USPAP compliance review and remediation program is not only a regulatory burden; when managed correctly, it sets the tone for a true win-win for lenders and AMCs, while giving appraisers the tools to continue receiving assignment opportunities.
In conclusion, when it comes to achieving higher appraisal quality, USPAP competency reigns as king. For appraisers, that means staying up-todate on USPAP and continually pursuing professional development opportunities to hone their skills and competencies. For lenders, this means ongoing monitoring of appraiser performance, which is accomplished by USPAP compliance reviews. These reviews of each appraiser's work must be performed on a consistent basis. Whether this is a mandated number of Standard 3 USPAP reviews per appraiser per year in states with AMC laws such as Texas, Colorado, North Carolina, Montana, Kansas, New Mexico and others, or complying with lender requirements to test and monitor the performance of each appraiser performing services, the need to continuously test the USPAP competency of every appraiser on a panel is a requirement of both lenders and AMCs. Appraisers will do well to remember this and continue to maintain USPAP competency.
> Just Published: OREP/WRE's 2017 Fee Survey Results! To view the results in your state, click here. If you have not already taken the survey, please weigh in here.
> CE Online – 7 Hours (approved in 40 states)
How To Support and Prove Your Adjustments
Presented by: Richard Hagar, SRA
Must-know business practices for all appraisers working today. Ensure proper support for your adjustments. Making defensible adjustments is the first step in becoming a "Tier One" appraiser, who earns more, enjoys the best assignments and suffers fewer snags and callbacks. Up your game, avoid time-consuming callbacks and earn approved CE today! Sign Up Now!  $119 (7 Hrs)
OREP Insured's Price: $99
About the Author
Jim Wells is President of Validox. Validox provides compliance services for lenders and AMCs and dramatically reduces the hassle and cost of state regulatory USPAP compliance reviews. Validox employs certified and general licensure appraisers providing coverage in all 50 states. Validox's product suite covers compliance needs for Lenders, AMCs and appraisers, and has new products that assist in FNMA-FHLMC-HUD post-closing QC compliance and new review products for resell by AMCs and Lender compliance companies to assist pre-funding Collateral Underwriter issues.
Send your story submission/idea to the Editor: isaac@orep.org