Editor's Note: This story is republished from the latest print edition of Working RE Magazine, mailing to over 60,000 appraisers nationally. WRE is published by OREP (policies now available with free premises coverage). (Am I a Working RE Subscriber?)
Fees Rising! (New Fee Survey asks how much)
By Isaac Peck, Editor
After what has been a long and difficult road for many appraisers, it would seem the tide has begun turning. A combination of independent and governmental sources, including data published by the U.S. Department of Veteran Affairs (VA), as well as anecdotal evidence from individual appraisers and Appraiser Management Companies (AMCs), all confirm what many have been hoping for years: fees are finally rising. A new OREP/Working RE fee survey hopes to spread the news to all appraisers nationwide about what fellow appraisers in their market and nationwide are earning today (Click here to take the survey).
This new higher-fee reality is vindicating for many long-time appraisers who have forged ahead through numerous adversities in recent years: the economic downturn of 2007–2008, which caused the flow of orders at many appraisal firms to grind to a halt; the passage of HVCC and Dodd-Frank, which led to AMCs, split fees and most recently, in the wake of the real estate collapse, an ever-expanding scope of work and excessive demand for documentation by lenders. All these factors have put downward pressure on the bottom lines of most appraisers.
The good news today is that a thinning of the ranks over the last few years has led to a marked increase in fees in many areas of the country. The OREP/ WRE 2017 Fee Survey is designed to share the knowledge. (And establish new customary and reasonable fees?)
Fees Going Up
At the Appraisal Summit last fall, a chorus of AMCs and lenders confirmed that in several metropolitan markets fees have risen substantially. Greg Stephens, Chief Appraiser at Metro-West Appraisal Company, reports that in some markets, including Denver, Portland and Seattle, fees have nearly doubled in the last couple of years. Anecdotal evidence from appraisers confirms this, indicating that in many hot markets, appraisers have been charging $800 to $1,000 (or more) on rush appraisal orders. Even in regular markets, appraisers report enjoying a gradual increase in fees over the last two years. At the Summit, several AMCs speakers said appraisers are turning down $1,000 fees in some cases.
(story continues below)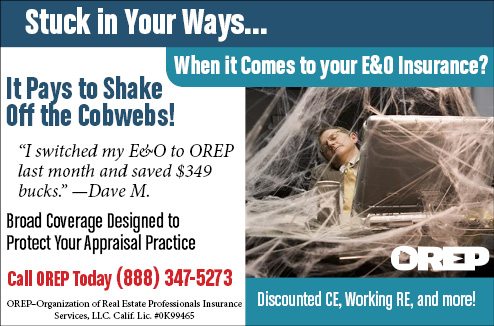 (story continues)
An October 2016 survey of lenders, credit unions, and mortgage brokers conducted by consulting firm STRATMOR indicates that within the last year appraisal fees are up 16% and turn-times have increased by 79% to 81% for purchase and refinance transactions respectively. In a recent interview with Mortgage Orb, Sam Heskel, CEO of AMC Nadlan Valuation, was asked to explain why appraiser fees are rising. Heskel said that fees are increasing because there is a shortage of appraisers in some areas and that "Appraisers are badly in need of a raise. It's long overdue – and fully justified. Many haven't gotten a raise in about 15 years, even though their workload, responsibilities and liabilities have grown."
The VA has been increasing fees in a number of states nationwide also and recently started a recruitment drive to add appraisers to its panel. In Wash. state, the VA raised the appraisal fee for a standard 1004 appraisal from $500 to $800. In parts of Colorado, the fee for a standard 1004 has risen from $575 to $750. While the fees that the VA pays tend to be at the top of the range in many markets, they are seldom the highest in an area, and in fact, the VA fee schedule is often used as a benchmark for appraisal fees in an area when considering what is customary and reasonable.
Shortage
Fees are central to the recent discussion of an appraiser shortage. Some argue that there is no shortage of appraisers, only a shortage of appraisers willing to work for low fees. Appraiser Ed Cline argues that appraiser fees still are, in some cases, less than what they were paid 10, 20 or even 30 years ago. Cline contends that the low number of new appraiser trainees is a reflection of the low fees that appraisers have endured for the last five years or more, and that this is a problem that will solve itself as fees increase. Cline writes that as fees rise, "the profession will become more desirable, more people will want to be appraisers, and more current appraisers will be willing and able to take on trainees."
Many appraisers blame low-fee AMCs for any "shortage" that might exist, particularly with respect to turn-times for appraisals. "There is no shortage of appraisers in most areas," commented James Smith on a recent story decrying an appraisal shortage. "The problem is with the AMCs that attempt to place appraisal orders for lenders. I see the same orders come to my office every day for two weeks. It comes to me for $325 or $350 the first few times. As the basic fee is $500, none of the appraisers even reply to the requests. So, the first week, sometimes two, are lost in this way and it has nothing to do with a shortage of appraisers."
Price Gouging or Supply and Demand?
AMCs and other stakeholders in the mortgage industry complain that appraisers in select markets are "pricegouging" them and the public by requesting fees of $1,000 or more for rush or special circumstances, due to the increased demand for their services. The irony is that when there was an oversupply of appraisers- when direct-lender and mortgage-broker work dried up in the crash, AMCs frequently touted the law of supply and demand as an excuse for offering low fees on what work there was. If appraisers will take $200 for a 1004, they argued, then that is the "customary & reasonable" fee. The logic should follow then that today's high fees are also customary and reasonable and not price gouging- just the result of supply and demand.
The most obvious irony is that the "shortage" AMCs complain about today is a direct result of many appraisers being pushed out of business, unable to make a living on the compressed fees forced on them by AMCs.
(story continues below)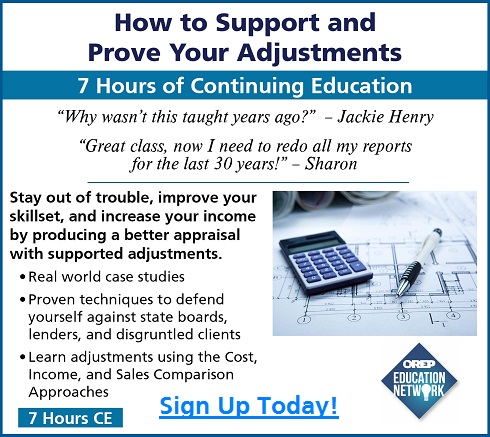 (story continues)
Negotiating Fees
Industry experts, rather than worrying about a shortage, say that higher fees mean that appraisers now have the time it takes to produce higher-quality work, grow their businesses and bring on new trainees. Higher fees may also entice new entrants to consider appraising as a profession or many veterans appraisers, sitting on the sidelines, to come back.
According to Richard Hagar, SRA and educator (How to Support and Prove Your Adjustments), many AMCs and lenders that he works with are desperate for quality appraisal work and are willing to pay extra for skilled appraisers. "Most Chief Appraisers and lending executives that I speak to agree that the banks and AMCs caused this problem by forcing down appraisal fees," Hagar said. "That caused many competent appraisers to exit the business several years ago, looking for higher pay. Those skilled appraisers who remain are buried in business. Banks and AMCs are now in a situation where they have to pay higher fees for form-fillers and they have to pay even more for quality work because the demand for skilled appraisers is so high right now," says Hagar.
Hagar encourages appraisers who are not enjoying higher fees to try negotiating with AMCs and lenders to demand more. The key is to raise the quality of your work and service first, he says. "Appraisers have more bargaining power now than ever before. Banks are desperate for good appraisers. If you're not earning what you're worth, focus on increasing your quality and raising your fees. Provide high quality appraisals and support your adjustments. Provide appraisal services in a polite, businesslike manner and increase your fees," advises Hagar.
New Fee Survey
In the wake of HVCC and the rise of AMCs, E&O insurance provider OREP and Working RE magazine conducted a nationwide Customary and Reasonable Fee Survey as the issue of C&R fees rose to importance due to language in Dodd Frank. Over 17,000 appraisers participated in that survey in 2010. OREP and Working RE are currently conducting a new 2017 Fee Survey. Just like the previous one, the survey is broken out by 365 Metropolitan Statistical Areas (MSA) as defined by the U. S. Census Bureau, with rural areas included by state, and takes only minutes to complete. It surveys eight different appraisal products including reviews and FHA appraisals and addresses appraisal turnaround time, which many say is the biggest obstacle to quality today. While Working RE's earlier survey included only non-AMC appraisal reports, the new survey draws no distinction between AMC and non- AMC appraisals.
The new fee survey will provide appraisers a snapshot of today's appraisal fees nationwide. The value of the survey depends on the level of participation. The survey assumes assignments that are not complex (complex assignments require higher fees) and is anonymous for appraisers. The results will be available no later than May 1, 2017 for free and updated regularly as the various market areas become more populated. It is designed for appraisers to reference when setting their fees. It can also be used by lenders and AMCs to measure their fee and turn-time policies. The data will be available to the government, AMCs and the public at large.
To weigh in with your customary and reasonable fees for various products, click here.
CE Online – 7 Hours (approved in over 30 states)
How To Support and Prove Your Adjustments
Presented by: Richard Hagar, SRA
Now you can improve your skills and earn CE credit conveniently online. Richard Hagar's, SRA highly acclaimed adjustments seminar is now available online for CE credit in most states. Do you have the proper support for your adjustments? Stop taking the same old CE courses and learn proven adjustment methods with instructor Richard Hagar, SRA. Fannie Mae states that the number one reason appraisals are flagged is the "use of adjustments that do not reflect market reaction." Stay out of trouble with Fannie Mae, your state board and your AMC/lender clients with solid, supportable adjustments. Learning how to make defensible adjustments is the first step in becoming a "Tier One" appraiser, who earns more and enjoys the best assignments. Up your game, avoid time-consuming callbacks and earn approved CE today!
"Why wasn't this taught years ago?" – Jackie Henry
How to Support and Prove Your Adjustments
Sign Up Now!  $119  – 7 Hrs. Approved CE
(OREP Insureds Price: $99)

About the Author
Isaac Peck is the Editor of Working RE magazine and the Director of Marketing at OREP.org, a leading provider of E&O insurance for appraisers, inspectors and other real estate professionals in 49 states. He received his Master's Degree in Accounting at San Diego State University. He can be contacted at Isaac@orep.org or (888) 347-5273.
Send your story submission/idea to the Editor: isaac@orep.org