Editor's Note: This story is republished from the latest print edition of Working RE Magazine, mailing to over 60,000 appraisers nationally. WRE is published by OREP (policies now available with free premises coverage). (Am I a Working RE Subscriber?)
Training the Next Generation
By Chris Pierce
In 2008, I built a 12' x 12' deck on my house and called a local painter to come stain it for me. He charged me $350 for his work. In 2011, I added another 12' x 12' section and asked the painter to give me quote on staining both 12' x 12' decks. He said it would be $900.
"Why was it only $350 for the same job a few years ago and now it's more than twice that much?," I asked. "Because you doubled the time for the job, plus materials and expenses have gone up," he replied.
He was good at math. Appraisers are good at math as well, but sometimes not our own math when it comes to fees.
Increased Time
The same job that an appraiser did in 2008 for a client is not the same job that same appraiser is doing today for an AMC or lender client. Yes, technology has helped appraisers be more efficient in some regards, but at the same time many new reporting requirements have been added to the residential appraiser's workload since the passage of the Dodd- Frank Act and introduction of Fannie Mae's new Collateral Underwriter system. Many AMC engagement letters are now 20–30 pages, or more!
After the rise of AMCs, I, like most appraisers, was introduced to the new normal: lower fees, twice the work or more per appraisal, and a consistent stream of calls from the "quality control" department to "check in" on my progress. I spent so much time on the phone with AMC staff that I could have finished the appraisal already! I'm a slow learner, but after doing several appraisals for AMCs back in the early days, I wised up. A quick review of my experiences with AMCs showed me that these appraisals were taking twice (sometimes three times) as long to complete and the turn times were not acceptable.
Higher Fees
When I'm deciding what to charge for an appraisal, I always figure in how much time it is going to take me. This is business 101. I began to ask myself, how much is my time worth?
The answer to that question led me to quit working for AMCs completely at first. I was able to stay busy because I had already done my homework and was able to augment the AMC work with directlender and non-AMC work (See page 29). But the AMC requests kept coming. As I turned down the orders, I started getting requests to quote my fee and turn time.
In response, I started quoting my fees to AMCs at about double my normal fees along with three-week turn times. Even today, they still come back to me and ask if this is a complex property fee, and I respond that it is a complex client fee because of all of the requirements.
As you can imagine, I don't get a lot of assignments from AMCs, but I started receiving my quoted fees and turn times about 20 percent of the time. After explaining the fee, many of the AMCs still order the reports. With this type of turn time there is plenty of time to meet all their requirements and usually the report is in early, with a low correction rating. This actually helps my ratings go up with the AMC. Sometimes they will pay an additional rush fee as well.
(story continues below)

(story continues)
I'm not trying to gouge anybody but when I have to put two to three times as much time into an appraisal, there's no sense in doing it for free. A lot of appraisers have already seen a cut in their fees compared to what we were getting paid six years ago. I just want to be paid my normal fee for the time I put into a report. If I am going to have to spend more time answering phone calls, providing updates, uploading reports, and responding to inquiries on an appraisal assignment, that needs to be calculated into my fee. We are professionals, after all.
Non-Lender / Non-AMC Work
've been in real estate since the 1970s and I've always made it my business to create contacts and build personal relationships with others in my field. When I realized that the fees that I was being paid by AMCs were not adequate compared to the time it was taking per assignment, I used these relationships to move completely into non-lender and non-AMC work.
Non-lender work now makes up around 25–30 percent of my business and I also have a steady supply of work directly from the local lenders and credit unions in my area to keep me busy. Having relationships with the smaller banks has also helped me build my non-lender practice because when someone calls their bank and asks for a referral for a local appraiser, the banker will give out my name.
I also do a number of small advertising campaigns in my area, including running weekly ads in the main local paper in the real estate section. This has helped me build up my non-lender business and have strong brand recognition in my market.
As I mentioned, I still do some AMC work and I probably do about six appraisals for AMCs per month. But I do it for my fee and turn time, not theirs.
(story continues below)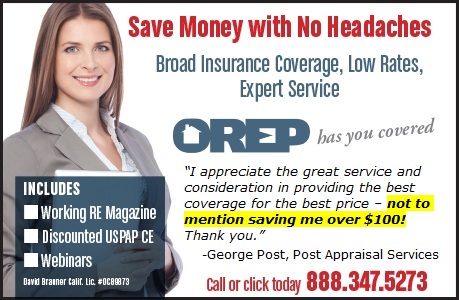 (story continues)
Charge Accordingly
If you want to run a successful business as a provider of professional services, you have to be mindful of what your time is worth and which clients and assignments are taking up more of your time. When you identify clients who are harder to work with, raise your fees. Stop working with them altogether if they don't respect your time. Every month, I turn down a lot of assignments for these reasons. This allows me to pick the best ones and be fairly compensated for my time.
To do this, you need to be in a position where you can turn down bad clients and low fees and this requires you to continually network, market yourself as a professional, and be on the lookout for new clients. When you have many clients to pick from, you can pick the best ones.
Regardless of whether you work for AMCs or not, try to make personal contacts with attorneys, real estate investors, Realtors, credit unions, small banks, and even the people at your local courthouse. Networking can go a long way in terms of getting referrals for appraisal work and finding new clients.
I know many appraisers do 100% AMC work and I don't condemn that, but I urge appraisers to consider the value of their time when bidding and accepting work. You should not be taking a pay cut when you work for AMCs. If you're being offered less than fair fees, get busy finding better clients. Do your fee math. Review the assignment and charge accordingly.
CE Online – 7 Hours (approved in over 30 states)
How To Support and Prove Your Adjustments
Presented by: Richard Hagar, SRA
Now you can improve your skills and earn CE credit conveniently online. Richard Hagar's, SRA highly acclaimed adjustments seminar is now available online for CE credit in most states. Do you have the proper support for your adjustments? Stop taking the same old CE courses and learn proven adjustment methods with instructor Richard Hagar, SRA. Fannie Mae states that the number one reason appraisals are flagged is the "use of adjustments that do not reflect market reaction." Stay out of trouble with Fannie Mae, your state board and your AMC/lender clients with solid, supportable adjustments. Learning how to make defensible adjustments is the first step in becoming a "Tier One" appraiser, who earns more and enjoys the best assignments. Up your game, avoid time-consuming callbacks and earn approved CE today!
"Why wasn't this taught years ago?" – Jackie Henry
How to Support and Prove Your Adjustments
Sign Up Now!  $119  – 7 Hrs. Approved CE
(OREP Insureds Price: $99)

About the Author
Chris Pierce is a Certified Residential Appraiser in southern Michigan and has been in the business since 1978, specializing in residential and land appraisal.
Send your story submission/idea to the Editor: isaac@orep.org