Editor's Note: This story can be found in the new print edition of Working RE (now mailing). Am I a Working RE Subscriber? OREP E&O insureds enjoy a free subscription.
Choices are Good
By David Brauner, Publisher
Attending an industry gathering like Valuation Expo, like I did last October, is always a mixed bag. It's reinvigorating to catch up with appraisers, whose optimism always buoys me. Most take their independent gatekeeper role seriously and if there is a hint of self-righteousness when they talk about it, I'm not bothered a bit. When we take the work we do seriously, so do others.
Most appraisers still enjoy the day to day, despite the frustrations of recent years. And it's always a pleasure for me to meet OREP insureds face to face, to say "thank you" and "you're welcome." But these conferences become disconcerting when talk turns to a "transformative" future, as it always does. I can't say I'm one of those folks who embraces change, but experience teaches us that the future will be what we make of it. And if we want to make something of it, we better get going—NOW!
When change comes knocking, it's good to have choices. For insight on how to prepare yourself for the new world of appraising, we've asked several thought leaders from around the industry for…well…their thoughts on how you can help ensure a more successful future. You'll find their answers in the print edition of WRE, mailing now.
(story continues below)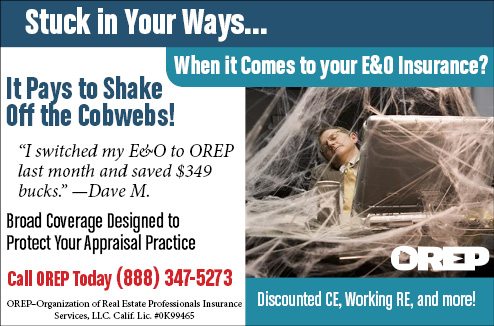 (story continues)
The takeaway from the Valuation Expo and Appraisal Summit in 2017 is that appraisers can use new tools to customize their professional lives and give themselves more choices. There are desktop tools that several appraisers told me pay between $50 to $125 and take from 30 minutes to a couple of hours to complete. You can do the numbers to calculate your hourly. Many of you can augment your income without fighting traffic or having to fill your tank. For those with visions of "retirement" in the not-too-distant future, or who face mobility issues or who need to be home for any number of reasons—what a great way to supplement your income and use your expertise and training to remain productive. Stepping up instead of giving up. Other appraisers I talked to prefer getting out of the office, visiting properties and meeting people.
There are more opportunities for you, too. Two appraisers I spoke with are partners—one works from their home office while the other does the legwork out in the field. They each do what they prefer and together, they are more productive than the sum of their parts. There are serious issues to be considered with hybrid appraisals and appraiser assisted AVMs, so it is best to proceed with thoughtful caution. The cover story of the new print edition offers an honest look at the issues involved.
Over the years, change has been predicted for appraisers and change sure enough has come, but appraising remains. I think that will hold true for a while longer.
> CE Online – 7 Hours (approved in 40 states)
How To Support and Prove Your Adjustments
Presented by: Richard Hagar, SRA
Must-know business practices for all appraisers working today. Ensure proper support for your adjustments. Making defensible adjustments is the first step in becoming a "Tier One" appraiser, who earns more, enjoys the best assignments and suffers fewer snags and callbacks. Up your game, avoid time-consuming callbacks and earn approved CE today! Sign Up Now! $119 (7 Hrs)
OREP Insured's Price: $99
About the Author
David Brauner is Senior Broker of OREP and Publisher of Working RE Magazine. David has been helping appraisers with insurance for over 20 years. David Brauner Insurance Services, Calif. Insurance Lic: 0C89873. OREP- Organization of Real Estate Professionals Insurance Services, LLC. Calif. Lic. #0K99465; dbrauner@orep.org (888) 347-5273 toll free. Visit OREP today for a same day quote on appraiser insurance.
Send your story submission/idea to the Editor: isaac@orep.org