Latest Issue!
The increasing popularity of binding arbitration agreements raises the question: do binding arbitration clauses actually protect home inspectors?
Editor's Note: This story appears in Working RE Home Inspector Edition (May 2017) OREP insureds receive guaranteed delivery. 
Binding Arbitration: What's the Deal?
By Isaac Peck, Editor
Binding arbitration clauses have become increasingly popular in both the corporate and small business environment, as companies actively look for ways to limit their liability and reduce their legal expenses in case of a lawsuit.
These are showing up in user, employee and contractual agreements with technology companies, banks and others using them strategically to limit the ability of their customers to bring a class action lawsuit. Large corporations also favor them with highly compensated employees in order to prevent confidential or publicly damaging information from coming to light.
Wells Fargo most recently used this tactic to try to avoid a large class action lawsuit over allegations that it fraudulently opened over two million fake accounts for its customers. Instead of facing its customers in court, it tried to force them into binding arbitration individually. Fox News also deployed this tactic when facing a sexual harassment lawsuit from Gretchen Carlson, using a binding arbitration clause in her employment agreement to force the suit into arbitration before settling it quietly.
Meanwhile, small businesses have caught on to the trend. Home inspectors have been increasingly adopting these clauses under the assumption that they will discourage litigation and assist in a favorable resolution should a potential claim arise.
A sample home inspector arbitration clause from California reads:
Any dispute concerning the interpretation or enforcement of this Agreement, the inspection, the inspection report, or any other dispute arising out of this relationship, shall be resolved between the parties by binding arbitration conducted in accordance with California Law, except that the parties shall select an arbitrator who is familiar with the real estate profession. The parties agree that they shall be entitled to discovery procedures within the discretion of the arbitrator. The arbitrator shall manage and hear the case applying the laws of the State of California to all issues submitted in the arbitration proceeding. The award of the arbitrator shall be final, and a judgment may be entered on it by any court having jurisdiction.
The increasing popularity of binding arbitration raises the question: do binding arbitration clauses actually protect home inspectors?
Less Expensive?
Todd Stevens, experienced home inspector trial lawyer and past President of the San Diego Bar Association, says that many small business owners are frequently under the assumption that binding arbitration is preferable in the case of a claim because it is perceived as a less expensive alternative to litigation in the court systems. However, Stevens argues that this assumption is not necessarily correct. "Home inspectors and other small businesses are frequently attracted to binding arbitration because they think it will help them avoid expensive lawsuits and insulate them from claims. However, arbitration can end up being very expensive because in most cases you are using private judges. Retired judge fees can easily be $10,000 per day," says Stevens.
There is also a perception that arbitration is preferable to the courts because the defendant will not have to face multiple appeals and can finish the case relatively quickly. But according to Stevens, this is both a pro and a con. "Arbitration is not appealable. So if you get a result you don't like, you can't appeal and you have no recourse. Of course, that's good if you get a result you like. In litigation, everything is appealable. So if you win, they can appeal and the case continues," reports Stevens.
The idea that arbitration leads to quick resolutions is not necessarily true either, according to Stevens. "Arbitration can go on and on, and the retired judges/arbitrators can drag out the case for months. This can get quite expensive very quickly. On the other hand, normal judges in the court system are usually in a hurry to move things along, so a court case actually might be resolved quicker," says Stevens.
Ultimately, whether arbitration is more or less expensive can vary. "The cost depends. Arbitration can be cheaper, depending on the jurisdiction, but I would not say that it is cheaper as a rule. I've seen arbitrators drag it on and on. I've definitely seen retired judges keep a matter going way too long," Stevens says.
(story continues below)
(story continues)
Pros and Cons
In many cases, the biggest pro to arbitration is that it keeps the case away from a jury. Stevens reports that large corporations tend to prefer binding arbitration agreements with employees because it minimizes the risk of facing a runaway jury that sees the case as David vs. Goliath and wants to side with the "innocent" employee against the big "evil" corporation. "Arbitration is preferred by many large corporations because they can prevent class actions. They're also popular in employment agreements because jurors tend to be very sympathetic to employees. It can get very unpredictable when there's a little employee up against a big corporation," says Stevens.
While home inspectors are a far cry from big corporations, the same concern might also apply where a jury might be sympathetic to homebuyers who sunk their life savings into a new home only to discover catastrophic defects, even if the home inspector performed a quality inspection to the highest standards. "Small business owners are afraid of unpredictable juries. There is a little more control in arbitration as far as timing and where the hearing will take place, and sometimes you can limit the amount of discovery. So you have a little more control over the process than you do in litigation," reports Stevens.
Another advantage to arbitration is it can sometimes keep the inspector out of litigation. "I've worked with inspectors in the past where we went to arbitration, but we were ultimately on the sidelines. The buyer, seller and Realtor were in court fighting about the home's defects, and the home inspector gets to sit it out until the other parties reach a resolution. So arbitration can certainly be a good thing in situations like that," says Stevens.
Many technology companies, or other companies with trade secrets, prefer arbitration because it's a confidential process, according to Stevens. Arbitration disputes do not occur in a courtroom that's open to the public and in most cases, arbitration awards don't become public. "If two sides are fighting out the validity of a patent and confidential documents are coming out, then many companies would prefer to have those conflicts take place in arbitration. In arbitration you can control that process. Additionally, the winner and loser are not necessarily publicly known. This prevents 'me-too' lawsuits against larger companies. However, this might work in a small business owner's favor as well, because if you lose a case it would not necessarily destroy your reputation," Stevens argues.
A downside to arbitration is that it does not leave much protection for a defendant who seeks recovery of expenses in the case of a frivolous claim. "Arbitration doesn't have the same protections as the court system and you can't bring a malicious prosecution case against a plaintiff who brings a dispute against you in arbitration. You should still be able to defend easily against a weak claim, but you'll still need to get the case in front of the arbitrator, and that costs money. So there's not much protection against frivolous lawsuits," says Stevens.
Non-Attorney Arbitrators?
Some home inspectors include provisions in their pre-inspection agreements that specify who will arbitrate a potential dispute. Some of the arbitration organizations chosen, however, are not legal organizations with experienced attorneys or retired judges working as arbitrators. Some agreements include clauses that stipulate that organizations such as "Construction Dispute Resolution Services, LLC, an organization made up of experienced construction and real estate professionals," will resolve the case.
(story continues)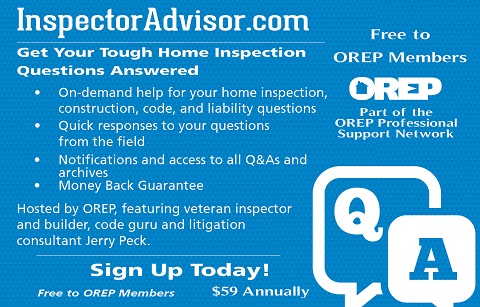 This can present a problem, and may not be enforceable, depending on your state. "In California, at least, the courts look pretty grimly on alternative dispute resolution providers. Credit card companies used to have a clause in their credit card agreements that you had to go to some private arbitration board, but the courts did not look kindly on that. Since then, it's become difficult to really control the dispute resolution mechanism. Those kinds of limitations are very strictly construed as shady. Any organization that is not staffed by lawyers and doesn't have arbitrators who are retired judges is going to be a hard sell if challenged in the courts, at least in California," says Stevens.
Mediation
One suggestion that Stevens recommends to home inspectors, regardless of whether they choose binding arbitration or not, is to include a mediation clause in their pre-inspection agreements. Using the California Association of Realtors' (CAR) Residential Purchase Agreement as an example, Stevens explains that it contains a mandatory mediation clause. This means that the buyer and seller must first go to mediation before they can do anything with respect to litigation or arbitration. "Mediation can often save both parties a great deal of money by resolving a case before it goes to litigation and sometimes before lawyers even get involved. Mediation can be done before any discovery. You just need to hire a mediator that everybody agrees to and sit down and talk about the case. The mediator doesn't force a resolution but it gets everybody to the table to talk about the case. If it doesn't work out, it doesn't work out, but there's nothing to lose. Sometimes, this can nip a potentially expensive lawsuit in the bud," reports Stevens.
In CAR's case, the mediation clause has teeth as well, in that if a party does not go to mediation before resorting to litigation, they waive the right to recover attorney's fees if they were to otherwise win the case. If the case isn't resolved at mediation, then both parties can seek justice in the court system.
Conclusion
Home inspectors should be fully educated on the pros and cons of including a binding arbitration agreement into their pre-inspection agreements, Stevens cautions. "I would think carefully about including it in a contract. "You might want to see what your insurance company's view of that is. Some insurance companies don't mind it. I would definitely get your insurance company in the loop before including that in your agreement," says Stevens.
The expense and the desirability of a binding arbitration agreement may also vary by state, so home inspectors who are considering using them should also research their state requirements and consider consulting legal counsel. Ultimately, it's a business decision each home inspector will need to make for themselves. Stay safe out there!

About the Author
Isaac Peck is the Editor of Working RE magazine and the Director of Marketing at OREP, a leading provider of E&O insurance for home inspectors, appraisers, and other real estate professionals in all 50 states and D.C. He received his master's degree in accounting at San Diego State University. He can be contacted at isaac@orep.org or (888) 347-5273.
>Free Webinar:
Claims and Complaints: How to Stay Out of Trouble
Available Now
Presenter: David Brauner, Senior Insurance Broker OREP
David Brauner, Senior Broker at OREP, shares insights and advice gained over 20+ years of providing E&O insurance for inspectors, showing you how to protect yourself and your business. Watch Now!
(Get a quick E&O/GL quote from OREP in 30 seconds. Premiums begin around $1,000.)