> Join over 4,700 others. OREP/WRE's 2017 Fee Survey!
AQB Digs In: College Degree, Experience Requirements to Change
By Isaac Peck, Editor
On March 15, the Appraisers Qualifications Board (AQB) issued its third exposure draft which reiterated its original proposal allowing for two alternative paths to the bachelor's degree requirement for Certified Residential appraisers. And there's more.
The AQB has been considering changes to the Real Property Appraiser Qualification Criteria for nearly two years and its latest exposure draft indicates that while the AQB believes that a bachelor's degree is "a significant component towards ensuring the public trust in the appraisal process," it also recognizes "the substantial time and financial commitment necessary" to obtain a Bachelor's degree while operating a competent and ethical appraisal practice. For those licensed appraisers who lack a degree, this certainly comes as good news.
Bachelor's Degree Requirement
In keeping with its previous Exposure Draft, the AQB is now proposing the complete elimination of all college coursework for the Licensed Residential credential and allowing an alternative to the Bachelor's degree requirement for the Certified Residential credential.
Instead of needing a bachelor's degree to earn the Certified Residential credential, candidates would now only need to pass a series of College-Level Examination Program (CLEP) exams covering the following areas: (1) College Algebra, (2) College Composition, (3) College Composition Modular, (4) College Mathematics, (5) Principles of Macroeconomics, (6) Principles of Microeconomics, and (7) Introductory Business Law.
A second alternative in lieu of the CLEP exams would be for a candidate to complete 21 semester hours of accredited college level coursework in the following subjects: six hours of English composition, six hours of economics or finance, six hours of mathematics (algebra or higher), and three hours of business or real estate law.
There is fierce disagreement on this topic among appraisers, with some arguing that any alternative to the bachelor's degree lowers the profession's standards and is only a ploy to drive down fees. However, a 2016 survey conducted by Working RE (Future of Appraisers Survey) found that the majority of appraisers are in favor of the AQB's proposed changes. Over 3,800 appraisers participated in the survey, with 60% indicating that they are opposed to the bachelor's degree requirement, and 82% in favor of a path to Certification without a bachelor's degree.
(story continues below)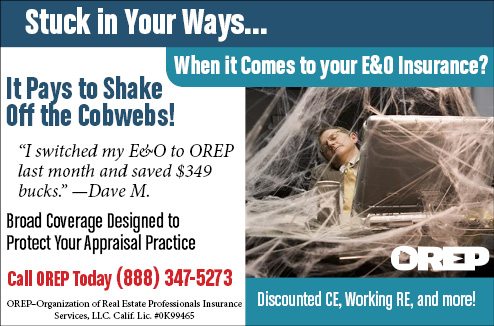 (story continues)
Appraiser without Experience?
In its first exposure draft in May 2016, the AQB initially proposed the creation of Practical Applications of Real Estate Appraisal (PAREA) coursework that could be used to satisfy up to 100% of a would-be appraiser's experience requirements when pursuing the Certified Residential credential.
While the AQB reduced the eligible experience waiver to 50% in its second exposure draft, its latest proposal once again returns to the idea that a would-be appraiser may be able to substitute 100% of their experience requirements with PAREA coursework. The PAREA modules as proposed by the AQB will be able to satisfy 100% of the required experience for the Licensed Residential and Certified Residential levels, and 75% of the required experience for the Certified General level.
The PAREA model, as proposed by the AQB, would consist of three modules not less than 150 hours each:
1. Basic Practical Applications (150 hours)
2. Residential Case Studies – Complex Properties (150 hours)
3. Practical Applications (150 hours)
Applicants can substitute Module 1 for the experience requirement to earn a Licensed Residential credential, which the AQB is now proposing to reduce to 1,000 experience hours. Modules 1 and 2 together can be used to meet the experience requirements to be a Certified Residential credential, which the AQB is now proposing to reduce to 1,500 hours. Appraisers who currently hold a Licensed Residential credential could satisfy the experience required for the CR credential by completing Module 2 only. Individuals completing Modules 1 and 3 would receive 1,500 hours towards the 2,000 hours required for the Certified General credential.
The AQB notes that in feedback received for its earlier exposure drafts there was widespread support to develop alternatives to current training methods. Such alternatives are necessary because of "the current lack of training opportunities in appraisal firms and the financial disincentives inherent in training programs for both the mentors and trainees." There is also a potential advantage to such coursework, as it offers a consistent training methodology and ensures qualified mentors, as some respondents were quick to note that not all mentors in the appraisal field are competent or ethical.
In response to those appraisers who feel that there is no substitute for actual field experience, the AQB writes that "the goal of the practical applications program is to emulate actual field experience. The module structures will include actual field experience. As a result, individuals completing these modules will perform actual and/or virtual appraisal assignments."
(story continues below)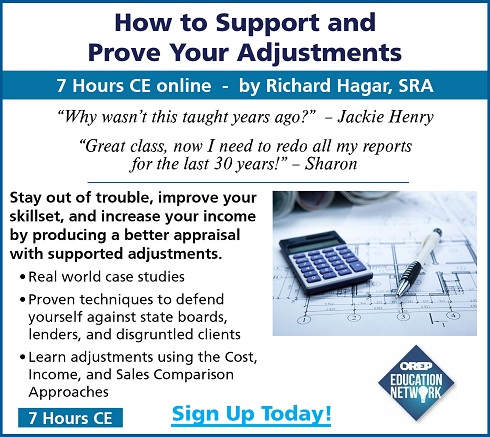 (story continues)
Experience Requirements
In keeping with its earlier proposed changes, the AQB is proposing revising the experience hours required as follows:
-Licensed Residential: 1,000 hours of experience (no minimum time frame)
-Certified Residential: 1,500 hours of experience (no minimum time frame)
-Certified General: 2,000 hours of experience, with at least 1,000 hours in non-residential appraisal (no minimum time frame)
Such a move would reduce the required hours for each credential by 1,000 hours and remove the minimum timeframe limitation that previously required would-be appraisers to wait 12, 24, or 30 months to achieve a particular credential.
In its rationale for why it finds such changes necessary and timely, the AQB writes that while the experience requirements have not increased since 1998, there have been substantial enhancements in education and examination components of the Criteria that make it appropriate to reduce the experience requirements.
Timeframe for Changes
As has come to be expected from the AQB, appraisers hoping for quick relief on the bachelor's degree or experience requirements will need to be patient. The AQB writes that depending on the feedback received and timing of any subsequent exposure drafts, any changes, if adopted, will go into effect no sooner than January 1, 2018.
Send Your Feedback!
Appraisers are encouraged to submit their (concise and considered) comments to the AQB before the May 12, 2017 deadline: Email: aqbcomments@appraisalfoundation.org or mail to: Appraiser Qualifications Board, The Appraisal Foundation, 1155 15th Street, NW, Suite 1111, Washington, DC 20005.
> How are Fees in Your Area? Weigh in on OREP / Working RE's 2017 Fee Survey.
Click here to take 2017 Fee Survey!
> CE Online – 7 Hours (approved in 40 states)
How To Support and Prove Your Adjustments
Presented by: Richard Hagar, SRA
Must-know for all appraisers working today. Ensure proper support for your adjustments. Making defensible adjustments is the first step in becoming a "Tier One" appraiser, who earns more, enjoys the best assignments and fewer snags and callbacks. Up your game, avoid time-consuming callbacks and earn approved CE today! Sign Up Now!  $119 (7 Hrs)
OREP Insured's Price: $99
About the Author
Isaac Peck is the Editor of Working RE magazine and the Director of Marketing at OREP.org, a leading provider of E&O insurance for real estate appraisers, inspectors and other real estate professionals in 50 states. He received his Master's Degree in Accounting at San Diego State University. He can be contacted at Isaac@orep.org or (888) 347-5273.
Send your story submission/idea to the Editor: isaac@orep.org