Editor's Note: The following is reprinted from Working RE Inspector, a nationwide print magazine delivered to 20,000 home inspectors nationwide. OREP insureds get guaranteed delivery. If you are not a subscriber, you can read it here.
Guerrilla Marketing: Stories From The Trenches
By Isaac Peck, Editor
Home inspectors know the value of marketing. With often no visible "main street" office location and no walk-in customers, home inspectors must frequently take bold, direct action in order to spread the word about their services and keep a steady flow of business coming in the door. These tactics often include a combination of personal, face-to-face networking, presentations at real estate offices, targeted online marketing across search engines and social media, as well as many other unconventional methods that have been tested in the field and been proven effective.
This foundational importance of marketing for the inspector cannot be understated. Those who cannot market their businesses successfully don't survive. For this reason, home inspectors, both new and experienced, often work hard to perfect their marketing tactics and stay on the lookout for new ways to promote their services and build lasting competitive advantages in their markets.
Here are several "tried and true" marketing techniques used by inspectors across the country. It's likely that some of these are already in your marketing "toolbox," but hopefully one or two will be fresh and can make a difference in your business success.
Vehicle Decals
Having your branding on your vehicle is a great way to establish your brand and make an impression on your clients at the same time. Dave Klima, President of Aardvark Home Inspectors, Inc., who has a fleet of fully decaled vehicles for his full service home inspection, pest control, and radon testing and mitigation businesses, says that his approach was developed over time as his company grew. "When you first start out, your budget is limited and you can't go out and spend big money on a wrap. We started with magnetic stickers that go on the side of a car, on the door. It was just our logo and phone number. From there we evolved and invested in newer vehicles with full wraps on them," reports Klima.
In terms of the cost of the wraps, Klima says some wraps might cost as little as $1,000 or as much as $3,000. "The cost depends on how detailed we want it to get. We started putting reflective wraps on a lot of our vehicles. That way they can market at night, as well as in the daytime. When our vehicles are driving home at night, the wrap lights up and people can still see our branding. It definitely makes an impression," says Klima.  (See Figure 1: Aaardvark Reflective Wrap.)
(story continues below)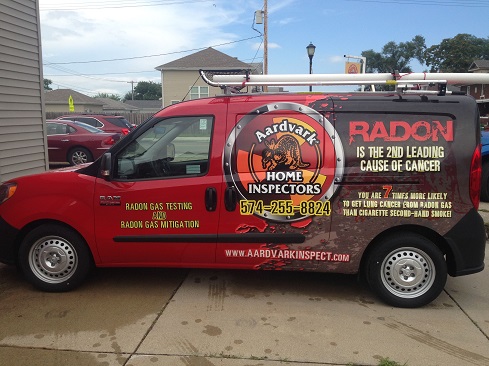 Figure 1: Aaardvark Reflective Wrap
Vehicle wraps provide a number of benefits to a home inspector, including branding, affordable advertising, and even safety, according to Klima. "We absolutely get a lot of comments on them. Our clients often mention seeing our vehicles around town. For our pest control business, our slogan is, 'If we can't kill it, we'll eat it' and people tend to remember the slogan as much as the vehicles. Every individual picks up something different. As long as they're grabbing something, that's great. People don't necessarily remember the phone numbers, but they will remember the pictures or visual image of what they saw, our logo and the name of our company," Klima says.
While he doesn't have any hard data on how many leads the vehicle wraps bring to his businesses, Klima says that they are an important piece of the marketing puzzle. "When you have wrapped vehicles, it goes along with all the other marketing that you do. You can't just do one thing. It's all part of a package that you do to create a presence in your market. If you think about it, it's a cheap way of advertising your business. It may be expensive upfront, but we've had some of our vehicles for eight years. It's not very expensive at all," says Klima.
(story continues below)
(story continues)
In addition to being a cost effective form of advertising and brand building, Klima says that it also adds a level of professionalism to an inspection. "When you show up at the customer's door, it gives you a level of professionalism versus showing up in an unmarked vehicle. There's also a safety advantage, as if you're in a marked vehicle the home's occupants are going to feel more comfortable," says Klima. (See Figure 2, Aaardvark Home Inspection/Radon Vehicle.)
(story continues below)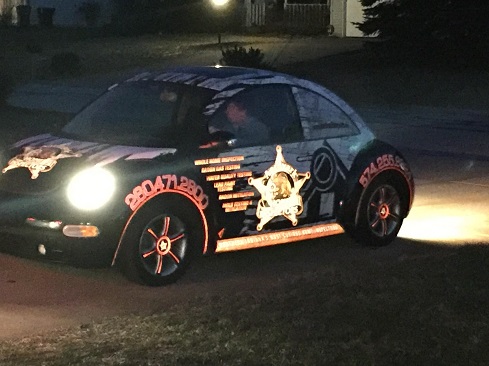 Figure 2: Aaardvark Home Inspection/Radon Vehicle
Marketing Gadgets
Many home inspectors build their brands and generate leads by handing out gadgets to agents and homebuyers alike. Home inspector Dan Harris, from Arizona, reports that he has experimented with a variety of approaches and found the one that works for him. "I've tried giving out coffee mugs, pens, notepads, chip clips, calculators and a few other trinkets, but the most effective tool that everyone seems to appreciate is tape measures," says Harris. Harris says he can directly credit over 100 inspections in the past two years from simply handing out tape measures (Search WorkingRE.com, Tape Measures Measure Up Big). Giving out tape measures is cheaper than you might think. Shrewd home inspectors can buy tape measures for $1 each in bulk, then have a small label produced with company information for about for 10 to 20 cents, for a total cost per tape measure of under $1.50. Harris says he can find 16' tape measures at the dollar store for $1 each, and he's found a place that can make stick-on company logos for $0.04 each, giving him a total cost of just over $1 each.
Welmoed Sisson, a home inspector in Maryland, has had similar success when it comes to using tape measures as an affordable marketing tool. Sisson says, "Tape measures are without a doubt what has worked best for us. We've had clients and agents call us after several years because they keep the tape measure. I think there are a couple reasons why they're kept so long. First, they're useful, plain and simple. Second, they feel hefty, substantial and expensive, so people are more inclined to keep them; a pen is easy to toss in the trash."
Many inspectors, who struggle in a competitive field, understand the importance of spreading the word about their businesses and finding affordable ways to grow their clientele. On that note, Harris advises inspectors to avoid spending too much on any one marketing item and instead develop a targeted marketing strategy. Harris says that if you can focus your marketing dollars on promoting your own company, instead of a local home inspector association, and limit your expenses to $1 per "promotional product," you are well on your way to developing a marketing strategy that maximizes your budget.
Social Media Marketing
Social media is also another marketing tactic that is sometimes ignored by inspectors, but when used successfully, can be a great way to make connections and reach potential customers and referral sources. Keith Silvas, owner of Red Rock Home Inspections, reports that he has had success reaching agents with Instragram. "If you're not working Instagram, you are missing out on potential business. I have been able to build relationships with a half-dozen agents in a short time. It takes active interaction and not just generic comments like 'nice' on agent photos. Search for common hashtags that agents in your area use, for example #atlantarealestate. Then start following and engaging agents and wait for the business. It costs nothing to get started," says Silvas.
(story continues below)
(story continues)
Leveraging Customer Reviews
Sheehan Thomson, home inspector and founder of BlippReviews, says that building up your online reviews is a little-used but incredibly effective strategy for boosting your sales. "Think about when you need to order pizza, get a haircut, fix a leaky pipe, or find a nice Italian restaurant. What do you do if you don't already know where to find what you're looking for? Most people go to Google and search. You want to be on page one when they search; even better is to be in what's called the Map Pack: the top three companies in Google's Map Search results. The top result gets 34% of search clicks, the second result gets 14%, and the third gets 7%," Thomson says.
A lot of inspectors don't understand why this is important, says Thomson. "Many inspectors don't understand that they CAN indeed get business from online searches. They may hire a marketing person instead of focusing on their online presence. Now, I'm not saying that's bad but you're paying someone, managing them, and paying taxes to have them and you could have optimized your SEO and built up reviews for a lot less with no one to manage. Last year we did 377 inspections (35% of our business) from people who found us on Google. Most inspectors do 0-5% from online," reports Thomson.
So how do home inspectors go about building up their online reviews? "The best way to get more reviews is to make sure you have a Google My Business Listing, Facebook Business Page with the Reviews tab showing, and a Yelp listing, if that is effective in your area. Once you have these listings you will want to send your clients there. Sixty-eight percent of people leave an online review when asked and almost none will leave a review if not asked. So start asking! Odds are that other inspectors in your area are not asking and it will be that much easier for you to get more reviews than everyone else in your market. You go from almost no website search traffic to 7%, 14%, then 35% and you start to get a huge return," explains Thomson.
The problem is that many inspectors don't remember or say they don't have time to take that extra step to ask their clients for feedback after the inspection. "For those inspectors who have trouble asking for the reviews, you can use a review software service that sends an email and text to your client after the inspection and which has a system for avoiding negative reviews. Or you can ask and send a text and email on your own once the inspection is completed. This automates the process and can quickly turn you into a leader in your area," reports Thomson.
(story continues below)
(story continues)
As more and more homebuyers are younger and more Internet-savvy, your online presence and the reviews of your business will become more and more important, Thomson argues. "The majority of your potential clients are starting to trend towards being younger millennials who are getting older. I am one and most of us don't like to call people. We want to get on our phone, open Google, search for what we need, and then check out reviews and websites. That's where the trend is going, so inspectors would be wise to get ahead of it or risk being left behind," says Thomson.
Thank You Cards (and Brownies!)
Brian Hannigan, owner of InspectionReferral.com, is a strong advocate for following up with your network with personalized cards and even brownies! "In this fast-paced digital world, everyone is moving forward faster than ever trying to find the next client and close the next deal. All too often our "thank you" to a client is an automated email triggered by office or reporting software. What has been forgotten is the old saying 'the fortune is in the follow up' and that follow up should be one of quality, sincerity and regularity, not just an email," says Hannigan.
The traditional thank you card is an effective approach that has long been forgotten by far too many, according to Hannigan. "You have read it in every marketing book, listened to it in every marketing seminar and your parents probably told you the same…'write and mail a thank you card.' That is a real card: one with a picture of the home or something meaningful to that person that will evoke an emotion and leave an impression that cannot be obtained in an email. It sounds simple enough but it rarely gets done," Hannigan says.
All too often, inspectors see a client as a one-time inspection fee rather than their true potential: being the first link in a chain of future referrals and income, says Hannigan. "Where would your business be today if you had a system in place to proactively follow up with kindness and gratitude on a regular basis, so you are remembered and referred more often? This goes for past clients and agent referral sources alike. An average of just one referral for every client you have served in the past would have doubled your business today," says Hannigan. "Sounds pretty good, doesn't it?"
So why don't those thank you cards get written? Hannigan says that many business owners think it's inconvenient, takes too much time and costs too much. That's why Hannigan initially founded InspectionReferral.com (powered by Send Out Cards) which makes it much easier to send out personalized cards, at your fingertips. "As easy as a post on Facebook, from a phone app or computer you can drop a photo(s) on to the front and/or inside of a card, you can have your handwriting font & signature pre-scanned so the card is written in your own font and signed by you, and you can custom brand the back of the card. You can even add gifts, like brownies, with your card. The card is printed on high quality card stock. You can even set cards to go out automatically at a future date. And all of this is done, including the stamp, for less than the cost of a card at a store," says Hannigan.
Staying in Contact
In addition to sending thank you cards and keeping in personal touch with clients, many industry veterans say that working with a platform that keeps the relationship going is a key factor. Jack Huntress, CEO of HomeBinder, a digital 3-ring binder for the homeowner, says that there is growing awareness of how important leveraging the relationship with past buyers really is. "In the past, many inspectors wanted their clients to forget their names as they felt the sooner they forgot them, the sooner they could stop worrying about people calling with issues," says Huntress. That's changing as many inspectors realize the value of cultivating these relationships.
Some inspectors send a monthly email with home tips to their clients; others use a six-month check-in. Others use the opportunity around maintenance reminders ("sweep your chimney," "pump your septic tank") as a chance to keep their name and brand in front of clients. "The key is to make the communication relevant and timely to the needs of the homeowner. Today's generation of buyer really needs guidance as millennials are probably the least informed on homeownership," Huntress says. This creates an opportunity for the inspector to deliver value beyond the inspection. "In fact, we are working on an annual home inspection concept with many of our home inspector clients who recognize the value to their business and the need in the marketplace," says Huntress.

About the Author
Isaac Peck is the Editor of Working RE magazine and the Director of Marketing at OREP.org, a leading provider of E&O insurance for home inspectors and other real estate professionals in 50 states. He received his Master's Degree in Accounting at San Diego State University. He can be contacted at Isaac@orep.org or (888) 347-5273.